2 Sides of Improving Access to Finance for Entrepreneurs in Tanzania & Mozambique
Read All Posts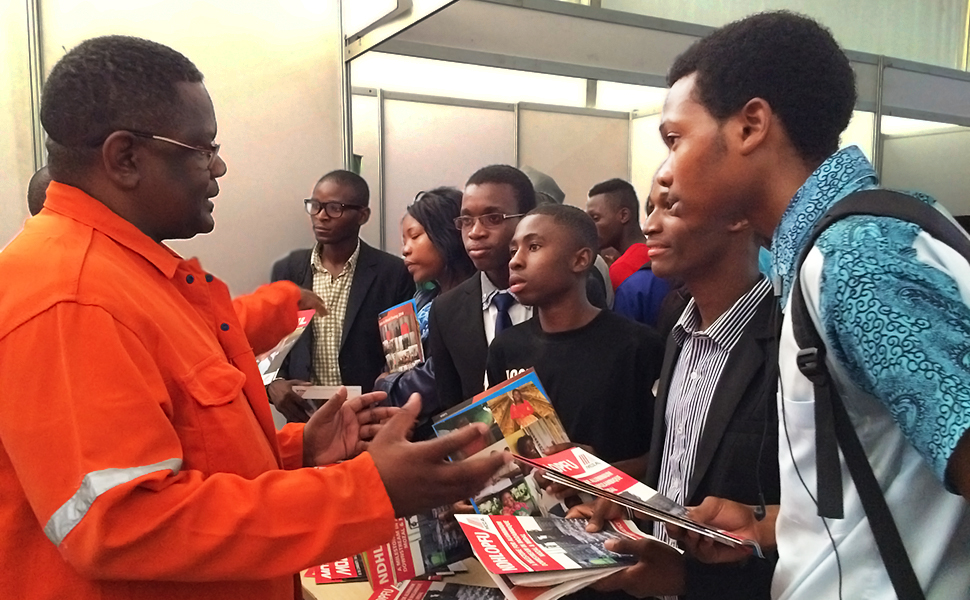 When formal jobs are scarce and so is funding for their entrepreneurial ventures, young people in Tanzania and Mozambique find themselves operating on the fringes of the economy. How can they be included in a way that allows them to earn a living and grow their businesses? One answer lies in slowly changing youth's and banks' perceptions of self-employment and loans.
Representatives from two of IYF's local implementing partners in the countries, Tanzania Entrepreneurship and Competitiveness Centre (TECC) and Gabinete de Apoio e Consultoria a Pequenas Indústrias (GAPI), recently joined our staff in Baltimore to discuss their work to support young entrepreneurs. These organizations are supporting Via: Pathways to Work, a five-year partnership with The MasterCard Foundation to drive lasting improvements in both formal and self-employment opportunities for youth.
On the banks' side is the need for more financial institutions to see young people as an untapped market. All banks avoid risk, and banks find young people especially risky, says Sosthenes Sambua, TECC's Executive Director. "The banks in Tanzania are still reluctant to give a loan to someone who doesn't have physical security. When you come to the young people now who just come from school, they don't have a house, they don't have a car. They're seen as still experimenting." Anna Manoti, Training Manager at TECC, adds that in Tanzania, "the culture of many banks is that they're not there to support young people; they're there to support existing businesses."
On the youth side, Sambua says, TECC is training young entrepreneurs to resolutely adopt the sense of responsibility that "a loan is paid before you take it." This notion points to a need for youth to understand how money flows in and out of a business so that, on the day he or she accepts a loan, a young person is already prepared to pay it back. Sambua explains that, in the country's recent history, collusion with government-run banks made repaying loans seem optional. TECC empowers participants to be responsible borrowers and business owners through business planning training and support services such as mentorships, and they also connect young entrepreneurs with financial institutions willing to provide capital to young people.
    
In Mozambique, 60 percent of the population is currently excluded from financial systems, a full 20 percent higher than other Sub-Saharan countries, and 40 percent of youth ages 15 to 24 are unemployed. Rui Amaral of GAPI, a local development finance corporation that provides credit and technical assistance in Mozambique, sees a need for an evolving relationship between young self-starters and finance.
That bias against young people as borrowers, and the idea that they have a stronger tendency to default on loans, means these entrepreneurs need to start out small, Amaral says. First, they can participate in savings and credit groups that teach members how to save money. "Then, once they've gotten that mentality, they can be transferred to a micro bank that is smaller and [a loan that is] easier to pay back," he explains, and hopefully, they can prove they are trustworthy and get a formal bank loan if they need it. This need for patience runs contrary to a desire from many self-employed youth, especially young men, Amaral says, to see their ventures be big from the start.
Sambua and Amaral also acknowledge that in both countries, the status of a business—formal versus informal—can have big implications for a young entrepreneur. On the one hand, remaining an informal operation means not having to pay taxes; on the other, it means banks perceive a lack a dedication or seriousness. Organizations like GAPI and TECC support the idea of ultimately formalizing, which, in addition to getting capital, can mean getting bigger clients or better contracts.
By working with partners with different, complementary specialties—those who offer financial training and institutions actually providing the capital—Via is on track to empower youth in Tanzania and Mozambique with the means to make an independent living. Joining forces in this way is vital to making financial inclusion a reality for more of East Africa's young people.
Kristina Gaddy is Coordinator, Marketing and Communications.
Tags
financial inclusion
financial responsibility
access to finance
the mastercard foundation
self-employment
loans