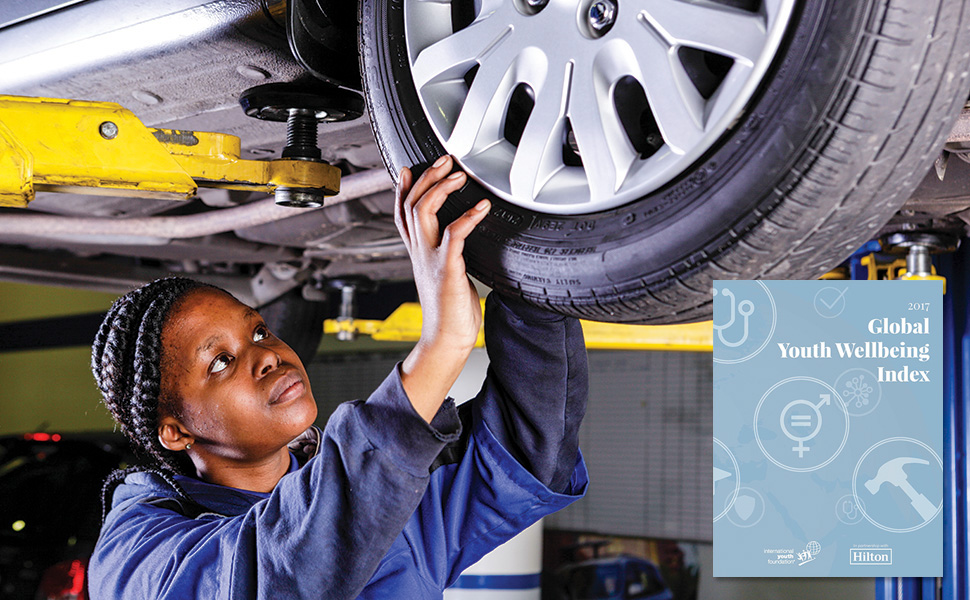 While the world is seeing the largest youth cohort in history, a lack of youth-centric data has left opportunities unfulfilled and too many young people's potential unrealized. The 2017 Global Youth Wellbeing Index aims to fill this gap for decision-makers, development practitioners, and—most importantly—young people. As the global community continues its commitment to the Sustainable Development Goals (SDGs), the Index provides a comprehensive picture of the disconnection that too many young people experience and acts as a guide for deepened investment.
Are young people able to find work? Do young women feel safe in their communities? How stressed do the world's youth feel, and how optimistic are they about their futures? The Index, created by IYF in partnership with Hilton, addresses seven of the 17 SDGs and features seven domains: gender equality, economic opportunity, education, health, safety and security, citizen participation, and information and communication technology. The Index covers a list of countries that are home to almost 70 percent of the 1.8 billion young people ages to 15 to 29 worldwide.
Rich in data from sources such as the World Bank, World Health Organization, and Gallup, the Index also features youth perspectives. Six of the seven Index domains include data from our 2016 Global Millennial Viewpoints Survey, also created in partnership with Hilton, which collected responses from 7,600 youth in the same set of countries as the Index.
"To create an investment guide that responds to the reality the world's youth face, we need to start by listening to young people," says Susan Reichle, IYF President and COO. "Combining youth perspectives with objective data allows the Index to more powerfully convey the urgent need for the global community to take action."
For example, in the Index economic opportunity domain, youth expectations for their future standard of living figure alongside six other indicators that include GDP per capita and statistics for youth not in education, employment, or training (NEET). Together, they produce one of the Index's key findings: the world has great work to do to keep pace with youth optimism.
To learn more, including the distressingly low number of youth in Index countries who are experiencing high levels of wellbeing, read the complete 2017 Global Youth Wellbeing Index and visit youthindex.org. To join a conversation about Index findings, use #2017YouthIndex to join a Twitter chat with IYF, Hilton, and Diplomatic Courier on Thursday, September 14 at 1 p.m.
Tags
2017 global youth wellbeing index
youth wellbeing index
investing in young people
youth economic opportunities
youth voices
positive youth development