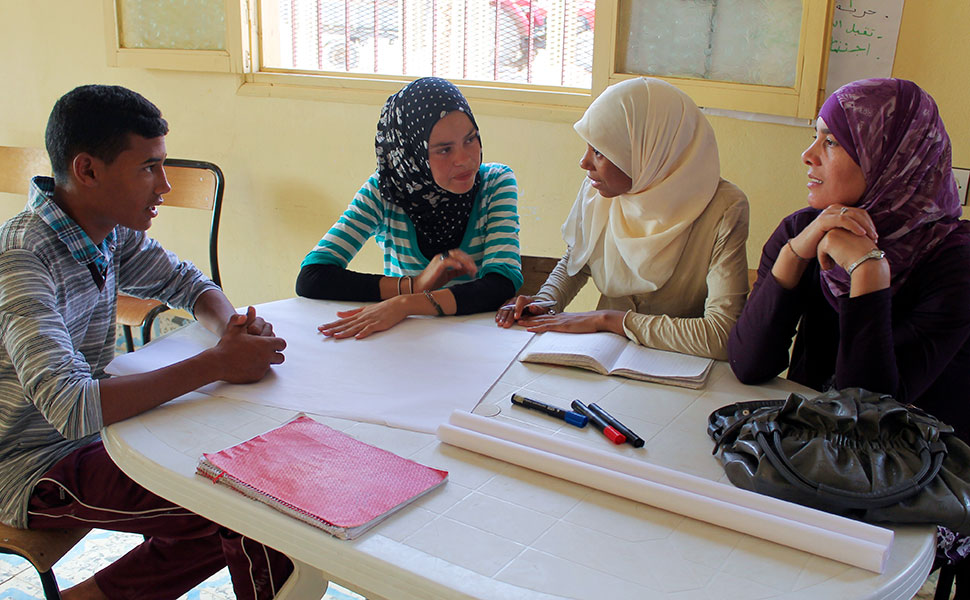 "We are experiencing a major shift in our workforce," one HR manager from a petroleum services company told me at the 2017 HR Summit and Expo in Dubai last November. "Our younger workers don't have the level of key soft skills that we expect." This gap in skills such as communication, problem-solving, and teamwork among young, prospective employees was a major topic of conversation for the more than 5,000 human resources professionals on site. In fact, the issue has become so critical that it drove UNICEF's Middle East and North Africa regional office to partner with IYF, as well as other national and international institutions, to create the Life Skills and Citizenship Education (LSCE) initiative and an associated Conceptual and Programmatic Framework (CPF).
Developed over two years with input from more than 600 stakeholders, the CPF examines life skills and civic education among youth in 15 countries across the MENA region. The LSCE CPF launch report offers the following three key takeaways:
Comprehensive reform is needed. Policymakers and practitioners find it challenging to integrate life skills into education systems, as there are no conceptual frameworks, common set of indicators, or understanding of desired outcomes to guide them. "The need for change extends beyond curriculum reform to both learning environment and teaching approach," said Marwan Muasher, Vice President for Studies at the Carnegie Endowment for International Peace and the keynote speaker for the report's launch event. "Critical thinking skills need to be developed through more dialogic engagement with learners." The report calls for a comprehensive approach to developing life skills in the MENA region so that young people can achieve the best possible outcomes in work and life.
Young people are eager. The report draws upon data from IYF's 2017 Global Youth Wellbeing Index showing youth already know the importance of life skills. Eighty-seven per cent of youth in all index countries (including Egypt, Jordan, Morocco, and Saudi Arabia in MENA) expressed the view that life skills for the workplace are fundamental. In the region, youth appetite for improving such skills is actually higher than the global average, with more than half of young Egyptians surveyed (53 percent) and 43 percent of young Moroccans expressing an interest. This hunger is encouraging news for employers, HR, and policymakers in MENA.
Assessment is crucial. Both young people and employers in MENA desire means to assess and signal the presence of these skills to allow for better-informed hiring decisions. "Life skills are a critical component of work and can be taught at all levels, from preschool onwards," says the UNICEF report. "...But they must be measurable; we need to introduce evaluation and evidence." The forthcoming work readiness assessment IYF worked to develop with ACT was well-received at the HR Summit, with participants appreciating the focus on assessing core work readiness competencies for entry-level employees (i.e., youth) as unique in the market. "This is going to serve a very big need," a senior manager for a leading UAE talent consultancy firm said. "This will be a real innovation."
This CPF launch report builds on the findings of the Analytical Mapping of Life Skills and Citizenship Education in MENA. That publication, also co-authored by IYF, takes stock of the major programs and initiatives related to life skills and citizenship education in the region.
The aim of the CPF was to spark a richer dialogue around improving the level of life skills among youth in MENA. With economic hardship, conflict, and crisis plaguing many youth in the region, thereby provoking more frequent and fluid migration than ever before, the hope is that this framework can instigate a regional consensus around life skills education to facilitate the portability of these types of skills no matter where youth find themselves.
As IYF's President and COO, Susan Reichle, shared in her address at the UNICEF report launch, "Unlike technology, life skills don't age and are enduring."
Sheerin Vesin is Director of Product Strategy & Commercialization.