3 Keys to Fostering Youth Skills Development in Tanzania
Read All Posts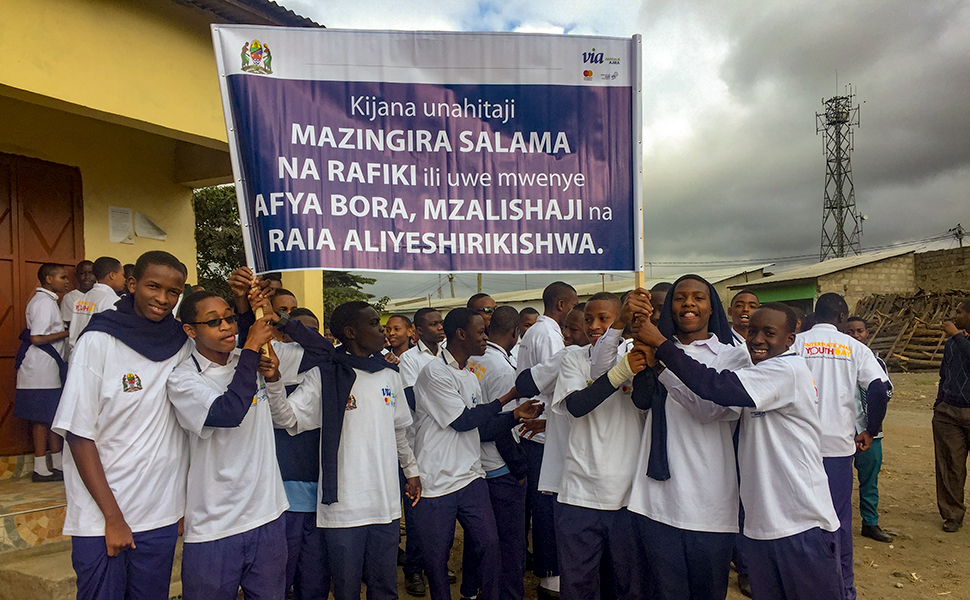 On August 12, I had the opportunity to march through the streets of Arusha, Tanzania, with over 300 young women and men as part of the country's commemoration of International Youth Day. That morning's cool weather and lingering clouds did not reflect the bright spirits and optimistic voices calling attention to this year's theme of safe spaces. With their arms linked and steps purposeful, participating youth made their point clear to the crowd of government representatives and members of the local and international community, in attendance: safe spaces are critical for their economic opportunity, environmental sustainability, and access to health and human services.
"Today, is therefore, a day upon which we revisit the role of young women and men as essential partners in change and an opportunity to raise awareness of challenges and problems facing world's more than 1.8 billion youth," said keynote speaker Wellington Chibebe, Director of the ILO Dar es Salaam Office. IYF participated in the commemoration, carried out over three days, through our Via: Pathways to Work initiative. In partnership with the Mastercard Foundation, Via is addressing a key issue event participants repeatedly raised—the need to improve economic opportunities for underserved youth in Tanzania.
After three days of listening to the perspectives of young people, development practitioners, and government representatives, I gathered three important connections between the safe spaces theme and Via's objectives:
Life skills training can help address the public stigma around technical and vocational education and training (TVET). In Tanzania as elsewhere, many young people and parents are not attracted to TVET opportunities because they don't see the training as high quality or leading to a career. The lack of awareness of the need for, and benefit of, so-called blue-collar jobs like plumber, electrician, mechanic, carpenter or construction affects youth's willingness to enroll in TVET schools and can impact how they view themselves and their prospects. By integrating IYF's proven life skills curriculum, Passport to Success

®

, into technical courses, Via is helping youth enrolled in the TVET system redefine their self-image and reject these negative stereotypes. Participants report increased confidence, self-awareness of their potential, and desire to set and achieve goals. Instead of focusing on where they are, they focus instead on where they want to be in the future and how their skills training can contribute to that vision.
Youth are not homogenous, and gender and social inclusion efforts help meet the needs of specific groups. Traditional training approaches, environments, and infrastructure often overlook the needs of women and people with disabilities, for example not having separate bathrooms or providing training and information materials in Braille. Despite government quotas for education enrollment and employment, training institutions and employers struggle to make their infrastructure and policies more accessible and inclusive. Through Via and with all our partners globally, IYF conducts baseline capacity assessments to identify key areas for organizational improvement, including the area of gender and social inclusion. This facilitated process, in which partners self-assess and identify their own priorities, has generated good discussion about how to encourage greater parity in course enrollment and the infrastructure investments required to reduce barriers for people with disabilities.  
Advancing youth economic opportunities requires platforms for consistent engagement between youth and the public and private sectors. Throughout the event, government and industry stakeholders kept encouraging young people to take advantage of the opportunities available to them, including grants and ways to get equipment at little or no cost. Young people who were aware of these opportunities shared about the impediment of bureaucracy; those who were unaware indicated a lack of information on the right offices and people to visit. Their responses highlight that the existence of support services does not guarantee awareness of or access to them. For this reason, IYF is using a systems-change approach to identify ways in which traditional service delivery and communication can be more youth-friendly. We are also regularly convening key actors in the youth employment ecosystem in order to improve linkages between young people, government, and the private sector.
"There is no nation that will develop without investing in its youth," reflected Deputy Minister of State Antony Mavunde. "If all youth work together, and with government and other stakeholders, we will be in a good position to improve development in our country."
Nancy Lazaro is an IYF Project Manager in Tanzania.
Tags
youth economic opportunities
international youth day
safe spaces for youth