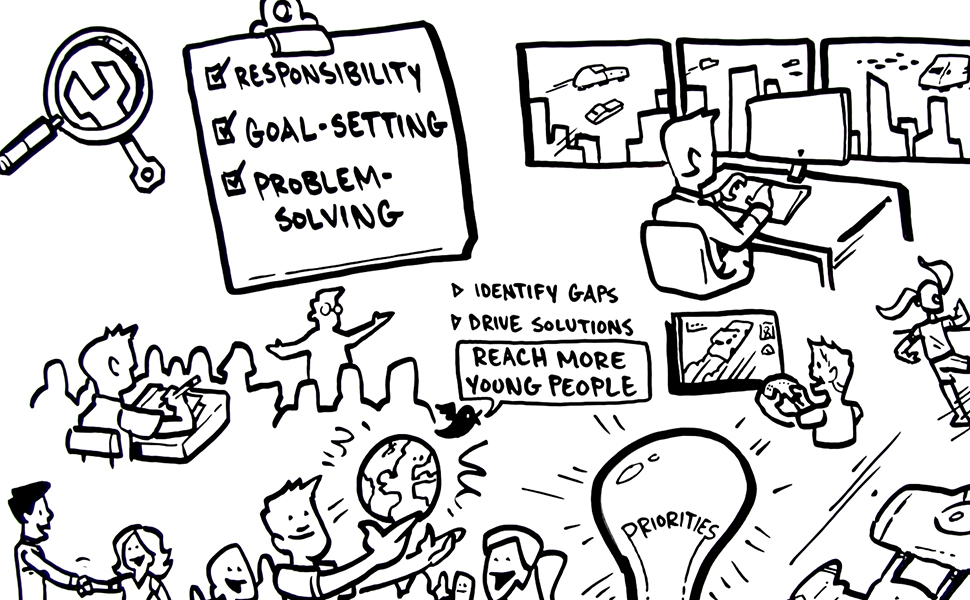 We can state our mission simply: IYF prepares young people to be healthy, productive, and engaged citizens. When put into action, what does that statement mean in 2016? This whiteboard animation explains the challenges and opportunities for today's 1.2 billion young job seekers, entrepreneurs, and leaders and offers a clear overview of IYF's approach for supporting their success.
Created for our Rethinking Priorities, Reimagining Solutions report, the animation describes the rapidly changing world of work in the 21st century. In posing the question of how to best support young people, we identified three priorities from our experience:
Invest in skills that will endure. Some of the most in-demand jobs didn't exist a decade ago. Those marketplace changes mean we need to make sure technical training is aligned with employer needs. What any employee always needs are life skills like responsibility and working well in a team, and these skills actually become more valuable over your career.
Engage youth where they are. Working through existing systems, including schools and training institutions, allows you to identify gaps, drive solutions, and reach more young people. Drawing on young people's interests, including sports and the Internet, makes for more engaging learning experiences.
Treat young people as partners in development. Meaningful change can be made only by working with youth. This process includes listening to young people's priorities, tapping young leaders' insights, drawing on the the power of youth-to-youth relationships, and supporting empowered youth as agents of change.
Watch the whiteboard animation below for a synopsis of what matters most to us—equipping young people with the skills and opportunities to reach their full potential.
Tags
annual report
video
iyf anniversary
positive youth development
youth employment