3 Strategies for Promoting Entrepreneurship in the Middle East & North Africa
Read All Posts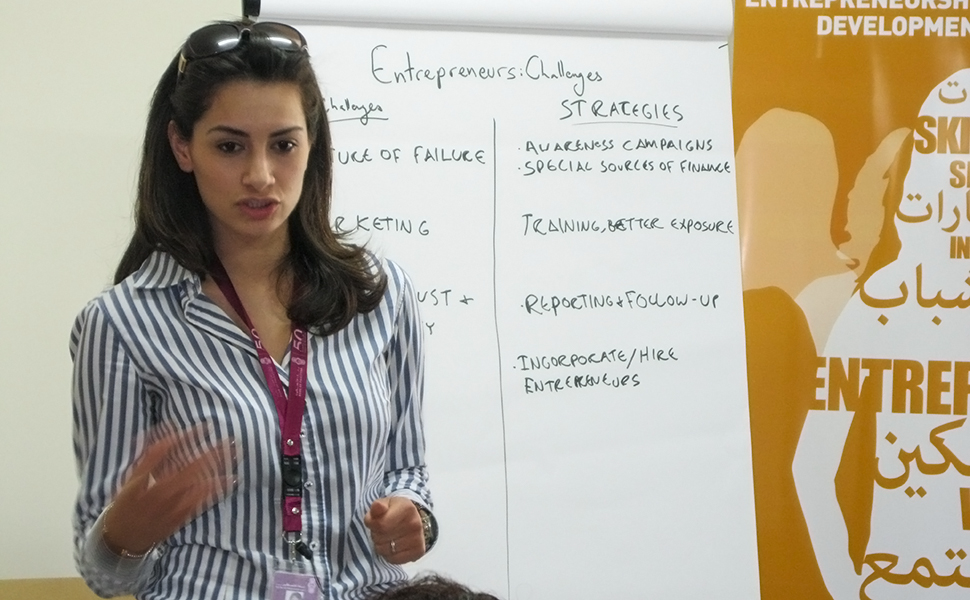 At IYF, our mission includes preparing young people to succeed and earn a livelihood, but how that plays out around the world differs. In some contexts, entrepreneurship is looked at as an alternative, supplement, or a last resort; in others, it's a necessity. Entrepreneurship: An Engine for Job Creation and Inclusive Growth in the Arab World, a recent policy briefing from the Brookings Doha Center, offers a look at how entrepreneurial initiatives can facilitate job creation, inclusive economic growth, and achievement of the Sustainable Development Goals in the Middle East and North Africa (MENA).
The report offers three priorities to promote entrepreneurship:
Create more training programs that promote personal growth and confidence of entrepreneurs. The Brookings report states that only 10 percent of universities have academic programs that focus on entrepreneurship, and the Global Millennial Viewpoints Survey found that young people in the MENA region have the lowest rate of satisfaction with business and entrepreneurship curricula their schools offer. IYF's experience has shown that life skills combined with practical entrepreneurship and financial literacy skills are the first step to having the confidence to start a business. Our IDMAJ initiative expanded opportunities in employment, entrepreneurship, and civic engagement for disadvantaged youth in Algeria. Seventy-two percent of youth served felt their self-confidence increased, and 71 percent reported an improvement in their ability to set career and life goals.
Promote an ecosystem that nurtures entrepreneurs. A culture of risk aversion and fear of failure steer many young people in the MENA region away from starting their own business. Through BADIR in Jordan, we set out to strengthen 65-youth led ventures but ended up building a movement. With our partners, we have been able to foster an environment supportive of social entrepreneurs by listening to youth, promoting positive media coverage, and bringing together a network of champions for youth. The initiative, part of the YouthActionNet

®

global network and funded by Starbucks and M.H. Alshaya, Co., has worked to challenge the stigma of self-employment and start-ups, while providing training, coaching, resources for funding, and exposure.
Make it easier for entrepreneurs and SMEs to acquire credit. Financing for entrepreneurs is the MENA region remains limited, and lenders are biased against sectors like manufacturing and agriculture. In partnership with the OCP Entrepreneurship Network, IYF's I:GROW initiative promotes new business creation and enterprise expansion in the agricultural sector in Morocco. In addition to training for young people, the initiative plans to help entrepreneurs and small businesses gain access to credit.
Addressing these priorities cannot be done by NGOs alone. Multi-stakeholder alliances and the involvement of governments must create a better, more inclusive environment for entrepreneurs. In addition to promoting a nurturing ecosystem, increasing financial inclusion, and creating training programs, the report recommends policy reform in regulation and trade.
For the full recommendations, read Entrepreneurship: An Engine for Job Creation and Inclusive Growth in the Arab World.
Tags
sdgs
badir
brookings
original research