4 Priorities for Working with Syrian Refugee Youth in Turkey
Read All Posts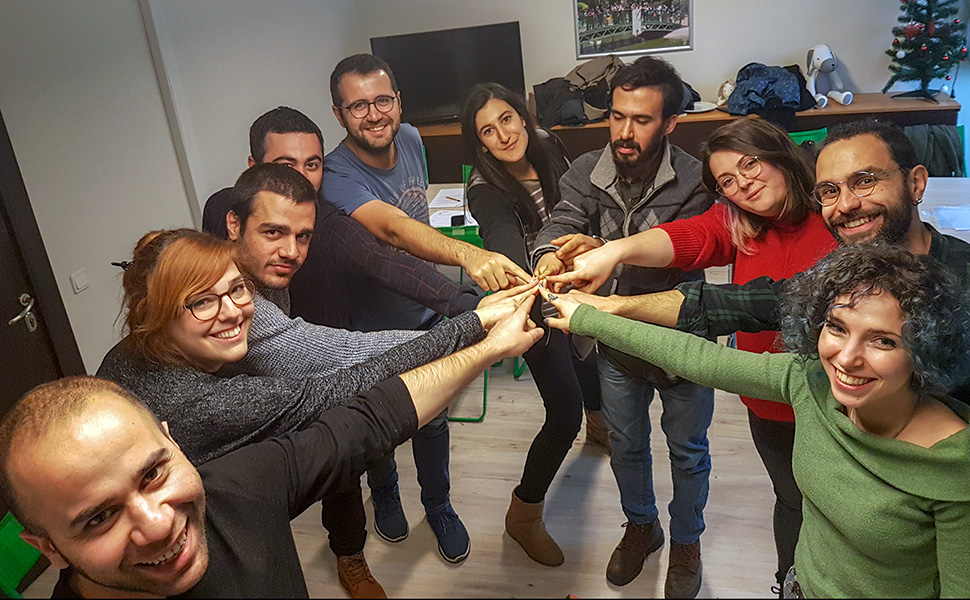 It's hard to comprehend the enormity of a global issue such as the Syrian refugee crisis until you see some of its impact up-close. Only when I was in Turkey, co-leading a workshop for IYF's Syrian Refugee Employability Program (SREP) for a group of inspiring civil society organization staff—all of whom are themselves in their 20s and early 30s—was I better able to grasp the situation on the ground.
Through SREP, IYF has assessed opportunities and barriers for Syrian youth's integration into the Turkish labor market. We are combining that understanding with our years of global experience to enhance the knowledge and ability of civil society organizations in Istanbul to implement employability programs for the Syrian youth they serve. Turkey hosts the largest number of Syrians seeking refuge—3.5 of the 5.6 million Syrians registered as having fled their home country (not counting the millions more internally displaced people). In Turkey, the crisis has called many people to action, like 22-year-old Rana, Activities Assistant at Mülteciler Derneği (Refugees Association).
"I believe that every person has the power to create their own existence, and I want to do this for myself and help others who can't do it alone," Rana says. I interviewed her and five other workshop participants to find out what messages young NGO workers on the ground have for communities and organizations working with Syrian youth:
Prioritize improved livelihoods, starting with language learning. The interviewees, as well as data collected through SREP, point to the lack of Turkish language skills as the largest barrier Syrians face to integrate into the labor market. Without those crucial language skills, obtaining a job and making a life for oneself in Turkey becomes exponentially more difficult. Overall, focus should also be placed on ensuring that Syrian youth are receiving proper education and training. Mert, a 26-year-old responsible for the refugee councils at Mülteciler Derneği, asserts we need to be proactive and future-oriented. "Most people are only thinking short-term because they need to meet their basic needs," he says, which leads to young people dropping out of school to make money for their families. Numbers from UNHCR data indicate that only 23 percent of refugee adolescents attend secondary school, and an even bleaker 1 percent of refugee youth enroll in higher education. Topics covered in the SREP capacity strengthening workshop series include life skills, technical skills, internships, and job placement.
Incentivize Syrians and employers. Many Syrians are leaving behind years of education and white-collar professions but do not hold the same credentials in Turkey. They are struggling to find employment, and the majority end up working in the informal sector and living off day-to-day wages. Employers are forced to pay annual fees per Syrian they hire, and Syrians are subject to rigorous requirements to obtain work permits. Thirty-year-old Kenan, YUVA Derneği's Training Officer, says that his work in the field "revealed the gap between the professions young people aspire to and the professions they acquire." In addition to critical changes in policy, we must find a way to engage the private sector and incentivize both Syrians and employers to move towards formal employment for Syrians.
Create a common ground. Social cohesion is another huge barrier for Syrian youth, and our partner NGOs place great weight in creating a safe space for them to integrate into their new communities. "I think it is invaluable for Syrian refugees to have the opportunity to live an honorable life in harmony with their host community," says Elif, 30-year-old Project Manager at Hayata Destek (Support to Life). "This is what draws me the most to the work I do," she explains. YUVA Derneği's Program Coordinator, 27-year-old Ecenur, says, "Everyone working in the refugee community should conduct advocacy work ... to support social cohesion." Some recommendations included hosting social activities and conducting sensitivity training for organizations, communities, and schools.
Be respectful, sensitive, and inclusive. We are working with a group of people who have lost their homes, and many have endured unthinkable hardships. There is so much to gain by simply having a conversation, even with just one person (and don't forget, they are not a homogeneous group). Selman, a 33-year-old social media manager at Mülteciler Derneği, describes how his organization created youth councils, which provide young Syrians the opportunity to exchange ideas, share their opinions, and troubleshoot challenges. Consider inviting Syrian community members to internal trainings to improve processes and make sure your goals are aligned with their needs. Include Turkish youth, and deliver sensitivity training. Syrians should be given the space to advocate for themselves. We cannot make these changes for them without them, so be sure to listen and learn.
Being a young person committed to purpose-driven work myself, I was really struck by the passion driving my millennial peers to step up and take on this youth-to-youth approach. In addition to offering valuable perspective on how to better understand and support refugees, the young practitioners I interviewed are also another example of young people mobilizing and taking charge in sight of a large global issue.
Thank you, Rana, Selman, Mert, Kenan, Elif, and Ecenur for taking the time to speak with me, and thank you to mission-oriented organizations Yuva, Mülteciler Derneği, and Hayata Destek for your inspiring work.
Nina Minadakis is Program Coordinator, Middle East & North Africa.
Tags
refugees
syrian refugees
syrian refugee crisis
refugees in turkey
refugee education
employability