4 Ways Life Skills Training Changed 2 Young Women in Kazakhstan
Read All Posts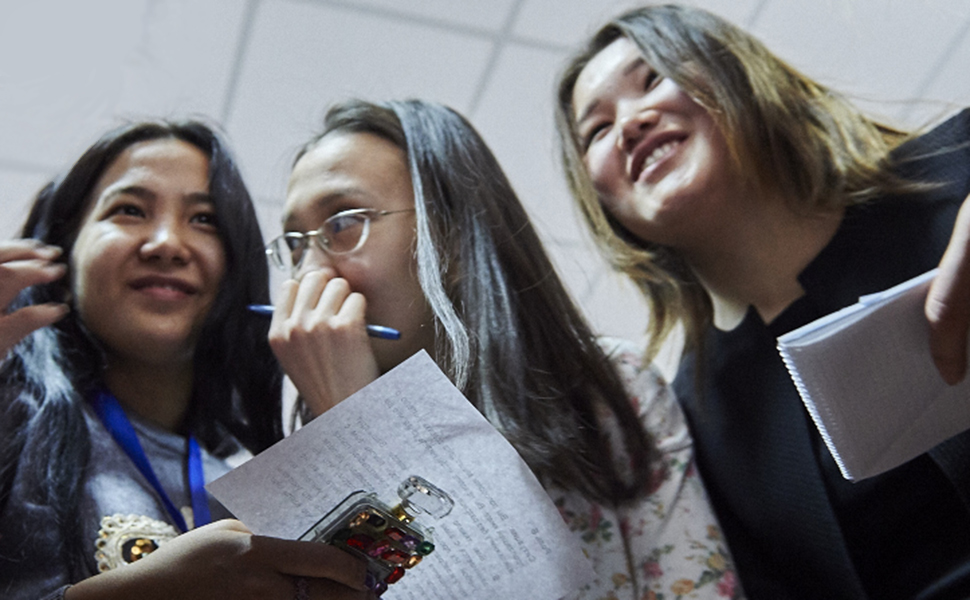 Around the world, IYF has seen the many specific ways Passport to Success® (PTS) life skills training can alter the day-to-day lives and career paths of participants. I live and work in Kazakhstan, and I recently spoke with two young women from the first class of PTS graduates here under the Chevron-funded Zangar initiative. Nurgul and Gulfiya attend different colleges and are following individual paths, but both students have seen similar positive results from having participated in PTS:
They are more confident and decisive, and other skills they learned continue to benefit them. Before enrolling in PTS, 21-year-old Gulfiya won a business idea competition, but she was hesitant about whether it would work out. However, PTS helped Gulfiya gain the confidence to execute her idea and set up a small salon space, where she now runs her small business doing nails and hair. "After training, I make plans every day like we did during our PTS class," says Gulfiya. "I've learned how to set a goal and achieve it. Every evening I sit down and review what I have done and I need to do the next day." Similarly, 18-year-old Nurgul says she decided to step outside of her comfort zone. She enrolled in her college's talent show, which she won, and then a regional one, where she again came in first place.
They have decided to invest in lifelong learning. Both young women have become interested in other trainings and personal growth. "By participating in PTS, I realized I should never stop focusing on self-development," says Nurgul, who has since enrolled in several other trainings. Gulfiya started participating in local business trainings and joined her college's Enactus team. It promotes entrepreneurial action among students, primarily through national social business start-up competitions. Gulfiya says most of her team members are PTS graduates, including the team's captain, and they are preparing for the country-wide competition in May of 2017.
They have become more aware of community needs and have started volunteering. PTS in Kazakhstan includes a service learning component that has inspired continued action in Nurgul and Gulfiya. Now, Nurgul leads the volunteer corps at her college, a role in which she organizes volunteer-led events to meet community needs. For example, she recently led a team of students in helping with housekeeping for nearly 50 local veterans. Gulfiya is preparing to volunteer at Astana Expo 2017, the first world's fair to be held in Central Asia. "After PTS I've become more aware of community needs, and I feel happy that by doing my favorite job I'm also doing good deeds for those around me," she says.
They are more entrepreneurial. Nurgul has become involved with an Instagram-based video production business that has almost 26,000 followers, and she now aspires to own her own company in the hospitality industry. Gulfiya, who operates her small nail and hair salon on the Atyrau University campus, plans to expand her business and do so in a way that benefits her community. "When I open a bigger salon, I would start with discounts for students and elderly people so my services are more affordable to everyone," she says.
With Gulfiya and Nurgul, we see PTS training as a vital step in these young people's personal and professional development. I look forward to seeing how PTS shapes the future for even more classes of graduates.
Meirgul Alpysbayeva is Program Manager, Kazakhstan.