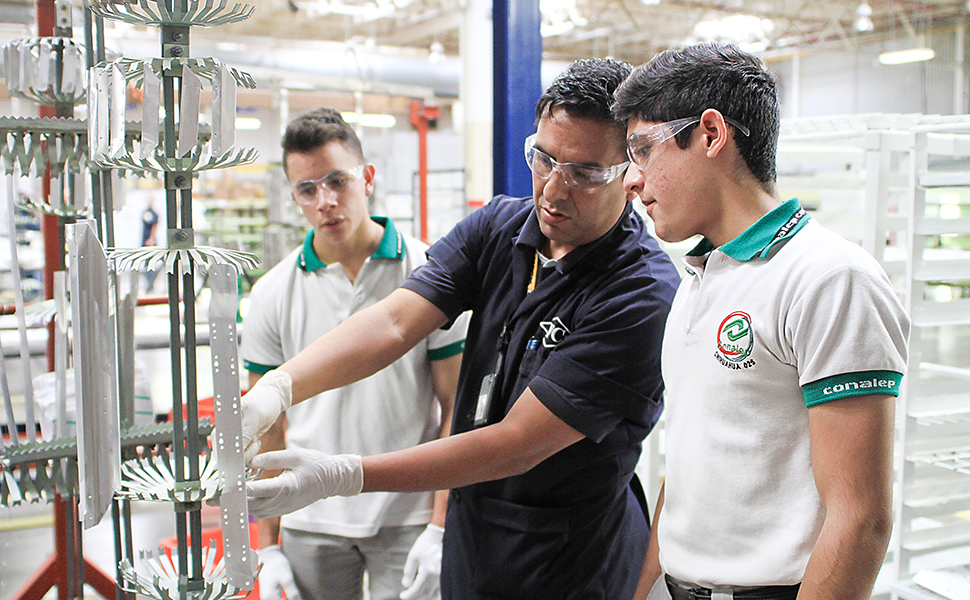 An initiative I work on, Rutas, which is supported by USAID, seeks to ensure that technical public high schools teach students the skills they need to be competitive in Mexico's dynamic job market. Knowing that preparing young people for today's world of work requires the cooperation of the public and private sectors, we've supported several multi-stakeholder alliances in the states of Chihuahua and Nuevo Leon, in northern Mexico, to address the complex issues of youth workforce readiness in a holistic and systemic way.
These alliances have achieved great things over the last two and a half years, including aligning the public school curriculum to the aerospace, automotive, and clean energy sectors; integrating social-emotional skills and career guidance into the standard high school curriculum; and developing an online search tool for local employers to find qualified graduates. There's still more we hope to achieve.
Lots of people talk about multi-stakeholder partnerships, which can include schools, employers, industrial chambers, and civil society, as if they were an easy way to address complex problems, when in fact they bring their own share of complexity. Based on my experience, here are five strategies to manage multi-stakeholder alliances more effectively:
Not everyone needs to participate all the time.
Figure out who needs to participate, and when. Making change relies on lots of different activities, with specific roles for many different players. For example, for Rutas, institutional decision-makers attend only quarterly alliance meetings to approve, monitor, and commit institutional resources to alliance initiatives. They then assign different staff members to work with the IYF Rutas team to analyze, design, and implement the initiatives.
Group work and decision-making can be a disorienting and disheartening process.
Have a roadmap to get your group to clear decisions and early wins for long-term success. We've all been there: you find yourself in a long meeting for a workgroup without clear goals or deadlines. What do you do? To avoid having people skip meetings or drop out entirely, Rutas provided and stuck to a clear roadmap with well defined rules that has led members to early wins, keeping them motivated and on track.
Recognize and respect different agendas, perspectives, and institutional constraints.
Alliance members pursue their own interests first, not the alliance's, and that's OK. Only when the hard work has been done of aligning alliance activities with members' interests will members make changes to how they operate, and only within their organizations' institutional constraints. For example, industry partners have immediate hiring needs, but they have had to adjust to the scheduling restraints public schools face. Public school partners have only two times during the year for teacher training, which means we need to capitalize on those two opportunities a year to introduce any new curricula. 
A group can't move forward together when you can't agree which direction that is.
Develop a common language to create a shared understanding. In addition to having competing agendas, perspectives, and constraints, partners have different lingos. In the Rutas alliance, our school partners talk about their dropout rate, while our industry partners talk about employee rotation and return on investment. To get everyone equipped with the same basic understanding and speaking the same language, our first step was to develop a shared analysis of the regional labor market, the institutional bottlenecks, and the opportunities for change.
Alliances require strong staff support.
Provide support to allow alliance members to effectively contribute. By signing up to make changes in how they work internally and with other members, each alliance participant has already taken a big step. Their responsibilities are to share information, consider and refine options, make decisions, and implement changes internally. All other activities, such as developing meeting agendas and synthesizing input into proposals for the alliance to consider, fall to the alliance's staff support or backbone organization. I've seen alliance members offering to take on additional tasks because they see that their expanded contributions lead to even more real progress.
Multi-stakeholder alliances offer a powerful way to drive systems change, but they require juggling members' varied viewpoints and priorities. With plenty of patience and planning, this collaboration can be our best bet to making sustainable changes at scale.
Rutas is a NEO associated project.
Liz Vance is Senior Technical Advisor, Workforce Development, in Mexico.
Tags
multi-sector alliances
partnership
scale
systems change