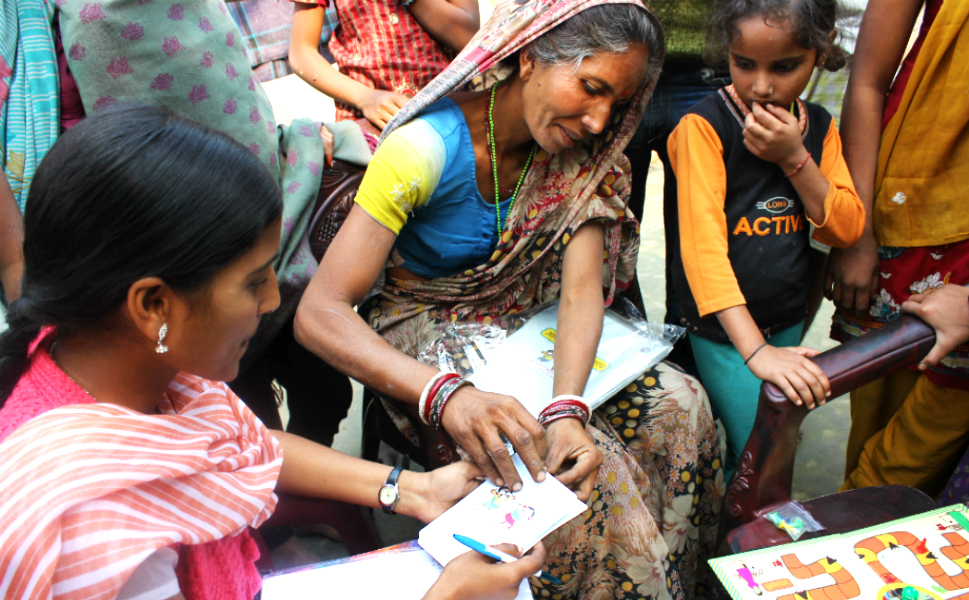 It seems like common sense that when you make learning enjoyable—or even fun—young people will be more engaged at school. One nonprofit in India has found that well designed games are serious tools that don't just improve educational outcomes; they can change relationships and spark new ways of thinking.
IYF partner QUEST Alliance, based in Bangalore, the country's tech hub, has developed two physical board games for students and is exploring creation of a game-based application for mobile phones. In the process, they've changed local perception about how students learn best and shifted the dynamic between those students, parents, teachers, youth facilitators, and schools for the better.
The first game, Anandshala GupShup, was part of one initiative's larger parent engagement strategy. Based loosely on Parcheesi, the board game played by students and their parents encouraged them to talk through all the different scenarios a young person could enter going from the game's starting point (home) to end (school). Landing on a new space would prompt a player to draw a card that might say the young person chose to play in a field instead of going straight to school, which set him back two spaces.
Designed as part of IYF's EquipYouth initiative, the second game, Career Quest, targeted participating vocational students. Formatted to mirror the opportunities and challenges they'd encounter during an everyday work shift, the game prompted players to practice what they picked up in training and learn about professional options and advancement. Learn more about how it works by watching this video introduction to the game, which was a finalist for the Interactive Design Awards in 2015.
Aakash Sethi, QUEST Alliance's Executive Director, and Abhijeet Mehta, Associate Director, recently sat down to talk about their experience with these games as learning tools. They shared lessons learned along the way and that they're keeping in mind as they develop their app:
Games can facilitate conversations that aren't happening otherwise. In the case of GupShup, a Hindi word that loosely translates as "chitchat," Sethi says, "We found that the emotional engagement around schooling with the parents increased in terms of the children feeling they can talk to their parents more freely, and parents were asking questions."
Games can benefit relationships beyond those of the people playing them. QUEST found that the parent-student game also improved communication between parents and the school teachers and officials. The practical scenarios it included helped parents, the majority of whom were illiterate and had little formal education, better understand their own responsibility versus the school's. Bridging this trust gap increased parents' support for their children's attendance and success. "Can the school and parents come together for the child and do what each of them need to do in order to provide a good learning environment? That's the larger goal," says Sethi.
Games shouldn't stand alone; they're most effective as part of a package. For example, Anandshala also provided a poster that parents kept at home to track their children's school attendance. This activity supported one aspect of the division of responsibility between parent and school that the GupShup game helped clarify. Then, in the case of Career QUEST, the game complemented and reinforced students' technical schooling and 110 hours of life skills training.
You need to get teachers and facilitators on board. For the teachers sending GupShup home with their students, games were unfamiliar as an educational tool. However, the schools had worked with QUEST Alliance before and trusted their expertise when they explained the objectives. In the case of the vocational career game, the team at QUEST Alliance found they needed to spend extra time getting facilitators to take the game seriously as a learning tool. That mindset shifted over time as a result of the facilitators actually playing several times.
In designing a game, don't forget practical planning. For example, remember timing. Career QUEST requires about an hour and a half in order for players to reach a conclusion, while a typical class ran only 45 minutes. Sethi at QUEST Alliance said the schools were accommodating, but in the future they would pay more attention to this aspect.
Physical game boards can create problems with replication and scale. Each copy of the Gupshup game cost $2 to produce, which Sethi says is too expensive to recreate in large quantities. (The original audience included more than 8,000 students.) If they were to do it again, he'd consider printing the game on a single sheet of A3 paper or have students decorate copies in art class. The designed version they used did have the advantage of looking different from anything students had at home, so they'd need to be mindful of maintaining this kind of novelty and appeal.
Digital games have their own challenges but offer new opportunities. In either case, creating a digital game would have taken longer and required different expertise and more money, but it could have improved scalability and made it more collaborative beyond the training setting, reflects Sethi. Of course it would have required updates and maintenance. For the vocational training game, QUEST did supplement with a well designed Career Quest tutorial video that clearly explain the rules and objectives.
QUEST Alliance is planning to launch their mobile app in the spring of 2017, and they're looking to creating a game as a way to present educational content in a way that's familiar to and fun for the youth audience. We look forward to seeing what their team creates.
Kim R. McCormick is IYF's Editorial Manager.
Tags
games
gamification
interactive learning
digital learning
technology for development
mobile app
board game
quest alliance