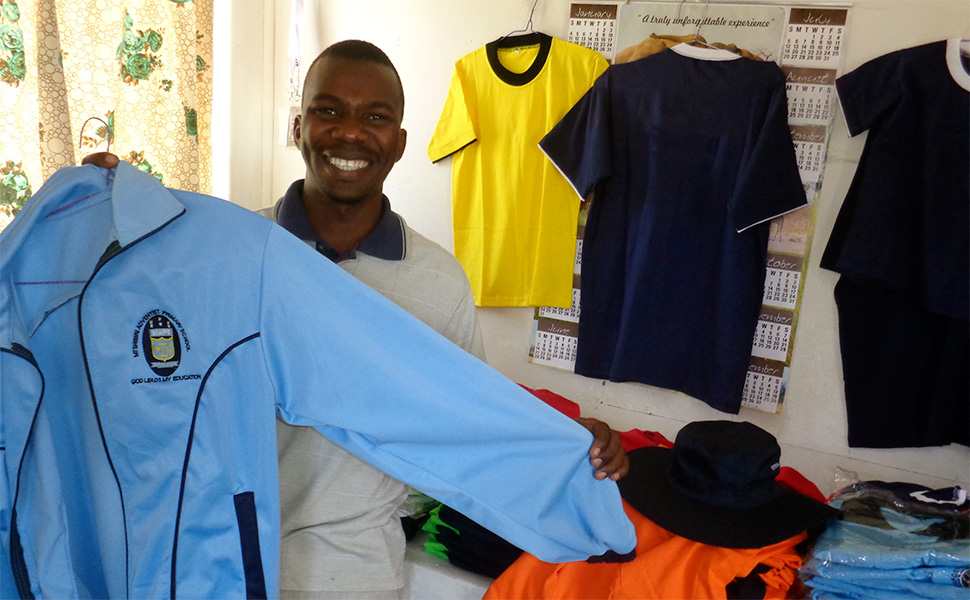 Along the road between big cities Harare and Bulawayo, in addition to the fields of maize and other staple crops, there are several smaller towns full of enterprising young people eager to work. For these rural Zimbabweans, even more than those living in urban centers, self-employment is their future. But when nearly three-quarters of the country lives in poverty, it's not a lack of ideas or drive that can hold back these young business owners. It becomes a question of money.
While visiting young people participating in IYF's Zimbabwe:Works (Z:W) project, on the outskirts of Bulawayo, I came across an entrepreneurial young man selling uniforms and hats. Clever Chitayi is engaging and full of energy, with a ready smile. He envisions significant growth for his business. His outlook is optimistic thanks to the multiple orders he is receiving from private sector clients, including local schools and sports teams.
Clever has expanded his skillset through Z:W, which is supported by the UK's Department for International Development (DFID), the U.S. Agency for International Development (USAID), and the Embassy of Sweden, in partnership with Zimbabwe's Ministry of Small and Medium Enterprise and Cooperative Development. 
The training has prepared Clever to grow his business: he developed a five-year plan and has learned to be more careful about expenses, sourcing, and tracking sales. Business really took off a few months ago, after a Z:W market fair provided exposure to numerous potential clients for his core business designing and selling track suits, T-shirts, and caps. The resulting orders provided him more than 800 USD that month, which is almost as much as the average Zimbabwean makes in a year. 
Nevertheless, Clever's dreams are in jeopardy. His company, Trevor Industries, is not officially registered as a business, and through Z:W he learned that being part of the informal economy restricts how much his business can grow. Currently he cannot legally respond to the numerous tenders large clients from the public sector are sending his way. In order to register, he needs money.
Even with Clever's improved money management skills, the income from the market fair orders doesn't leave him with enough to pay the 250 USD registration fee, cover costs, and keep his business going. And securing financing is almost impossible. As in the rest of the world, Zimbabwean financial services institutions consider young people highly risky, because they do not have the collateral or other guarantees these institutions require.
How can we address this dilemma? In Zimbabwe, IYF is working with project partners—business development services providers and microfinance institutions—to have them clearly articulate proper procedures and their expectations for young people. However, these steps don't go far enough. IYF has contracted Zimbabwe-based Mustard Seed Consulting to explore deepening Z:W's activities through two tracks:
Non-financial services
Strengthen the initiative's mentorship component by running business plan competitions that match the winners with mentors.
Create youth clubs that can serve as structures for incubation and follow-up.
Share success stories that encourage youth to embrace entrepreneurship as a viable option.
Promote youth competitions for exhibiting at trade fairs and online, where financial institutions participate as judges and fund winning ideas or refer winners for loan funds.
Financial services
Help microfinance institutions recognize the business case for serving young people and shifting the model for their services away from "one size fits all."
Knowing parents and guardians play a crucial role in promoting youth financial inclusion, provide financial literacy training to both the younger and older generations in a family.
Expand business development training for youth to include modules on managing money (savings, budgeting), accessing financial services (banking services, loans and saving options), and financial negotiation.
There are millions of young Clevers in the world eager to take advantage of economic opportunities in their countries. Yet, for some reason, financial service providers in Africa still haven't realized that 70 percent of their populations remain an untapped, valuable clientele. To solve this problem, we need to prepare young people to be savvy customers and help providers recognize the strategic value of this growing market segment.
Tags
access to finance
financial literacy
money management
business plan
informal economy
youth economic opportunities
microfinance
financial inclusion