Black Youth Have Answers and Agency: Development Can Bring Resources and Deep Listening
Read All Posts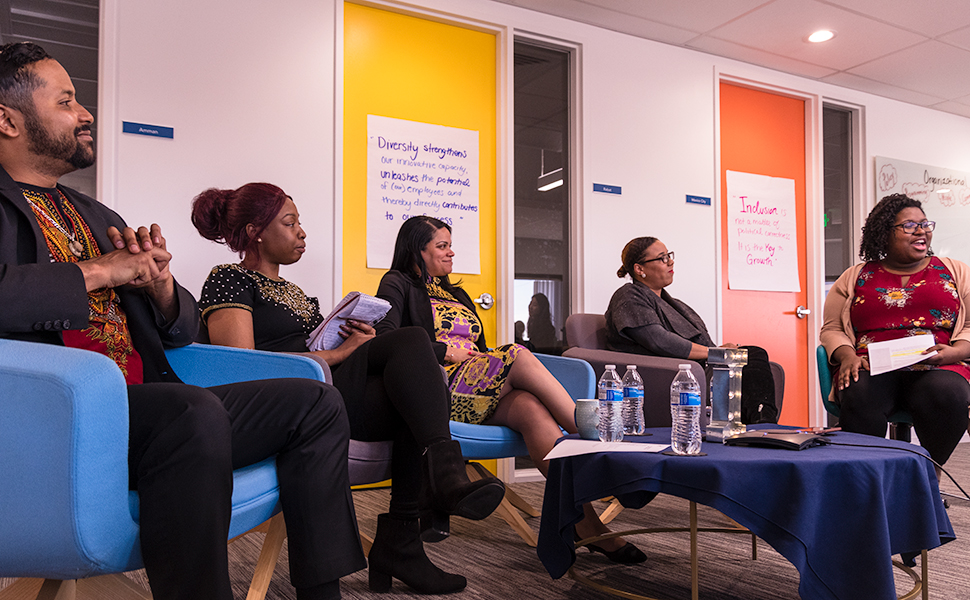 Inclusion in the development sector—this was a key theme of IYF's Learning @ Lunch in celebration and observance of Black History Month. On February 28, professionals in national and international development came together in a panel to discuss awareness among development organizations when serving and employing Black people. They identified challenges in Black communities and reflected on actions that organizations and individuals can take to better serve vulnerable populations (including Black communities and other communities of color). Panelists included Ivelina Benitez, JD (Deputy Director of Education and Workforce Department, Latin American Youth Center), Shafick Hoossein, PhD (Environmental Scientist, World Bank Group Environment and Natural Resources Global Practice), Yvonna Stevens (CFO & EVP of Finance, Administration, & IT, International Youth Foundation), and Shawnice Jackson (Consultant and Co-Founder of Opportunity Youth United). Among many powerful takeaways, here are four responses to one question: 
In the field of development, what challenges should we consider as we develop interventions for Black communities in which we work?
Ivelina Benitez: Trauma. It's easy to underestimate the impact of trauma. We need to be aware that there is a whole set of experiences behind every person and every community that we serve. When you look at a person, and you only see the circumstances they're in, and not all that they've been through—or their potential—you are doing a great disservice. Be conscious of the trauma that exists within communities before trying to propose a solution.  
Shafick Hoossein:  In my fourteen years of experience working in the development world, [programs and interventions] are too often fashioned around best practices, not fashioned around what's actually happening on the ground. I've worked all over the globe, and often we come into a community and say what we want and leave—as opposed to asking, "what's of value to you, how can we use what you have and build on that?" 
Yvonna Stevens: Systems—be aware of the systems that exist that make it difficult for Black communities and other communities of color. It's important to keep in mind that no matter how much we try to respect and be aware of the challenges in the communities where we work, we may not understand what it is like for the people who live it. Rather than coming in with a prepackaged solution, ask them questions—what ideas do they have for solving the challenges that affect them the most? Young people specifically are often aware of these systems and have ideas about how to solve their own challenges. Sometimes, they only need access to opportunities, and someone to listen deeply.
Shawnice Jackson: Young people don't only have ideas—they have answers, they have agency. A lot of times, organizations and well-intentioned people come into communities with a deficit-based view of young people [seeing only what's wrong], instead of seeing them as assets. Often, young people are looking for resources, they're looking for champions, someone who can support them on their journeys. Also, be aware that as Black people, we have our own unique culture, our own values, and a strong sense of pride that comes with that. Recognize that there's always the possibility of doing more harm than good if you ignore, or misunderstand, or try to change a particular culture.
Tags
black history month
black professionals
inclusion