In Brazil, A Whole-Person Approach to Job Readiness and Healing
Read All Posts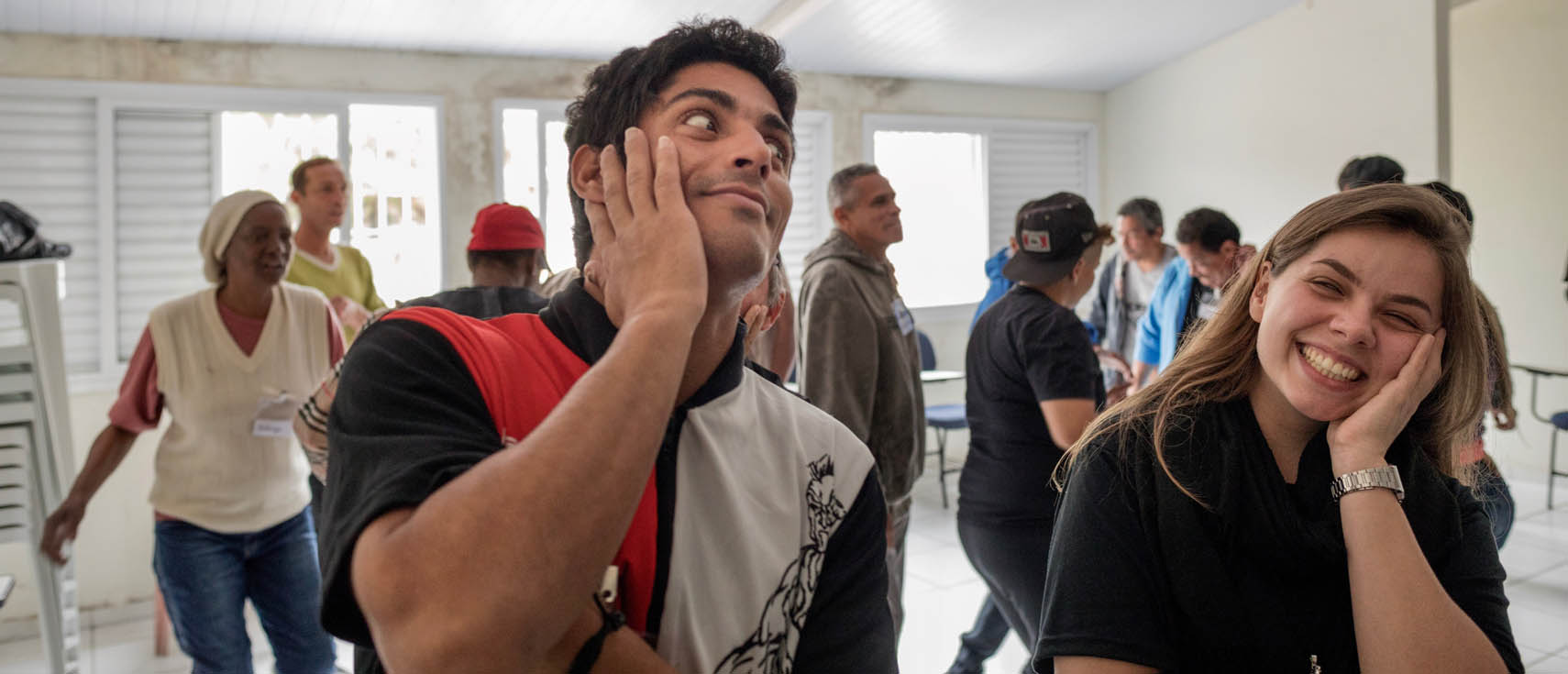 On an overcast morning, roughly two-dozen young and older adults file into a large whitewashed room at the municipal homeless shelter in the Barra Funda neighborhood of São Paulo, Brazil. Here, they are greeted by the sound of Vivaldi's Spring concerto emanating from two large speakers. As each takes a seat in white plastic chairs arranged in a circle, two young facilitators prepare to model the day's first activity.  
"I commit myself to carefully leading you in this exercise," says one young woman in Portuguese while standing face-to-face with her colleague in the center of the room. 
"I trust you and accept your guidance," affirms her partner, who proceeds to close her eyes and walk slowly across the room. As she nears any obstacle, her colleague gently taps her shoulder, indicating it's time to change direction.  
The exercise, with its focus on building trust, along with leadership and teamwork skills, is part of a 40-hour employability training being delivered at the shelter by Rede Cidadã (the Citizen's Network), a national civil society organization. 
"For a person who lives on the street, it can be hard to close your eyes," says Program Director Tatiana Carvalho. "You're always on the alert for fear of being hurt." Through this trust-building activity, participants start to re-learn behaviors and overcome emotional obstacles that can impede their ability to perform on-the-job later.
With a 15-year track record in successfully delivering employability programs, Rede Cidadã (or Rede for short) recently partnered with the city of São Paulo on an audacious plan to connect 20,000 homeless individuals to jobs. 
Over the last ten months, more than 2,900 of the city's homeless have been trained through Rede, with over 1,000 hired by companies to carry out functions related to maintenance, cleaning, customer support, production, and manufacturing. 
While Rede Cidadã's Founder and Executive Director, Fernando Alves, admits the city's goal is an ambitious one, he's no stranger to pursuing bold ideas. Frustrated by Brazil's widening social and economic divide, Alves launched Rede in 2002. By leveraging the collective resources of business, government, and civil society, he sought to generate employment and income for those left behind—especially the nation's youth, who make up 16.4 percent of Brazil's population and suffer disproportionately from lack of jobs.
"In Brazil, young people don't believe in education. They started to not believe in the value of work. We needed to show them that when they go to work, they're taking their life with them."

Fernando Alves Executive Director, Rede Cidadã
At the same time, Alves sought to shift how employers and employees view work. Rede Cidadã's logo features a smiling face above a tagline: vida e trabalho, um só valor (life and work, a single value). "In Brazil, young people don't believe in education," says Alves. "They started to not believe in the value of work. They think they'll work now and live later. We needed to show them that when they go to work, they're taking their life with them."
Fifteen years later, Rede Cidadã has achieved impressive results. It now delivers employability programs in 47 cities across 9 states in Brazil. Through partnering with more than 2,600 companies, 685 nongovernmental organizations (NGOs), and various government agencies, the organization has trained and supported more than 60,000 youth in securing decent work and/or apprenticeships. It also pursues strategies to ensure that youth who are often excluded from mainstream jobs—including juvenile offenders, LGBTQ youth, those with disabilities, and homeless youth—can benefit from its programs.
A Journey That Begins With Values
The rooms of Rede Cidadã's training facility in the city of Belo Horizonte where the organization is headquartered, are each carefully labeled: Empatia (Empathy), Compaixão (Compassion), Cuidado (Care), Compromisso (Commitment), Conexão (Connection), and so on. Rede's value-centric approach becomes clear the moment a young person enrolls in one of its programs. Orientation begins in the 'Room of Dreams and Values,' where Rede's core principles and philosophy of work and life as one are clearly displayed (see Figure 1).  
Figure 1.
Rede Cidadã: Six Core Values 
Below are six core values, or life lessons, Rede seeks to impart to its beneficiaries.
Life and Work: A Single Value—"Everything I do at work develops me at the same time."
Self Knowledge Creates Emotional Control—"Being self-aware means being in touch with my emotions, my thoughts, and how I feel in my body."
Acknowledging Strengths and Assets—"I have talents, strengths, and competencies to develop throughout my life that will serve me well in work."  
The Importance of Empathy—"I commit to listening to and seeking to understand others and their needs."
Owning One's Employability—"I am the protagonist of my life. My decisions and actions determine whether I achieve my goals."
Sustainability—"I have a social responsibility and commit to living in ways that respect nature and the interrelationship of all life." 
The next step in the intake process involves filling out a 20-minute self-assessment, or Profiler. Developed by the behavior management company Solides, the assessment helps identify respondents' strengths and competencies based on four archetypes: the Analyst, the Communicator, the Planner, and the Executor. The results inform young people's thinking around appropriate career paths and entry-level opportunities that can further their long-term goals. 
Participants then draft a short autobiography chronicling their family and educational background, major life experiences, and interests. With this anecdotal information, program staff further clarify trainees' strengths and weaknesses, while identifying experiences or traumas that may have negatively impacted them. 
Based on this reflective process, youth—in consultation with staff—determine a course of action based on Rede's two major program pathways (see Figure 2). The orientation process concludes with trainees signing a letter of commitment to pursue their goals in alignment with Rede's six core values.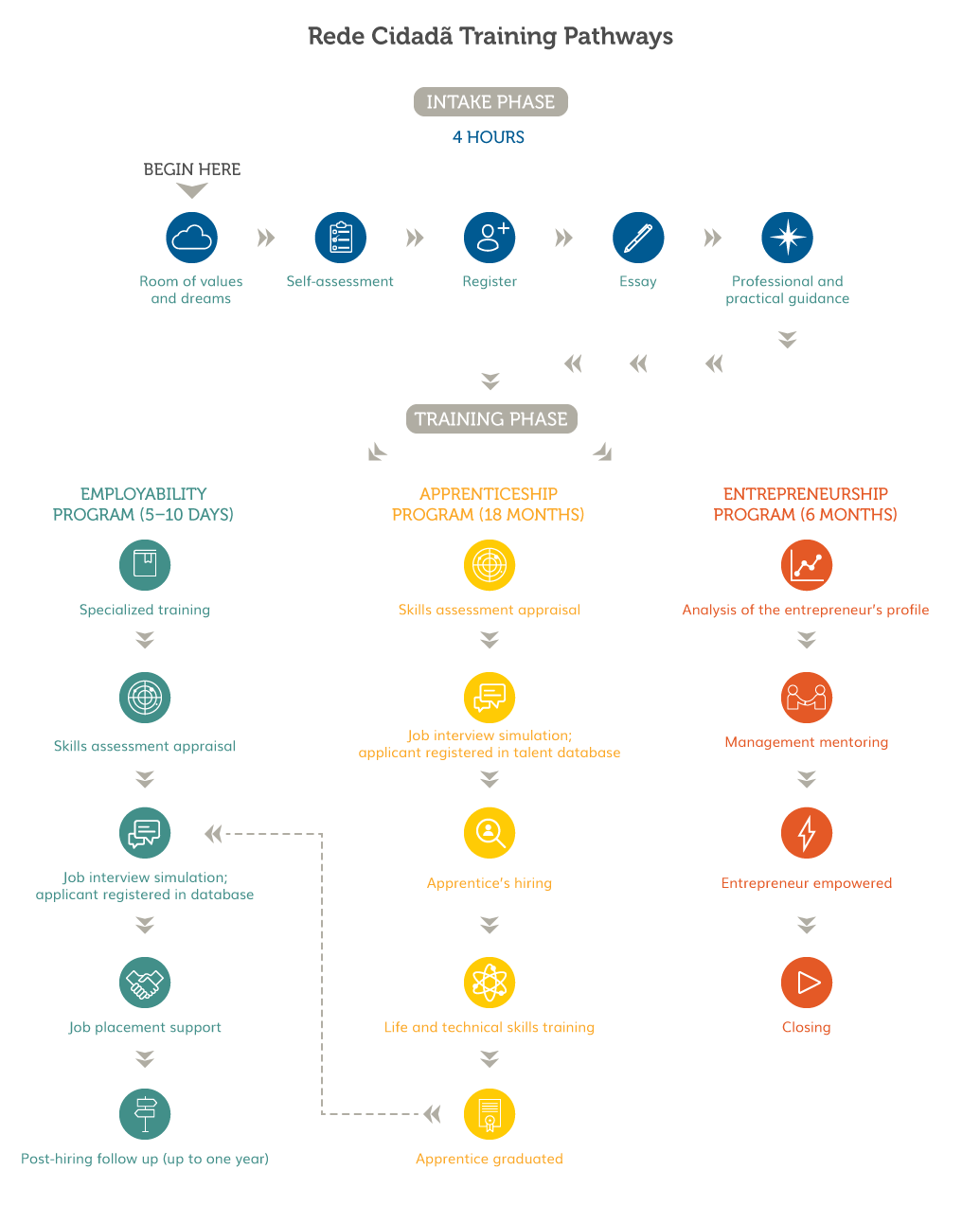 One of those youth to complete Rede's employability training at the Barra Funda homeless shelter is Ricardo Sabione. After leaving a troubled home environment at the age of 14, Ricardo lived and worked on the streets. Eventually, his involvement in the drug trade landed him in prison. When he returned to the streets, the cycle repeated itself.  The Rede program at the shelter offered a chance to start over. 
"We thought we could just listen, but we had to interact," says Ricardo of the Rede's employability training, with its emphasis on movement and self-knowledge. "The course awakened my dreams; I discovered things that were hidden," reminisces the 30-year-old.
"The course awakened my dreams; I discovered things that were hidden."

Ricardo Sabione, Rede Cidadã beneficiary
After completing the program, Ricardo was placed in an entry-level job with one of the city's largest waste management companies. With the money he earns, he's created a home with his girlfriend and one-year-old daughter. Ricardo, who now hopes to finish his education and pursue greater responsibilities at work, credits the program with helping him heal his past, regain trust in others, and recover his self-confidence.
In Brazil, A Holistic Approach to Job Readiness
A Commitment to Whole Person Healing
Over time, Fernando Alves has come to realize the extent to which unresolved emotional issues can negatively impact youth employability outcomes. While the organization succeeded in its first 12 years at placing youth in jobs, roughly 30 percent left those jobs within a year. The reasons cited by youth, and employers, included interpersonal conflicts and a lack of motivation, discipline, and overall satisfaction.
To address these issues, in 2014 he and Carvalho set out in search of solutions. Their quest led them to the work of Rolando Toro Araneda, a Chilean anthropologist and psychologist who pioneered the concept of Biocentric Education (see Figure 3.) While Western education focuses primarily on cognitive learning, Toro recognized that people learn and retain information in different ways, including through their emotions and their body, Alves explains.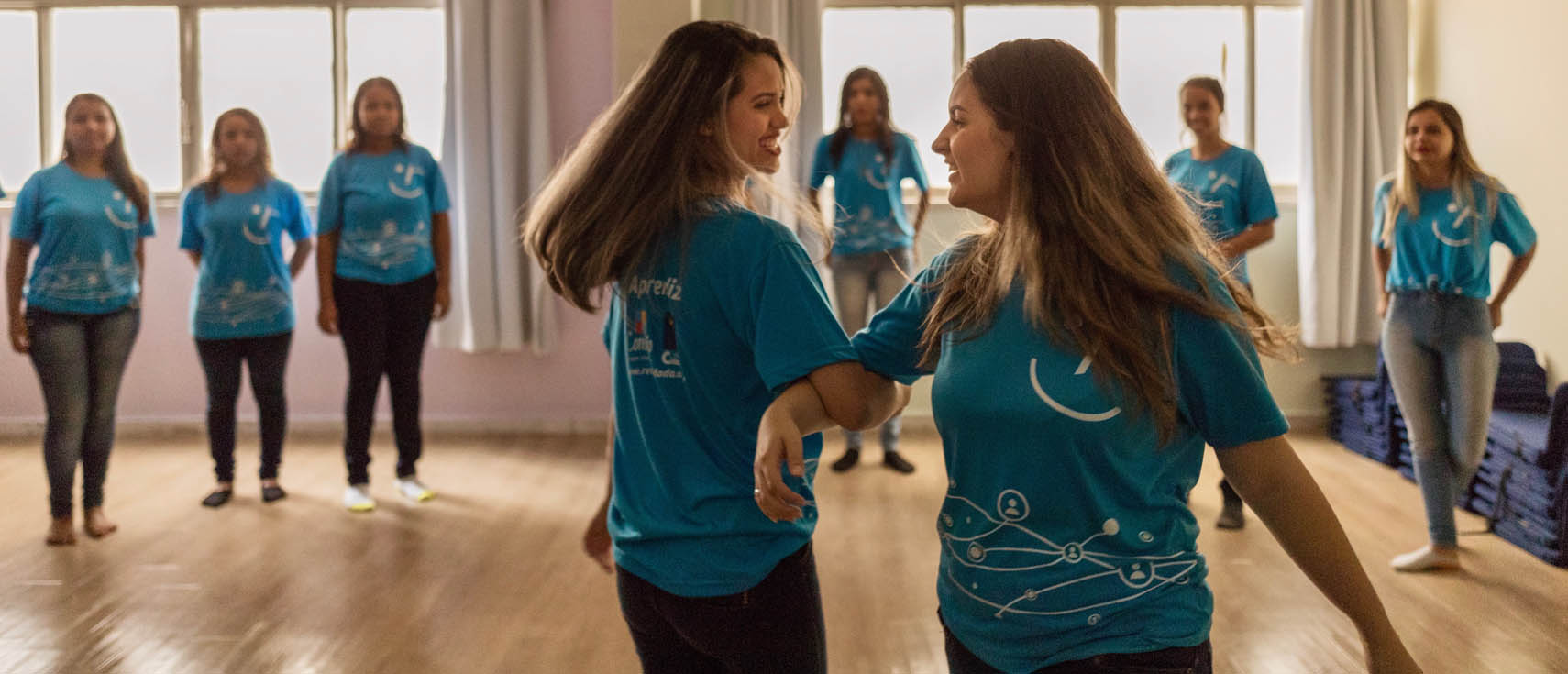 Movement lies at the core of Biocentric Education, which grounds participants in the present moment and experiential activities, including biodance exercises.  "It's about promoting a dialogue between thinking, the body, and the emotions," says Alves.
Figure 3.
Biocentric Education – Core Principles
Positive thinking
Developing deep listening to self and others
Integration of intelligence of the mind with that of the heart
Reinforcing identity and discovering the uniqueness of every individual
Living consciously in the 'here and now'
Source: http://www.scuolatoro.com/en/centro-educazione-biocentrica/
The two also explored various forms of breathwork, including the practice of circular breathing, to help youth develop greater self-awareness and improvements in their overall wellbeing, while relieving anxiety and past traumas. 
Based on this research, Rede began introducing changes to its methodology in 2015-2016. While its curricula continue to incorporate work-readiness training in the form of soft skills development, there's greater emphasis now on developing young people's capacity for self-knowledge and ability to connect in positive ways with others. 
Today, for example, it's not unusual for training sessions to begin and end with youth gathered in a circle, often holding hands. The circular formation helps connect participants, reinforcing a sense of unity and responsibility toward others, according to Carvalho. 
Movement and music are also integral to how lessons are delivered. "Simply moving activates the blood in your veins," says Alves. "It makes you more available." As for the music, "it releases tension and relaxes people," adds Carvalho. "Through the rhythm of the music, participants forget their worries and experience a sense of joy and togetherness with others. The body then stores the memory of how a person felt at the time."
"Through the rhythm of the music, participants forget their worries and experience a sense of joy and togetherness."

Tatiana Carvalho Program Director, Rede Cidadã
The training exercises at the Barra Funda homeless shelter offer a case in point. After centering themselves to the sounds of Vivaldi, participants later engaged in movement activities to indigenous music, Brazilian vocalists, and American pop classics. The exercises, focused on nurturing teamwork, communication, and other soft skills, were conducted in a circle to foster a sense of connection and empathy with others. 
"Our biggest innovation was to introduce non-cognitive training styles," says Alves of Rede's new methodology. "If you simply tell people how to behave, it won't have the same impact as learned behavior through movement." He offers the example of a young person who experienced an abusive parent as a child. Such youth often don't trust or relate well to authority figures," says Alves, adding that exercises involving direct eye contact with peers in a safe, supportive environment help youth relate in more positive ways later to supervisors on-the-job. 
"Our biggest innovation was to introduce non-cognitive training styles. If you simply tell people how to behave, it won't have the same impact as learned behavior through movement."

Fernando Alves
While Rede continues to explore how best to monitor and fully evaluate the effectiveness of its increasingly mind-body oriented approach, initial results have exceeded Alves expectations. Ninety-five percent of the first youth trained in the new approach have stayed in their jobs after one year, compared to a 70 percent average retention rate among prior trainees. The emphasis that the organization places on values such as respect for diversity and empathy has also resulted in efforts to foster more inclusive workplaces—and communities. LGTBQ and disabled youth are regularly integrated into program trainings, with Rede having recently partnered with the hypermarket chain Carrefour to train 360 transgender individuals for retail sales positions. 
Rede's new methodology, with its emphasis on promoting greater self-awareness and emotional control among young job seekers, also reflects its commitment to nurturing the values of true citizenship. Says Carvalho, "We have youth who leave Rede Cidada able to face their life traumas, who have a new attitude toward work, and who want to build a better society."
With practices such as yoga and mindfulness increasingly being adopted within U.S. youth services, there would appear to be fertile ground for adapting Rede's more biocentric approach to preparing youth for "work and life as one."
Click here to learn more about '(Re)Connecting Youth: Exchanging Global Lessons (2016-2019)' Initiative.
Tags
NOLA & Belo Horizonte
social-emotional learning