Building Skills, Confidence, and Community in Washington, DC
Read All Posts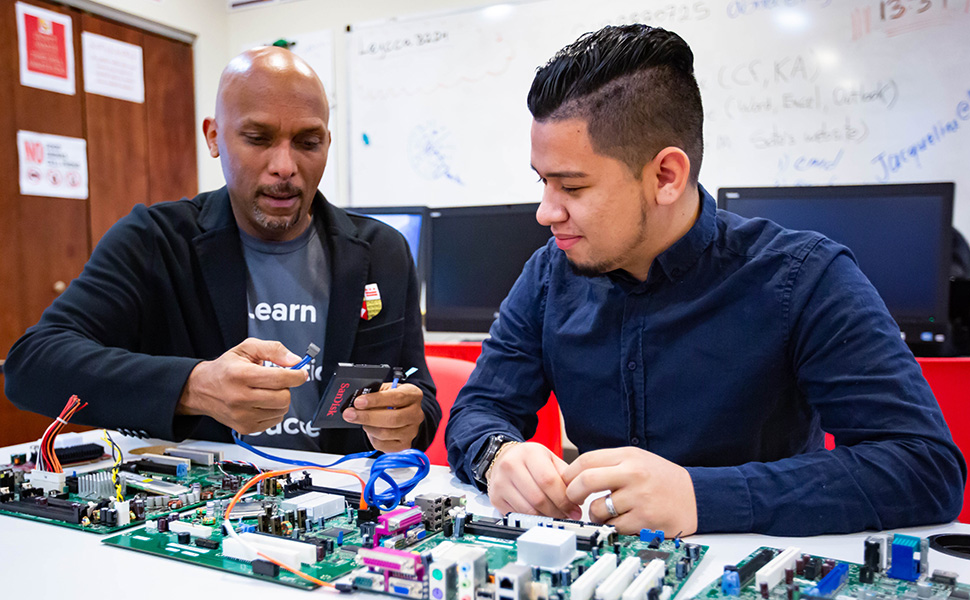 "The District is a tough place," says Andrea Elganzoury, Director of College and Career Access at the Latin American Youth Center (LAYC) Career Academy, a public charter school in Washington, DC. "There's a lot of opportunity here, but there's also a lot of competition."
LAYC Career Academy PCS is one of four community-based organizations that have partnered with IYF and McDonald's in the Youth Opportunity pre-employment initiative, which recently expanded from Chicago to Washington DC and surrounding areas. In their eighth year, the school has upheld their mission of serving young Washingtonians age 16-24, providing coursework, services and support that help them succeed in education and employment. Below, Andrea talks about the work she loves, the young people who inspire her, and the expectations she has for the Youth Opportunity partnership.
Explain the services you provide and why they're important to the young people you serve.
We meet students where they are and equip them with tools to overcome barriers to employment and higher education. If a student has recently arrived from El Salvador, for example, we would work with them on English skills through ELL courses. If a student comes to us and they want to earn their GED, we have GED classes, and we'll make sure they're ready for the test. Often, there's an education gap, so we provide resources for students to build their reading skills, their math skills, or whatever skills they need to work on. Once they achieve a secondary credential, they then decide on one of three pathways—IT, medical assisting, or college. We also offer non-academic services like access to mental health services, an in-house food bank, diapers, in-house vision screenings with free glasses, dental cleanings, and social-emotional support because a student is a whole person, and we want to make sure we are treating them as such.
What is your favorite aspect of the work you do at LAYC Career Academy?
It's the students—all day, every day. They're inspiring. We have students who work late to support their families, students who are overcoming obstacles in learning a new language in an unfamiliar place. They're so dedicated. I have students who come to me to practice interview skills, or to make sure their resumes are on point. When they get that job, it's their success, but it also makes me feel like my work has helped them achieve the outcome. It's easy to get caught up in paperwork or bureaucracy, but at the end of the day when a student succeeds, that is the best feeling.
In your experience, what's a common challenge young people face as they job hunt?
Many of them are preparing to apply for a first job. They'll come in and say, "I don't have anything to put on my resume," which isn't true. They have experiences—volunteering at their church, or babysitting for a family member—and often it's a matter of helping them think through these life experiences and figuring out how to incorporate them into a resume, cover letter, or the narrative they tell about themselves during a job interview. A lot of the time, the most important thing we can do for a student is support them as they build their confidence.
Why did LAYC Career Academy join the Youth Opportunity preemployment initiative?
We're always looking to bring in opportunities for our students that help them develop the tools to become successful professionals and build the soft skills that help them become more confident versions of themselves. The [Passport to Success] curriculum is great— it's a nice way to bring in employability skills training in a structured way that makes sense for our population. We can tailor it to the students that come through our doors, and the topics are relevant to everyone. We hope to see students using the skills they gain through the Youth Opportunity initiative to not only find employment, but to keep the jobs they get.
Speaking of Passport to Success, what is the reaction so far from students and trainers?
What stands out is how the students can make connections between the lessons and their own lives. It's practical. Also, due to the way lessons are implemented, students can interact with staff and other students who they may not normally be with in the classroom. They learn a little about each other. And they learn from each other. This is important because we're a school that focuses on community, and community building.
Learn more about the Youth Opportunity pre-employment initiative and the partnership between IYF and McDonald's.