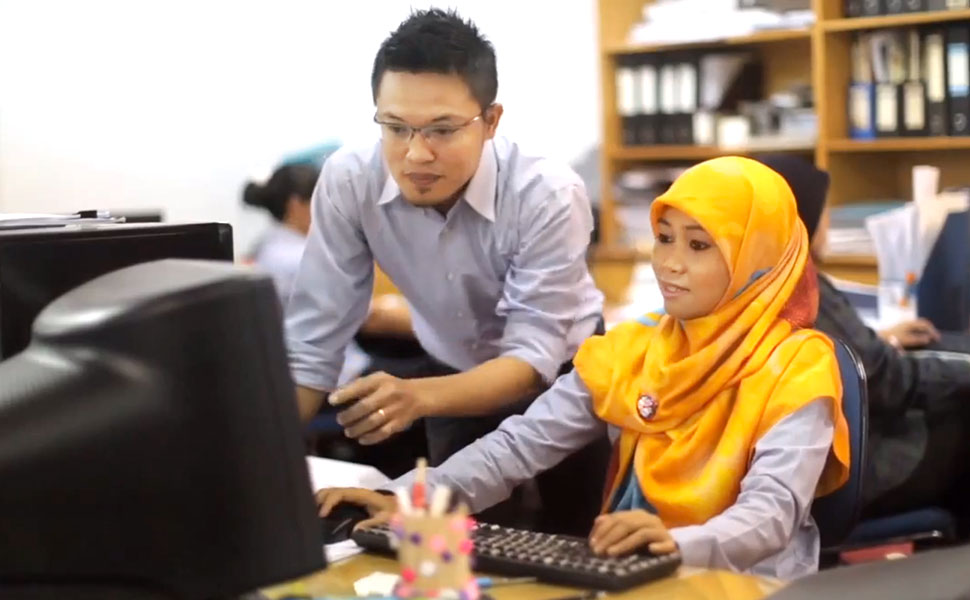 "I believe I can overcome any limitation," says Titik, a young woman from Jakarta, Indonesia, who is the first member of her family to get a professional job. Her journey to full-time employment and economic independence is the subject of a new video highlighting the impact of EquipYouth, a global job training and workforce development program being implemented by IYF with support from the Caterpillar Foundation. The video also introduces Mithun, a young man from India who credits the skills he learned through the program—including how to interview for a job, build a team, and manage time effectively—for getting him his current position with a local technology company.
Launched in 2012, EquipYouth has replicated Titik's and Mithun's stories of personal achievement and employment success thousands of times around the world, equipping young people with market-relevant life, technical, and entrepreneurship skills; internship opportunities; on-the-job training; and job placement support. To date, the program has positively impacted the lives of nearly 8,000 young women and men in 12 countries, with 67 percent securing jobs.
The program's accomplishments in creating employment and entrepreneurship opportunities for underserved youth were the subject of a recent conference,"Scaling Successes, Charting Futures," held in Johannesburg, South Africa. The two-day meeting provided a forum for dialogue among business and NGO leaders around how best to leverage public-private partnerships to prepare more young people for success in the workforce. Also discussed were next steps in expanding the program's reach to support more young job seekers—especially young women.
"Given the rising challenge of youth unemployment worldwide, we are excited that thousands of young people, across a dozen countries, have been able to secure a better life for themselves and their families as a result of this partnership," said Michele Sullivan, Director of Corporate Social Innovation at the Caterpillar Foundation. "Now, we must build on what we've learned together, so that far more of today's young women, in particular, will have the marketable skills and support services they need to find a good job, begin a career, or start their own businesses."
In South Africa, for example, where more than half of the country's population under 24 is unemployed, and where 42 percent of young people drop out of school, EquipYouth is providing 720 youth with 24 weeks of hands-on training that prepares them to be certified electricians, welders, automotive mechanics, bookkeepers, and plumbers.
To learn more about how the program prepared a young Jordanian to land her dream job, read Israa's story: A Young Jordanian Perseveres, Overcoming Barriers to Land Her Dream Job. Other nations where EquipYouth is active include Brazil, China, India, Indonesia, Jordan, Mexico, Panama, Peru, Russia, Singapore, and South Korea.
Tags
young women
technical skills
life skills
caterpillar foundation
public-private partnership