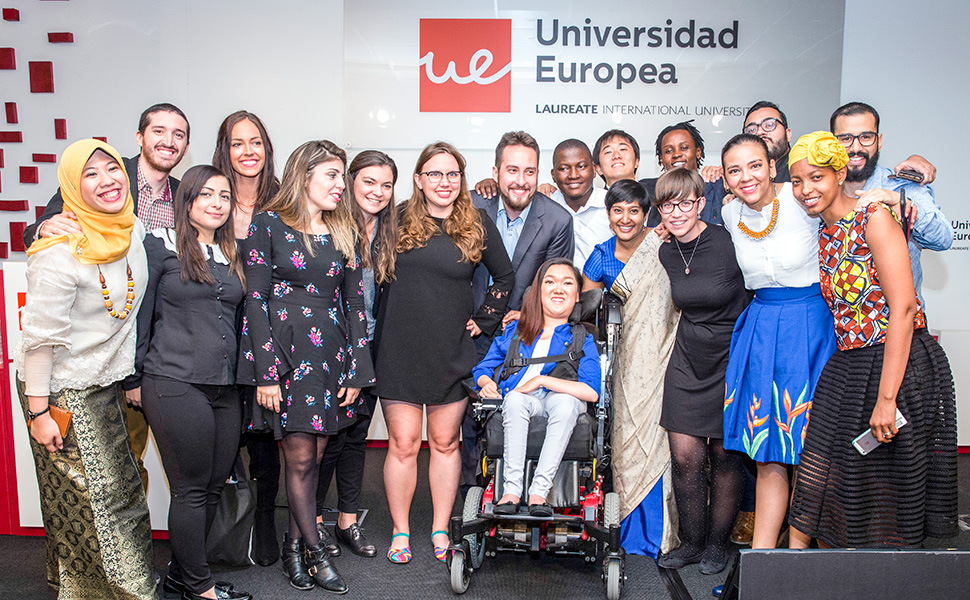 They flew to Madrid, Spain, from 18 countries to learn new skills, build community, and celebrate their social innovations. What IYF's 2017 Laureate Global Fellows didn't realize was the extent to which they would be recognized for the values they uphold and their enduring commitment as problem-solvers.
Earlier this month a special event held at Universidad Europea (UE) and attended by more than 250 business, government, and civil society leaders, along with university faculty and students, honored the fellows. Spanish activist and political leader Francisco Polo spoke to the unique role of young activists as "entrepreneurs of justice," who combine a passion for social change with a focus on results.
His message rings true for the 2017 Fellows, who champion a range of causes in their work—from empowering low-income women as entrepreneurs in Costa Rica to equipping youth as peace builders in Sri Lanka.
The achievements of the Laureate Global Fellows "demonstrate why educational institutions need to foster an entrepreneurial attitude and deep ethical commitment," added UE Rector Juan Morote in framing Laureate's commitment to supporting youth as potent problem-solvers.
Established through a partnership between Laureate International Universities and IYF's YouthActionNet® initiative, the annual global fellowship recognizes 18- to 29-year-old founders of successful social ventures. YouthActionNet also oversees a network of national and regional youth leadership institutes, with 15 established on Laureate campuses. For example, UE is home to Premios Jovenes Emprendedores Sociales, which supports a vibrant community of young Spanish leaders, all CEOs of enterprises driving social change across their country. 
During a university panel discussion, fellows shared their hopes and challenges. Dissa Ahdanisa founded Finger Talk, which provides deaf individuals in Indonesia with employment opportunities and works to bring the deaf and hearing communities together. Asked about obstacles, she spoke to the stigma deaf people experience and the hard work of changing mindsets over time.
Melanie Tran, cofounder of AbilityMate in Australia, also emphasized the importance of transforming attitudes. By designing customized 3-D printable technology solutions for those with disabilities, Melanie seeks to build more inclusive societies over the long term.
IYF, too, has worked to shift mindsets, particularly around the role of youth in society, emphasized IYF CEO Bill Reese, who presented findings from the 2017 Global Youth Wellbeing Index. IYF created the Index in partnership with Hilton to be a diagnostic tool, listening device, investment guide, and development benchmark to powerfully understand and advance young people's wellbeing. A commitment to youth-led social change is an essential component of this work.
"Together with Laureate, we've created a movement of more than 1,500 young leaders in 92 countries who are each helping to advance the UN's Sustainable Development Goals," Reese explained. 
The university events capped a rich week of peer-to-peer learning among fellows. During interactive workshops, each honed skills in personal and organizational leadership, teambuilding, storytelling, venture development, and systems thinking.
"I encourage you to fall in love with the problems you're tackling, on what will be a lifelong journey of social change," said IYF Director of Social Innovation Ashok Regmi. "The solutions you deliver today will lead to new questions and innovations in the future."
His sentiments resonated with Ignacio Rodriguez, founder of EPIX, a storytelling platform in Venezuela. "One of the things I appreciate about the fellowship is that it doesn't focus on shiny solutions to global problems," he said. "Here, the emphasis is on understanding the complexity of the issues we're facing and recognizing that it will take time to solve them."
The fellows' visit to Spain was the first step in a yearlong experience that will include mentoring, networking, advocacy, and continuing education opportunities. To learn more about YouthActionNet, the 2017 Laureate Global Fellows, and the role of today's youth in creating a more just, equitable, and sustainable world, read our new publication, Youth. Justice. Equity.
Tags
2017 laureate global fellows
youth-led social change
social justice
change-makers