Chinese Youth & Adults Grow Together Through Life Skills Training
Read All Posts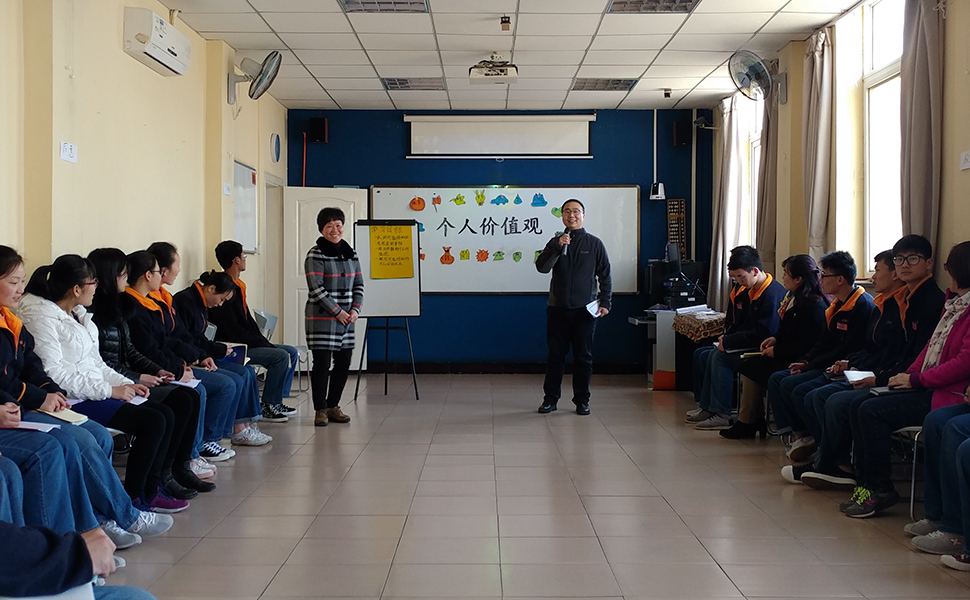 Shao Zhizeng—or Rain, as he is called—connects deeply with the youth he teaches, because his story is similar to theirs. Now Dean of Admissions, student counselor, and a teacher at BN Vocational School (BNVS) in Zhengzhou, China, Rain lost his parents at a young age. Growing up, he struggled with poverty and lack of support until a non-profit organization provided Rain with the funding and support he needed to finish high school and attend one year of university. Like Rain, many BNVS students are orphans or are without the support of their parents or adult role models. "I can use my own example to motivate them," he says.
Located throughout China, BNVS schools support the children of migrant workers by enrolling them in an education program that includes vocational, trade, and life skills training. For five years, IYF has worked in partnership with BNVS to implement the Brilliant Futures initiative in partnership with Harry Winston Hope Foundation, and deliver life skills training through IYF's Passport to Success® (PTS) curriculum.
Teachers at BNVS are often inspired by the students they teach, and one student in particular stands out in Rain's mind. Her name is Zhang Meng, but she goes by Venus.
The 2013 BNVS Zhengzhou Student of the Year and Brilliant Futures Program graduate, Venus is the daughter of mountain farmers. Rain was her English teacher throughout her years at BNVS and had the opportunity to watch her overcome her personal struggles. "Venus dealt with a very bad home life and relationship with her parents," Rain explains. "She suffered from low confidence and poor emotional management and interpersonal skills."
Through BNVS's holistic program, and with the help of dedicated teachers like Rain, Venus made continuous improvements. The PTS curriculum allowed her to develop and practice life skills such as teamwork, responsibility, communication, and self-respect which led to improved relationships with her classmates. In addition, Venus took on added responsibility at school, becoming school monitor and class representative.
The life skills she learned at BNVS continued to pay off after graduation—currently, Venus works for a 5-star hotel. Her supervisor regularly reaches out to BNVS to praise Venus's achievements and professional growth.
Every month, Venus saves some of her salary to donate to BNVS schools, in addition to purchasing supplies like pens for the current students.
At BNVS schools around China, there is a culture of philanthropy and community service that is powered by the bond the youth and adults develop through shared learning and experience in and out of the classroom. Adults who volunteer or work for BNVS schools give their time and energy to students whose stories inspire them and give them a kind of fulfillment they cannot get outside out NGO or community work.
"Working with these young people gives me an excitement in my heart," says Rain. "I want to accompany them on their journey."
Tags
life skills
lifelong learning
bnvs