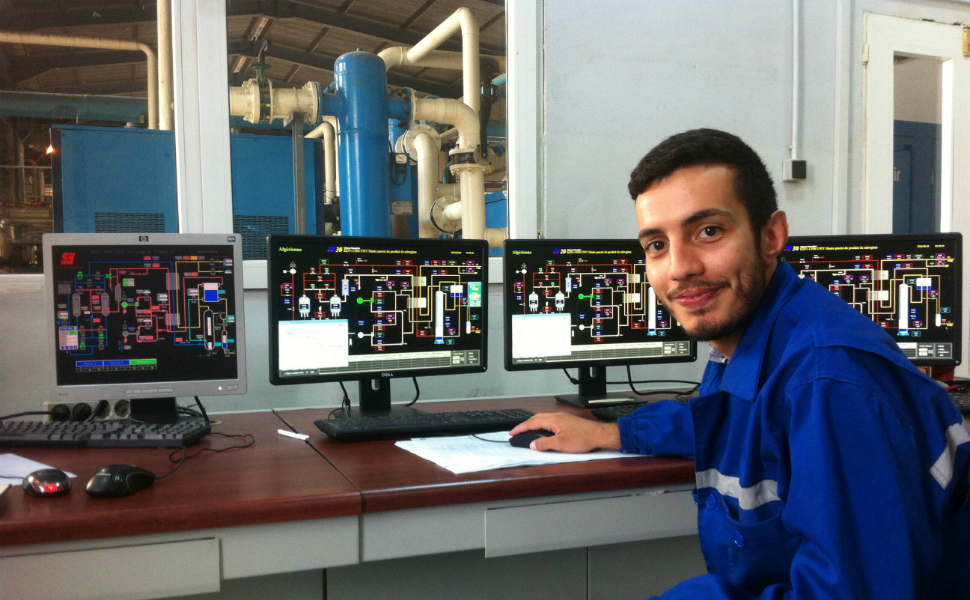 "Perseverance is the key to job success," says Maya Boutaouche, a professional matchmaker of sorts who connects young Algerian job seekers to businesses seeking qualified entry-level employees. After struggling to find job with a degree in microbiology, the 25-year-old understands how challenging it can be to gain a foothold in the labor market in a country where nearly 30 percent of youth are unemployed.
After completing a communications course through CIARA, a local NGO, Maya secured her current position within the organization to help other youth like herself. CIARA is an implementing partner of Insertion, Dialogue, Motivation pour l'Action avec les Jeunes (IDMAJ), an IYF initiative that works with youth, ages 18 to 30, to help them gain a competitive advantage through a combination of life skills training and job placement support. IDMAJ is supported by the U.S. Agency for International Development (USAID) in cooperation with the U.S. Embassy in Algiers.
"IDMAJ brings a new approach to job placement in Algeria; life skills are virtually nonexistent in available training programs," says Maya, underscoring the value of the Passport to Success® life skills training all IDMAJ youth receive. The comprehensive curriculum includes modules on time management, responsibility, effective communication, goal-setting, and other workplace skills in high demand by the nation's employers.
At work, Maya plays the role of both taskmaster and cheerleader—helping youth to set and follow through on goals, encouraging them to network, providing exposure to employers and job opportunities, and offering guidance on effective interviewing techniques. Over four months, Maya has successfully placed 20 IDMAJ graduates in jobs at prominent companies and institutions, including the Institut de Management Stratégique et d'Intelligence Economique (IMSIE) and Indomie, a packaged food brand. She's also secured internships for trainees at the Algeria-France Chamber of Commerce and Industry, among other organizations.
One of the youth Maya advised was Mondher Mekhoukh, who now works as a Production Operator at Cevital, the largest private conglomerate in Algeria. The 24-year-old credits the training and support he received with helping him to research employment opportunities, fine tune his CV, draft cover letters, and hone his interviewing skills. Above all, he credits the initiative with empowering him to achieve his goals.
"It's essential to have motivation," says Mondher. "You must try. If you try nothing, you have nothing." Passivity is a major obstacle facing youth, he adds, citing the amount of time young people spend on social media as an impediment to developing their in-person communication skills.
When not working directly with trainees, Maya liaises with employers representing a wide range of growing sectors. She works to assess their needs while briefing them on CIARA's unique training model and how to better connect to promising young candidates through job fairs, internships, and employment opportunities
The quality Maya credits most with her own success on-the-job? Perseverance.
Tags
career guidance
employer engagement
youth employment
young woman