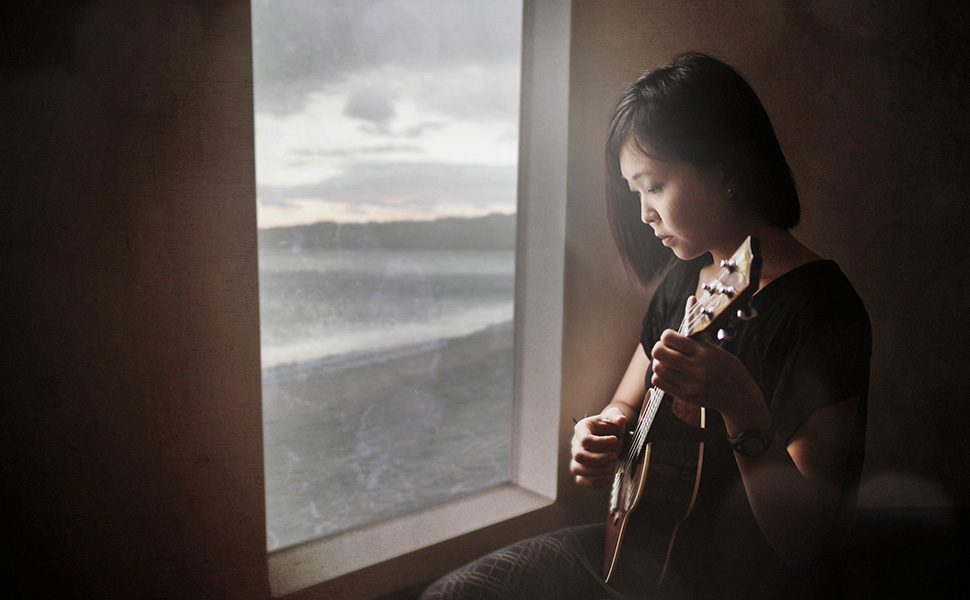 This post is the second in a series exploring how IYF's YouthActionNet® Fellows are using the power of storytelling to heal individuals and communities.
Music transports us. It touches our hearts. It can even unite us. But can a song help heal a painful past?
For Crystal Goh, the answer is an unequivocal 'yes.'
A gifted singer and songwriter, Crystal knows from personal experience the healing power of music when imbued with a message of hope. In 2011, the 29-year-old lost her voice to a neurological condition called spasmodic dysphonia. The experience left her feeling alienated from family and friends in her native Singapore. Months later, a friend encouraged Crystal to sing at an event, and her voice began, slowly, to return. "Pain taught me empathy," says Crystal, who now helps disadvantaged youth to transform difficult life experiences into opportunities to reflect and give back.
I was fortunate to hear Crystal perform one of her songs, "There'll Be Spring," twice during her visit to Washington, DC, as an IYF 2015 Laureate Global Fellow. Both times, her impassioned delivery culminated in a standing ovation. Captured in the song is a powerful message of hope:
Cast off the ache of pain
the reproach and the shame
Let your past be your past
The same message drives Crystal's work today through Diamonds On The Street (DOTS), the organization she founded in 2013 to help youth at-risk reframe their life narratives.
DOTS is rooted in the Logotherapy approach of Holocaust survivor and psychiatrist Victor Frankl. Frankl hypothesized that individuals are primarily motivated to find meaning in life and that one has the ability to choose one's attitude even in the face of unavoidable suffering.
Staffed by volunteer social workers and counselors, DOTS works with youth, ages 13 to 21, who have grown up in challenging circumstances that put them at greater risk for developing anti-social or self-destructive behaviors.
Each young person participates in small group exercises delivered over six to 12 three-hour sessions. Creating safe spaces where young people feel valued and supported is critical, Crystal says. Participants begin by identifying and sharing their unique story. Subsequent sessions help them reframe challenging life narratives by pinpointing the lessons embedded in their experiences.
"Youth who've come to believe they'll never achieve anything begin to see their strengths," says Crystal, adding that helping young people move beyond a painful past often involves nurturing empathy toward those they hold responsible.
Group members then translate their experiences into songs, which they perform before an audience that includes their family members and/or caregivers. The net result? Healing occurs on both sides, as the youth and audience members see new possibilities emerge.
Through their experience, DOTS participants also develop valuable life skills such as self-reflection, improved communication, and the confidence to pursue goals. In 2013, for example, one program graduate shared her dream of launching a restaurant. Not long afterward she won a chef competition, and she is now enhancing her culinary skills while networking with potential investors.
The program's approach reflects a growing body of research and practice in the use of storytelling to facilitate emotional healing. "When we deny the story, it defines us," writes researcher and author Brené Brown, PhD, who emphasizes the vital role of creativity in facilitating deep learning and self-awareness.
In the future, Crystal seeks to apply elements of the DOTS approach within school systems to help more young people discover the value of their stories and journey towards new possibilities.
To learn more about Crystal's work, visit www.diamondsonthestreet.com.