On Day of the Girl, Hear from 11 Young Women About the Rights That Matter Most
Read All Posts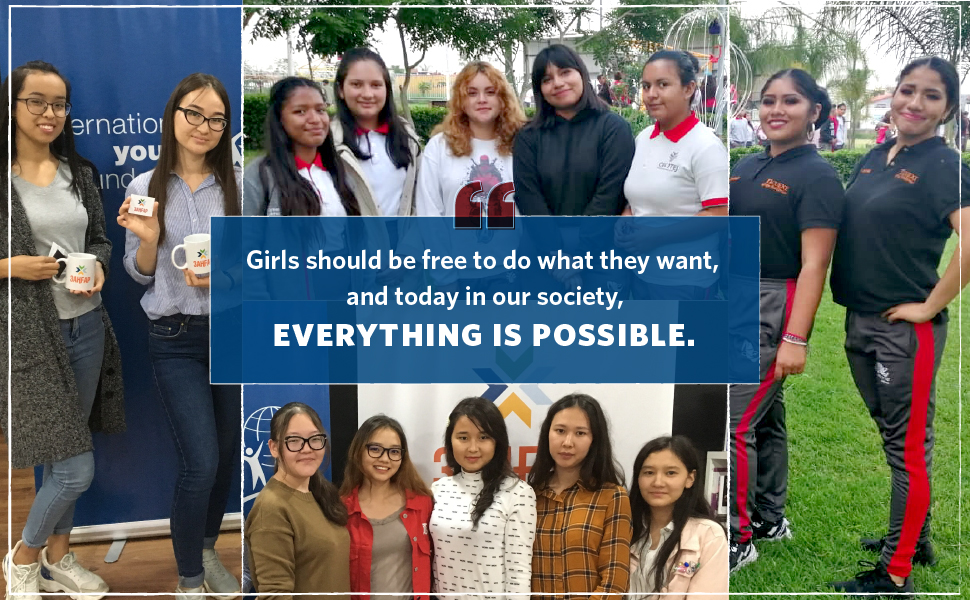 Earlier this week, She's the First and partner organizations unveiled a Global Girls Bill of Rights which will be presented at the United Nations today—October 11—in celebration of International Day of the Girl. Providing a platform for young women to speak their minds and hearts about the rights that matter most to them, the bill includes input from over 1000 young women across 34 countries.
Among the voices represented are eleven young women—from Kazakhstan and Mexico—who participated in IYF's Zangar and Pathways to Success initiatives. Despite living on different continents, speaking different languages, and growing up in different cultures, these thoughtful young women emphasized many of the same beliefs, concerns, and hopes for the future.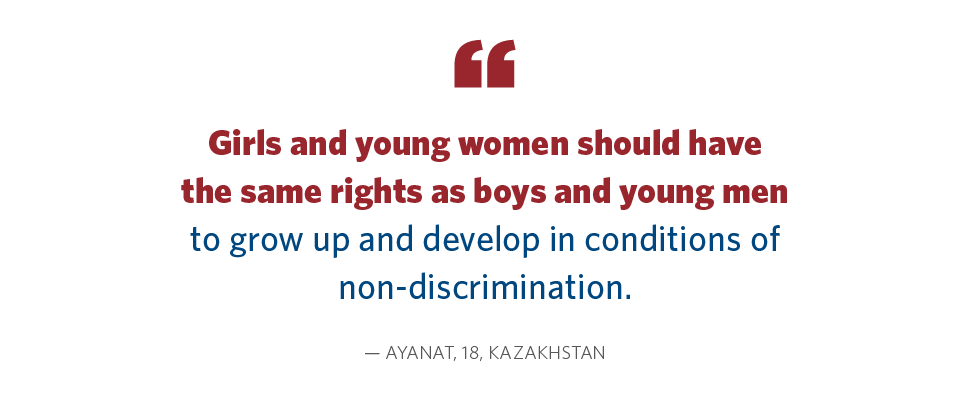 Even when girls and young women are theoretically accorded the same rights as their male counterparts, sexist stereotypes often fade slowly, and freedoms don't always play out in practice. Recognizing this, Fernanda, a 16-year-old high school student from Mexico, explains that the way to "eradicate sexism" and to ensure that "families do not transfer [sexist views] from generation to generation," is through education.
"Girls and young women everywhere should have the right to decide what to study," agrees 16-year-old Sandra from Mexico, "and never hear again from teachers or parents that she can't aspire to study mechanics or electronics because those aren't careers for girls." In the same vein, Raisa, a 19-year-old college student from Kazakhstan, notes that, "It is important for a girl to be free in her choice of place of study." For example, she says, "Some parents limit girls' freedom by not letting them study abroad. It is crucial for a girl to have a right to choose."

Freedoms are often interconnected, as are the stereotypes that challenge a young woman's ability to develop, succeed, and fully experience her rights. For example, in addition to choosing her preferred field of study, Aida from Kazakhstan says that young women should be able to "chose their career path and have the freedom to work. Many girls in Kazakhstan," she explains, "are expected to abandon their career for the sake of their families."

To pursue the education and employment paths they want, girls and young women need to feel secure and safe. Claudia, 16, from Mexico "dreams of a world free of violence and prejudice, a safe world in which no women are kidnaped or suffer violence again." Angela, also 16 and from Mexico, concurs: "We should have the right to be on the streets," she says, "without fearing the possibility of disappearing."
Equally important is the ability to feel safe and secure in one's own skin. Twenty-year-old Indira, a college student in Kazakhstan, says, "I believe that personal fulfillment and freedom of choice are the most important for a young woman. These are the essentials to feel comfortable being yourself." Angelica, 16, agrees, but points out that "being yourself" is more difficult for some young women than others because discrimination based on sexuality can compound discrimination based on gender. "If a woman is a homosexual," she says, "she should be accepted in that identity."
Too often, girls and young women are left out of conversations about the issues that matter the most in their lives. In fact, as Diana, an 18-year-old college student from Kazakhstan, points out, "In the near past, girls' rights were not considered important." Unfortunately, in many ways, they still aren't; however, as Diana also notes, there is room for hope. "Girls should be free to do what they want," she says, "and today in our society, everything is possible."
It should be the goal of everyone working in the youth development space to embrace the sentiment that "everything is possible," and take action to make it a reality. 
Special thanks to Judith Hermosillo and Dinara Tuyakova for collecting responses from young women in their respective countries, and for providing photographs used in this post.