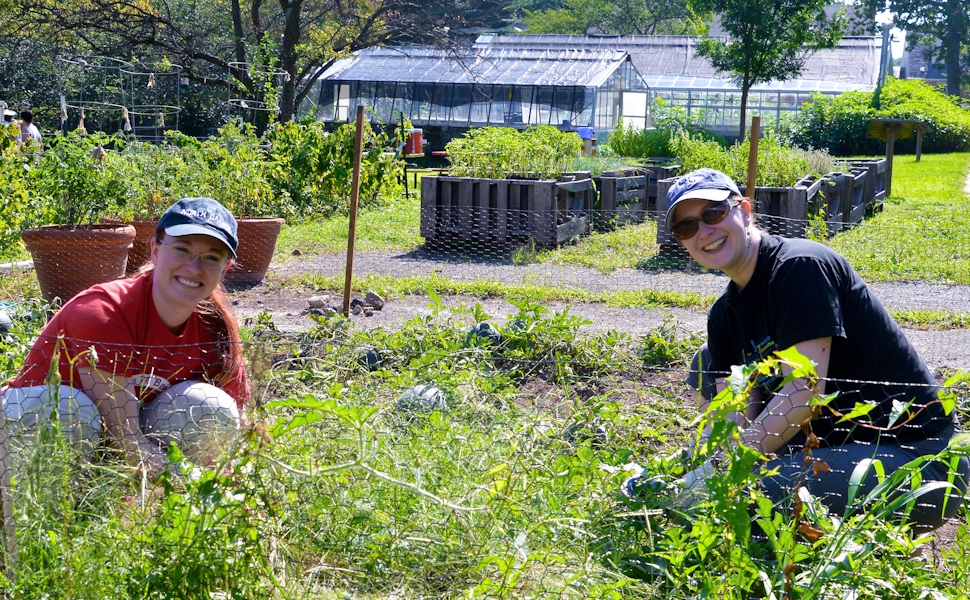 Wednesday, August 12th, 10:30 a.m. Not a typical Wednesday, at least not in my book. No, normally I would be nursing my first—possibly second—cup of coffee, batting away the emails flooding my inbox and preparing for my first—possibly second—meeting of the day.  
This particular Wednesday, however, found me knee deep in rich Maryland soil, tackling little green enemies in the form of clover, chickweed, and crabgrass with the same vigor that I typically apply to my ever-growing inbox. Assigned to weed the Sugar Baby Watermelon bed at Great Kids Farm, I lifted winding vines to uncover and remove those little intruders. Looking up for a minute to wipe the sweat from my brow, I saw my IYF colleagues chatting, laughing, and working contentedly on the farm as part of IYF's first Day of Service in honor of International Youth Day.
Celebrated every August since 1999, International Youth Day recognizes young people's contributions to global society; this year, the theme was youth civic engagement.  With youth at the core of IYF's mission and with the beginning of the school year weeks away, we seized the opportunity to support young people in Baltimore. That's why, on this atypical Wednesday morning, 13 colleagues and I abandoned our desks and spent the morning preparing the farm's various production gardens for the students' arrival in September.
Watermelons are just one of the many fruits and vegetables that thrive on Great Kids Farm. As part of the Baltimore City Public School System, this living, working farm brings classroom learning around healthy eating, sustainable farming, and the natural sciences to life for students of all grade levels. Throughout the school year students tour the farm and help with cultivation efforts. But the farm's work doesn't stop there. Seedlings grown on the farm are used to create in-school gardens, with farm produce served at school salad bars.
Down on our hands and knees, vigorously ripping out weeds around raspberries, squash, corn, cantaloupe, and spicy peppers, we volunteers received more than just that "do good" feeling in contributing to an organization that has such a widespread impact. Said Program Manager Lara Henneman: "We had creative ideas about work and community bubbling up as we worked in the gardens. Connecting with passionate like-minded folks from the farm inspired us to think about how we can do more to better serve our home community of Baltimore."
Our day outdoors reinforced the value of time spent away from our office routines and contributing to a cause we all care about. We learned that this type of opportunity allows us grow in these ways:
Expanding our global work to include supporting youth in our local community
Cementing bonds among colleagues across different areas of the organization
Getting inspired by the fresh air and sunshine and think outside of the box while discussing various work challenges
"Leaving the world a bit better, whether by a healthy child [or] a garden patch…." as Ralph Waldo Emerson so advised us.
So, as our time on the farm came to an end, I looked around again to survey my colleagues as we all sat enjoying our lunches under the shade of an ancient oak tree. Sweaty? Yes. Dirty? More than a little bit! A little bit worse for wear? Perhaps. But looking around, I could tell from the contented grins and excited chatter—this is an experience worth repeating…and soon!
Karen Phillips is Director, Content & Training.
Tags
great kids farm
baltimore city public schools
volunteering
international youth day
agriculture
baltimore