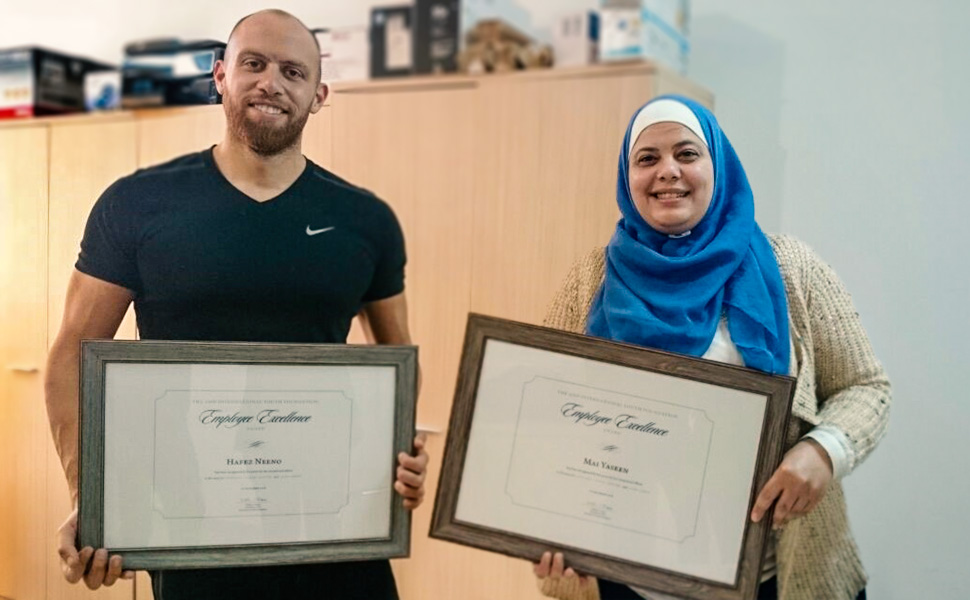 Each year, IYF staff nominate their peers for our organization-wide Employee Excellence Awards. The criteria include ways nominees have contributed to IYF beyond their job descriptions, been especially creative or innovative, and demonstrated leadership skills. This week we are introducing the four winners for 2016: two representatives from our field offices and two from our Baltimore headquarters.
At IYF, we're lucky to have a talented team of local staff in 11 countries beyond the United States. For years, Mai Yaseen and Hafez Neeno have worked as part of one of IYF's largest field offices, in Amman, Jordan. Their dedication and hard work have won them recognition by their colleagues as recipients of the 2016 Employee Excellence Awards.
Yaseen joined IYF in 2012, and her role has evolved into a two-person job. As Human Resources & Administration Specialist, she received high praise for her willingness to do everything in her power to support her colleagues. From coming into the office on the weekend to remembering and celebrating each colleague's birthday, she received praise for her "kindness and heartfelt care for the people she works with every day."
For five years, Neeno has worked as Senior Program Manager for BADIR, an initiative of IYF, Starbucks, and M.H. Alshaya and part of the YouthActionNet® Global Network. Recognized for his energy, creativity, and dedication to supporting the country's young innovators, Neeno has played a critical role in building a social entrepreneurship movement within Jordan. His nomination recognized him for "his tireless efforts to build and sustain BADIR, his stewardship in creating a strong network of support for BADIR, and for being a great team player within YouthActionNet, IYF more broadly, and the whole community of YouthActionNet partners and institutes."
IYF is grateful for their service to their coworkers, our organization, and, above all, the young people of Jordan.