From Egypt, A Real Example of the Power of Capacity Strengthening
Read All Posts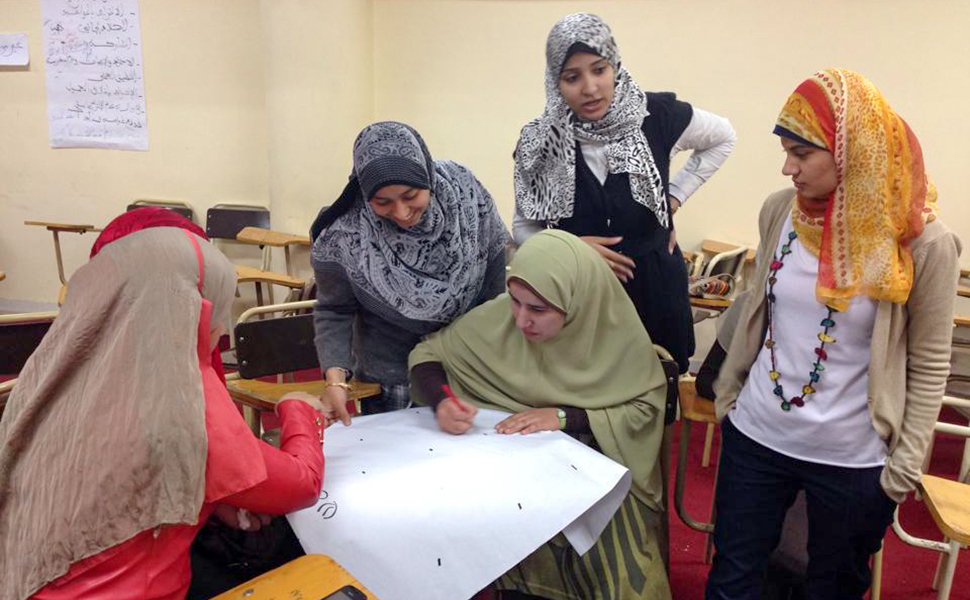 We hadn't been in touch for two years when I received her email. Dalia Khalil, a partner from an IYF initiative I managed in Egypt, wrote, "It would be great if you could come back and see how Egypt@Work has impacted so many lives, even outside the direct beneficiaries."  
Dalia, whom I've known since 2011, was Managing Director of the Egyptian Association for Educational Resources (E-ERA), one of 10 local implementing partners for Egypt@Work (E@W). In partnership with Mastercard Foundation, this initiative ran until 2015 and exceeded its original target by reaching 12,600 youth with work-relevant training.
In the youth development field, we don't often have the chance to reconnect with former partners and colleagues to hear about the potential longer-term impact of our programming. I jumped at the chance to talk to Dalia on a personal level and out of professional curiosity. E@W tested one of IYF's main theories of good international development work: that the largest impact and highest return on investment, or ROI, comes from working with and through local organizations to strengthen their capacity to operate better (efficiency) and do better work (effectiveness). This capacity strengthening meant assessing partner needs and delivering customized trainings in areas such as financial and program management, operations, and evaluation. With E@W, we bet that harnessing partners' local expertise and improving how business was done and how local groups collaborate in the market would translate to better outcomes for youth in the program than we could achieve by focusing strictly on a target number.
Not only did we exceed our target, but, according to Dalia, this prioritization of local capacity development led to a number of important, lasting changes for the organization she was leading:
It changed their model, from the way they conduct outreach for youth recruitment, to the way they identify local employers and job opportunities, to the way they design training to better meet the needs of youth and the market. "The E@W model was addressing the real need of the Egyptian people. There were no shortcuts," she told me over the phone. "This is becoming the mainstream model of employability training in Egypt. We learned so much from IYF's technical expertise and professionalism."
It changed their operations, including how they select and interact with local partners and sub-grantees, conduct monitoring visits, track program indicators, and manage programs and partnerships. In particular, local partners like E-ERA are now working more closely with the government and broader local ecosystem. For example, Dalia explained E-ERA enhanced the program model by requiring partnering employers to give youth a contract to show they have a job and to provide these young employees with social insurance (the benefits that, legally, should come with a formal job). E-ERA went to the relevant ministry to flag the issue that some youth participants didn't want social insurance because they were collecting unemployment benefits. The ministry changed their selection and eligibility validation requirements for unemployment benefits—a windfall for the government and taxpayers.
It changed their communications. Success stories, a requirement of E@W that Dalia's organization originally resisted, proved to help them win more funding and became invaluable for engaging and inspiring young people. This requirement meant collecting and sharing accounts of the ways in which E@W had affected the lives of young Egyptians and local business and society for the better. When she and I spoke, Dalia lit up talking about the stories she carries with her.
It changed their view of themselves as members of a team. "There was so much work, we really had to discover everyone's interests and talent to get it all done. The project organized us," says Dalia. "For me personally, E@W gave me confidence. It was the first program I'd worked on of that size: 1,000 young women. That was a huge step for us." In terms of continuity, Dalia says during that time they hired an E@W graduate who is still working for E-ERA.
After the initiative ended, E-ERA went on to work on the U.S. State Department's Access program with AUC and AMIDEAST and runs several other youth programs across eight governorates of Egypt. As a whole, many of the 10 E@W local implementing partners received new funding from local governments, investors, foundations, and private sector companies. This diversification demonstrated an important shift from foreign aid to local investment in workforce development. At the closing of the initiative in 2015, local partners had independently secured over US$3 million for 13 new programs to sustain and scale E@W programming in Egypt.
IYF provides this type of tailored local capacity strengthening globally and continues to work with Mastercard Foundation, our partner on E@W, to provide similar market and system development strengthening for youth employment under the Via: Pathways to Work initiative in Mozambique and Tanzania.
As for Dalia, she moved to Texas at the end of 2016 to join her children. She is still closely engaged in E-ERA's operations as a board member, and she volunteers at a juvenile detention center in Houston to support and inspire young women.
Katie Raymond is Program Manager, Africa.
Tags
capacity building
capacity strengthening
local partner
positive youth development
systems change
market systems approach