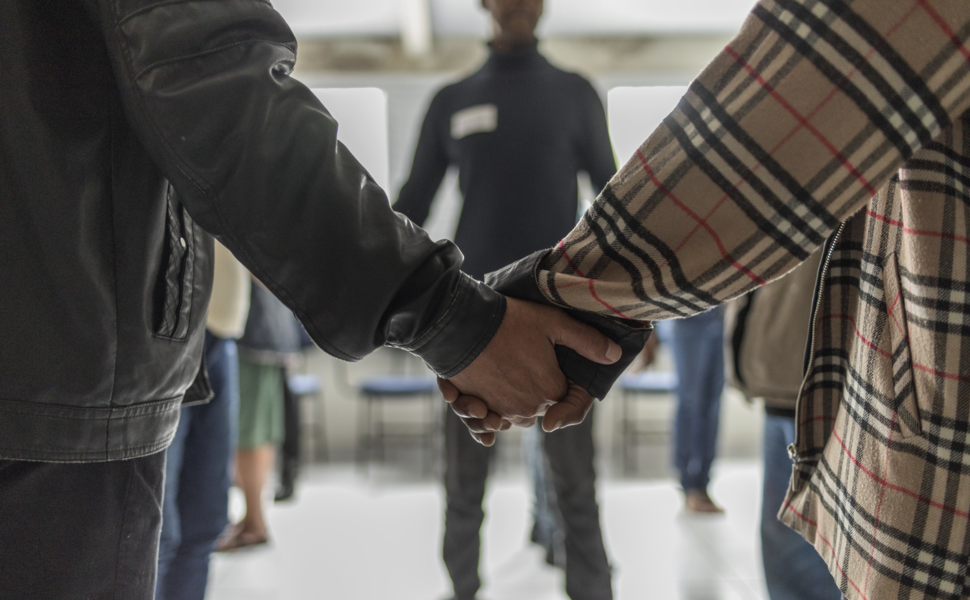 "When we hold hands, there is an exchange of energy," says Tatiana Carvalho in Portuguese to her companions, now joining together to form a large circle within the classroom's border. Leading the exercise for the staff and young participants of the Youth Empowerment Project (YEP) here in New Orleans, Carvalho communicates patiently, through a translator. Hers is perhaps an unexpected sentiment delivered by an unlikely messenger—but that's exactly the point.
Carvalho is Program Director of the Brazilian civil society organization Rede Cidadã (Citizen Network). Along with Rede's Founder and President, Fernando Alves, she is visiting YEP as part of an international exchange through (Re)Connecting Youth, an IYF initiative with support from the Robert Wood Johnson Foundation. These learning exchanges aim to explore the impact when organizations that serve youth disconnected from both school and work can come together, even across great distances, to share their methodologies and experiences. 
Rede's program integrates movement, breath-work, and mindfulness practices into its training model to develop young people's self-awareness and ability to manage emotions. Their work is quite literally dynamic. With a basis in bio-centric movement, including dance, Carvalho and Alves lead sessions designed to facilitate communication, build community, and reinforce self-esteem. The exercises they demonstrate incorporate physical touch and emotional expression in a fashion rarely seen in typical educational or occupational contexts, at least for the United States—and the unguarded invitation to connect with one another is one of the elements the leaves the greatest impression on participants. 
"There's a lot of factors that young people have to face: school, job, what's next, transitioning through life," reflects 18-year-old Judge, upon participating in the sessions. "It's stressful. Being able to look someone in the eyes and just communicate is a very powerful tool."
At the heart of Rede's work is an appreciation of the many intersections between a young person's individual wellness and his or her on-the-job success. That understanding, as well as a corresponding commitment to an approach that nurtures youth holistically, is key to addressing the complex and widespread challenges of supporting disconnected youth. 
In the United States alone, 4.9 million youth ages 16 to 24 are currently disconnected from school and work—the equivalent of one out of every eight young people. In Brazil, that number swells to nearly one out of every five. In both countries, as well as around the globe (where nearly a quarter of the world's 1.2 billion young people ages 15 to 24 are not engaged in work, school, or training), youth disconnection remains a pressing and persistent issue with staggering economic and human costs.  
Since the challenge of reconnecting youth to the economic and social systems that will help them thrive is truly global, the strategies we develop must also transcend borders. On a small scale, the exchange in New Orleans offers a glimpse into what that might look like: youth and practitioners alike, from diverse backgrounds and far-flung locales, connecting through shared experiences, as well as through shared knowledge. As Melissa Sawyer, Executive Director of the Youth Empowerment Project, observes during the exchange: 
"Despite our differences and the barriers of language, which is really something we can overcome, we're all truly committed to helping to empower our young people […] to develop the full person and make sure that young people feel loved and supported and cared about, but that they also have the skills and the opportunities they need to actualize their potential."  
Watch the video below for more on the recent exchange between Rede Cidadã and the Youth Empowerment Project in New Orleans.
Kevin Easterly is IYF's Marketing and Communications Coordinator.
Tags
new orleans
opportunity youth
youth disconnection
cross-border exchange
biocentric movement