At Fab Lab Atyrau, Young People are Building More than Just Robots
Read All Posts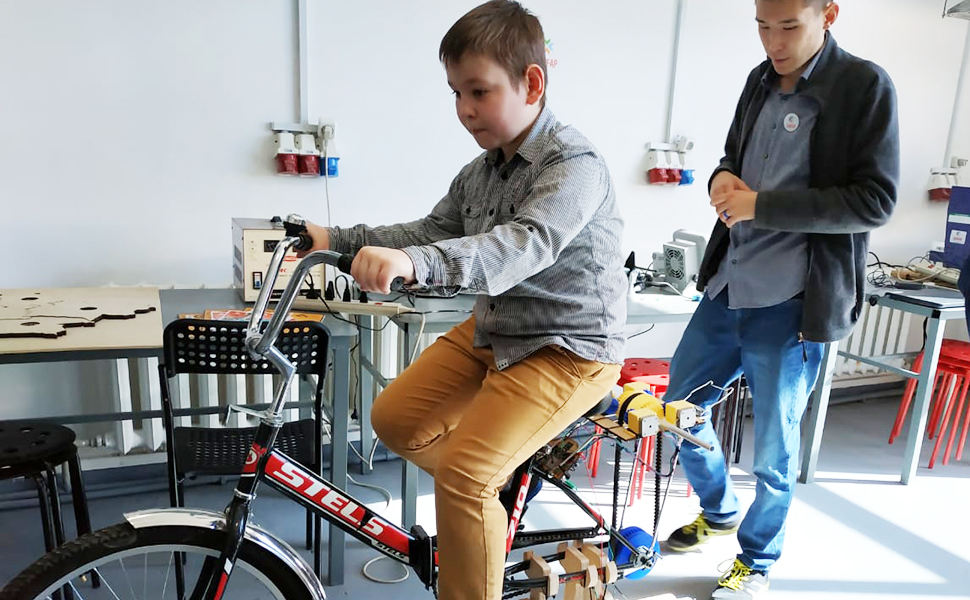 A Fabrication Laboratory—known as a Fab Lab—is a space where young people can develop their technical skills through hands-on STEM activities while building creative problem-solving, critical thinking, teamwork, and other social-emotional skills within a community of peers.
Fab Lab Atyrau, which started in 2017 as part of the Zangar initiative, is the first of its kind in Kazakhstan. Due to the lab's tremendous popularity among the community, it recently relocated to a new, larger, better-equipped facility on the campus of APEC PetroTechnic University. Since opening its doors in April, the new Fab Lab has welcomed an assortment of visitors.
"The upgraded equipment will empower young people to stretch their imaginations," said Nadezhda Shilman, a journalist who covers the education beat for a local Atyrau newspaper. The cutting-edge equipment available at Fab Lab Atyrau includes milling machines, lathes, 3D printers, laser cutters, and more. After touring the location, Shilman expressed certainty that "the new Fab Lab will give the country the next Ivan Kulibin or Bill Gates."
Two such up-and-coming innovators are high school students Tamerlan Khussainov and Zhanibek Zheksembay. "Curiosity is welcomed here," explained Zhanibek. "And the trainers are very responsive and can always help." Tamerlan agreed, adding, "Any idea you have can become real in the Fab Lab."
These friends regard the Fab Lab as a second home. They have been regulars for over nine months, but in the new space they are not only visitors, but also active volunteers, helping other young people bring their ideas to life.
Recently, U.S. Ambassador to Kazakhstan, William Moser stopped by Fab Lab Atyrau to experience firsthand the new space and its state-of-the-art equipment. Though many inventions have taken shape in the Fab Lab, the Ambassador was especially impressed by a bicycle-powered phone charger.
"I have to get one of these," he said, "so when I ride [my bicycle] in the woods, I won't lose my GPS coverage when I need it the most."  
Of course, at Fab Lab Atyrau, young people are building more than just amazing contraptions. 
"What is so wonderful about the Fab Lab," the Ambassador noted, "is that it teaches not only hard skills, but also many soft skills involved in building a better community for Atyrau and its citizens."
Zangar is an initiative of the International Youth Foundation in partnership with Chevron and the Akimat of Atyrau