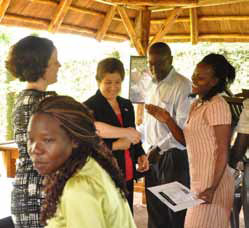 By the age of 26, Rebecca Ajambo had lost all hope of securing employment. In her community, she was referred to as a "graduate failure"—someone who has gone to school but is sitting at home unable to find work. Every week she would apply for jobs but was rejected due to lack of experience. As a single mother and the only educated one among her siblings, she felt pressure to provide for her family. When Rebecca noticed an ad for the YouthMap Internship Program in the local newspaper, she saw an opportunity to acquire the work experience she desperately needed.
During the intern selection process, Rebecca's enthusiasm, talent and potential shone through. Throughout her interviews, group exercises and a written test, she proved her capability and was accepted into the program. She reports crying tears of joy because she finally had an opportunity to get workplace exposure and earn the respect of her community.
Rebecca's first impression on joining the intern training in Kampala was the diversity of inspiring young people from all across Uganda who were participating in the program. The training built up her confidence in public-speaking and she was eager to test out her skills. On arrival at her internship placement at Strengthening Decentralisation for Sustainability (SDS), an organisation working to improve social services in thirty-five districts, Rebecca was given a full induction into her role as a Monitoring and Evaluation Intern. After being trained in data collection and survey implementation and given a laptop, she began her work to monitor SDS target communities in Kapchorwa District, Eastern Uganda.
For Rebecca, low self esteem has been replaced by confidence and an eagerness to speak out. She already has ambitious plans to form a group with other young females in her community to sensitize girls about the importance of education and to increase their awareness of their rights. In her home district of Busia, high rates of teenage pregnancy results in equally high levels of school dropouts, and Rebecca is keen to encourage young girls to invest in their futures. The monthly allowances granted through the internship program enable her to save money to continue her studies and contribute to the school fees for her siblings and her son. Rebecca also works closely with a mentor at SDS, who is helping her to shape her career plan and achieve her goals. "The weight of unemployment and dependency has been taken off my shoulders by the YouthMap Internship Program ... after tiresome efforts to strive for job opportunities in this era of vicious unemployment in Uganda."
Tags
internship
young women
success story