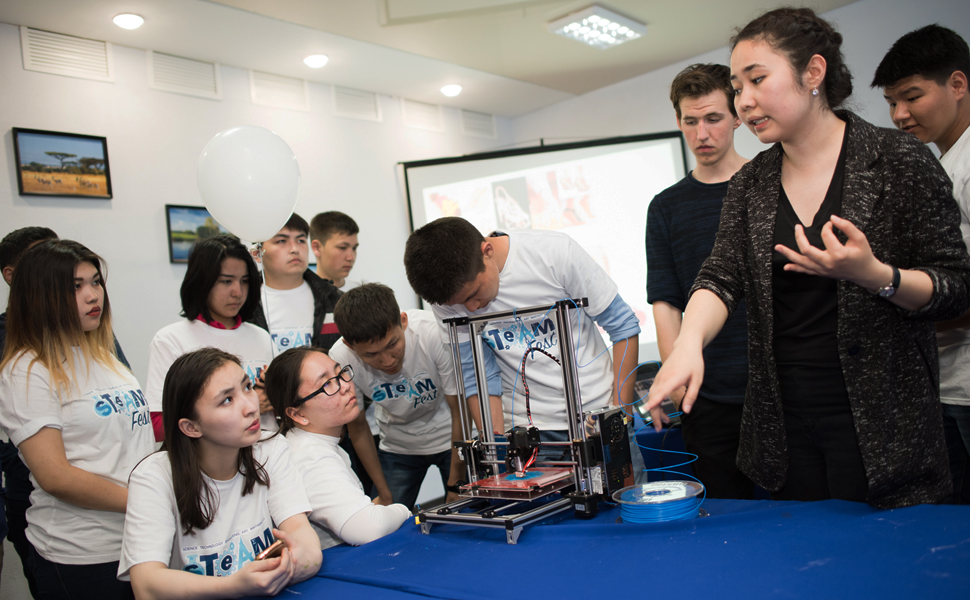 "There are times in life when we need to allow others to give us a hand," says 19-year-old Amina Yelemessova, "and other times when we need to step forward and help others." Amina, an ambitious young woman, has gained—and contributed—as a participant in the Chevron-funded Zangar initiative in Atyrau, Kazakhstan.
An electrical engineering student at APEC PetroTechnic, Amina is passionate about promoting science, technology, engineering, and mathematics (STEM) education among young people, girls especially. The STEM and ART (STEAM) Festival held in Atyrau in April provided an opportunity for her to step forward and contribute to her community.
One of more than 100 STEAM Fest volunteers, Amina worked closely with local youth and parents to increase awareness and interest in those fields. She supervised young participants in engineering activities, helping them build structures such as model houses and bridges and showing them engineering and STEM can be interesting, fun, and accessible.
Feedback from parents points to the Zangar event's positive impact. "My daughter learned a lot and enjoyed making things," said local mother Gulmira Gazizkyzy. "STEM is important for the future, and should be promoted among our youth. As a parent, I would like such events to be held more often."
Being a successful volunteer at this kind of festival requires excellent communications skills, which Amina says she developed through Passport to Success® (PTS), IYF's life skills training incorporated into Zangar. "Working with youth, you need to be open and flexible in your communications and apply different approaches," she explains. "PTS helped me to communicate with people effectively."
In addition to PTS life skills training, Amina received STEM training through Zangar. "Despite my technical background," she explains, "I had much to learn about robotics, programming, and 3D modeling to effectively deliver STEM-related activities to festival participants." 
"In the 3D modeling classes," she continues, "I gained considerable technical experience in the SolidWorks software, which is new to APEC students." When she spoke to potential employers at a recent job fair, she learned just how highly they value familiarity with that particular computer-aided design (CAD) program.
For the jobs of today and tomorrow, employers say the best candidates will have foundational literacy and numeracy skills, technical skills like those gained through STEM training, and strong work-relevant life skills—all of which Amina possesses. In a recent series of interviews at North Caspian Operating Company, one of the leading oil and gas companies in Atyrau, Amina demonstrated her work-readiness, including presentational and problem-solving skills, workplace protocol, and negotiation skills she developed through PTS. As a result, she secured and is working to complete an internship with the company's Maintenance and Turnaround Department.
As for volunteering, Amina plans to continue that, too, at EXPO 2017, an international event taking place in the capital city of Astana from June through September.
Whatever the future holds, Amina is certain the life skills she developed under Zangar, coupled with her training in STEM, will allow her to step forward with confidence.
Tolkyn Omarova is IYF's Program Manager in Kazakhstan.