How 11,000 Egyptian Youth Received the Opportunity to Succeed
Read All Posts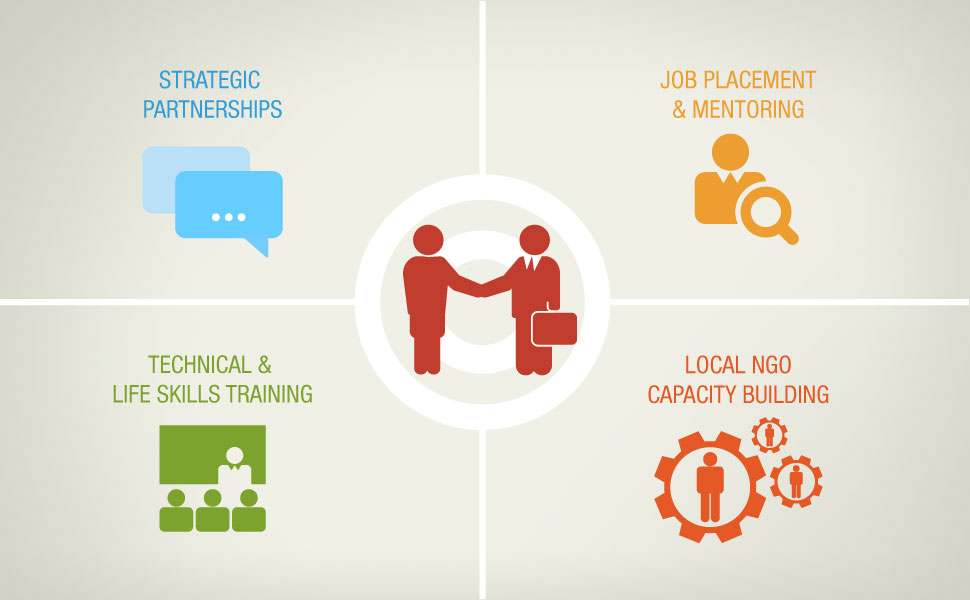 Creating employment opportunities for disadvantaged youth is not easy under the best of circumstances. In Egypt, where political upheaval and economic uncertainties have resulted in more than a third of youth being out-of-work, meeting their needs for skills training, jobs, or self-employment can be even more challenging.
Yet the experience of Egypt@Work, an IYF program carried out in partnership with The MasterCard Foundation and Nahdet Al-Mahrousa, demonstrates that with the right strategies and partners in place, equipping youth with market relevant skills and connecting them to job opportunities is possible. Since 2011, the program has trained over 11,300 youth—surpassing its original goal of 10,000—with 73 percent of graduates securing employment or starting a business.
How did Egypt@Work achieve this milestone? In addition to providing youth with training in technical and life skills, along with job search assistance and mentoring, the program enhanced the capacity of ten local nongovernmental organizations (NGOs) to deliver effective services. This support included assessing partner needs and delivering customized trainings in such areas as financial management, operations, program management, evaluation, and the delivery of high-quality training and job placement services for youth.
This approach was informed by experience in Egypt, and around the world, demonstrating that improving local capacity yields the largest and most sustainable impact on youth unemployment. Preliminary data from Egypt@Work confirms a strong correlation between NGOs' use of best practice approaches and the employment and self-employment of youth. These organizations attest to the value of their improved practices by passing them on to other groups in their communities and replicating them at other branch locations around the country.
Providing youth with quality training in market-relevant skills also played a pivotal role in the program's success. In a 2011 study conducted by IYF, Labor Market Assessment of Post-Revolution Egypt, employers in Egypt cited the difficulty of finding young people with the right soft skills to satisfy workplace needs. To address this, Egypt@Work introduced IYF's Passport to Success® (PTS) life skills training program, which has proved successful in equipping youth in thirty countries with communication, teamwork, time management, and other valuable skills. Egypt@Work graduates are now using these skills to pursue careers as diverse as textile production, agriculture, and home health support.
Employers, too, are taking note. Of the thirty program graduates hired at the Arafa Group branch in Beni Suef, HR Manager Abdel Naser Shehata said, "They showed a very high level of commitment and dedication and spread positive energy to those around them. They are ambitious and care about their career and development." In particular, he credits the PTS life skills training with the young workers' exemplary performance.
Graduates of Egypt@Work reinforce the value of the life skills training they received in helping them set and achieve goals that previously felt beyond their reach. After completing the program, Mostafa worked as a salesperson at a chain of apparel stores, where he consistently earned the title of 'employee of the month' and was promoted to sales manager. After he turned down a second promotion in favor of pursuing his own business, the owner of the store loaned this aspiring entrepreneur the money he would need to open his own franchise—a dream come true.
With program graduates like Mostafa now creating jobs—and NGOs better equipped to support the needs of youth at-risk well into the future—the ripple effect of Egypt@Work continues to grow.
Tags
life skills
market-relevant skills
labor market assessment
original research
entrepreneurship
nahdet el mahrousa