How a Global Learning Exchange Translates to Local Action in New Orleans
Read All Posts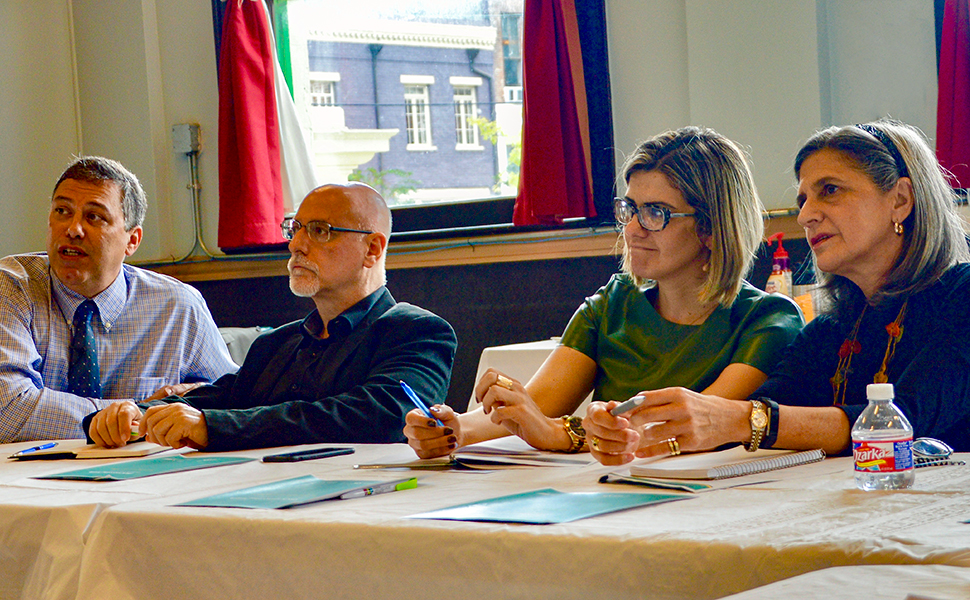 Monday through Friday, Fabio Della Santa and Aurea Diab serve their New Orleans communities in important ways: Della Santa is an officer with the New Orleans Police Department, and Diab coordinates the world languages program at the historically Black Dillard University. When I met them, they had cleared their schedules to work as Portuguese-language interpreters for an international youth-focused learning exchange. By the end of the day, both were affected more deeply than they expected. 
Held in New Orleans, the energetic exchange brought together leaders and youth participants from Youth Empowerment Project (YEP), a Louisiana-based organization that engages underserved youth through community-based education, and Rede Cidadã, which seeks social transformation through the integration of life and work as a single value in Belo Horizonte, Brazil. The event was part of (Re)Connecting Youth: Exchanging Global Lessons, an IYF initiative with support from the Robert Wood Johnson Foundation (RWJF) that aims to share innovative global approaches for increasing youth connection and resilience with those who serve or work for youth in the United States.
"It can be quite frustrating to watch people unravel their own lives in the legal system," said Della Santa (far left in the photo above), who often sees youth during some of their most difficult moments. His father is Brazilian, and he travels back to the country every year. Diab (far right in the photo above) was born and grew up in Brazil, and now she advises young students at Dillard, some of whom are experiencing or have overcome serious challenges. "Sometimes they still feel sorry for themselves or that they can't get anywhere," she noted.
The specific needs of young people depend to a certain degree on the realities faced in individual communities. However, in many cases, the challenges youth face—lack of educational opportunities and resources, generational poverty, and many other factors—are more alike than they are different. During the exchange, YEP, Rede Cidadã, and IYF participants exchanged stories and discussed solutions, collaboration, and ultimately how to learn from global experiences. Rede Cidadã shared their movement and breathwork-based approach to job readiness and healing.
Participants from YEP and Rede Cidadã came away from the event in New Orleans changed and motivated, but they weren't the only ones. Della Santa and Diab were there each step of the way, bridging the language gap between the Brazilian and the New Orleans youth workers. The discussions resonated with much of what the interpreters encounter in their daily lives, and by the end both interpreters were moved to action. 
"This experience has really put the wind back in my sails," Della Santa said. "You can't wait for government to solve these problems," he continued. "The solutions have to come from us." Officer Della Santa went back into his community to look for mentors and local business owners to support YEP's programming. 
Professor Diab, too, immediately shared her experience with students at Dillard. "Exchanging ideas is always valuable and positive," she said, explaining that she saw YEP as a potential partner of Dillard University in their common goal of uplifting youth in New Orleans.
The essence and intention of the (Re)Connecting Youth initiative is to provide knowledge of global innovation to those in U.S. communities that can positively affect the lives of opportunity youth. Reaching these community leaders is an outcome that far exceeds expectations of the initiative's impact.
Geena Stith is Program Coordinator, United States.