How Learning Outside the Classroom Can Lead to Growth Opportunities for Young People
Read All Posts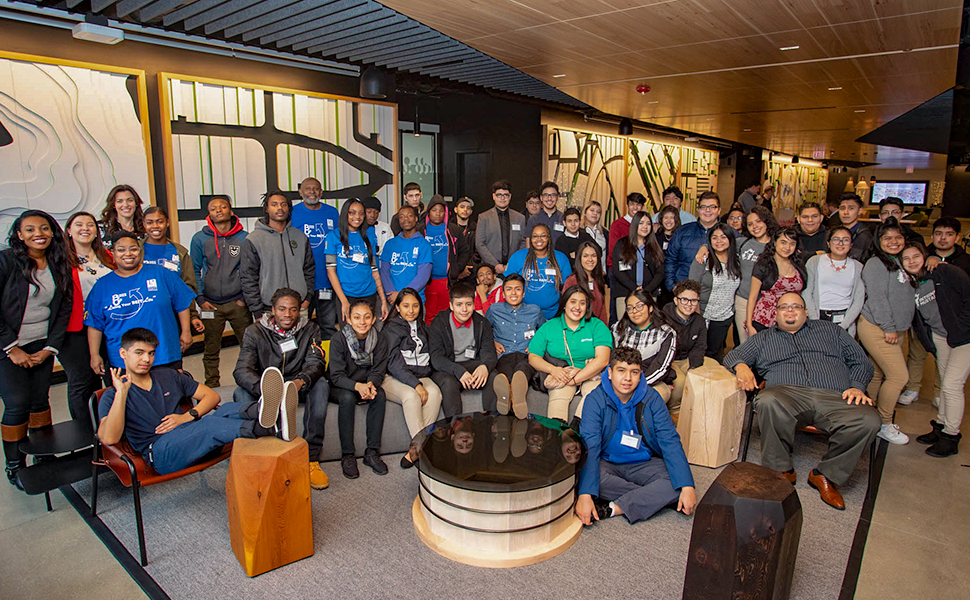 To achieve the greatest impact, set big goals—this is the thinking behind the Youth Opportunity pre-employment initiative that IYF launched last year in partnership with McDonald's. By 2025, the initiative aims to reduce barriers to employment for two million young people through pre-employment job readiness training, employment opportunities, and workplace development.
Our pilot year success to date is due in part to the work of local partner organizations like After School Matters (ASM), a nonprofit that provides after school and summer programming to Chicago's teens. Since its founding in 1991, ASM has served over 300,000 teens—18,000 in the last year alone. According to ASM's Senior Director of Development, Dana Snodgrass, they have programs in 72 of Chicago's 77 neighborhoods, providing opportunities for young people to "learn, pursue their passions, and get on track for college or career." Below, Snodgrass and ASM's Post-Secondary Program Manager, Samantha Deane, discuss inspiration, partnership, and moments that make a difference in the lives of young people.
What inspires you most about the work you do at After School Matters?
Dana Snodgrass
The circular nature of what we do. Teens don't just go through the programs and then never think about them again. They come through, go on to college or start a career, and then want to come back to help teens who are in the same spot they were in 10 years ago. It's amazing to see that happen.
Samantha Deane
Seeing the long-term growth. When a teen comes in, and they're nervous and can barely get out the answers to the interview questions, but by the end of the summer they're articulating what they did, what they learned, and how they grew. Then, the next year they come back and they're even further along, better able to advocate for themselves, and eventually they return as a college student to work with you on a college internship.
In your experience, what skills do young people want to develop, especially in terms of life skills?
SD: They're interested in 21st century skills, especially communication. I talked to a group of teens recently who were entering one of our summer internship programs, and they said they wanted to learn how to talk to and be in the same space as adults, as peers—or near-peers. This is different than the sort of relationships they have with adults in school, where adults are seen as the ultimate authorities.
What role do partnerships play in the work you do, and what makes a good partnership?
DS: We could not reach 72 neighborhoods across Chicago without all our amazing partners including Chicago Public Schools, public libraries, the Chicago Park District, and numerous museums and cultural organizations. Through partnerships, we support the work of other community-based organizations involved with the Youth Opportunity initiative—like SER or Phalanx—to collaborate and provide programming in the neighborhoods where they work and support what they're doing.
SD: We share similar values with our partners. Specifically, we all see teens as powerful, important, and vital members of the city. It's about the mission—we partner with people and organizations who see young people as actors in making the city what it needs to be for their future, and our future.
What upcoming After School Matters events are you looking forward to the most?
DS: We have a cool summer event called Summer Teen Cuisine, where teens in our advanced culinary programs, which are funded in part by the Youth Opportunity initiative, are mentored by chefs from local, high-caliber restaurants. They learn from the chefs, recreate a menu from the restaurant, then serve guests from the community during luncheons throughout the summer which are held on the outdoor terrace at our downtown facility, Gallery 37. The food the teens produce always blows me away. It's a great experience for them—to see how much they can accomplish, and to see how the community appreciates their hard work. It's a crucial event and moment for these culinary students.
Speaking of the Youth Opportunity initiative, are there any stories you'd like to share?
SD: Last year, during a spring break program where our high school seniors can talk about life after high school, I met a young man who'd been accepted into [a prestigious university in the city]. He was unsure whether he would attend. At a tour of McDonald's Headquarters, the seniors met a chef who told an amazing story about the importance of being persistent and getting up when you're knocked down. I watched as the young man listened intently, and I could tell something was happening. Later that week, I asked how his week had gone, and the young man said he decided he he was going to attend [university] even though he was scared. My gut intuition tells me it had a lot to do with meeting that chef at McDonald's Headquarters.
Learn more about the Youth Opportunity pre-employment initiative and the partnership between IYF and McDonald's.
Tags
Partnerships