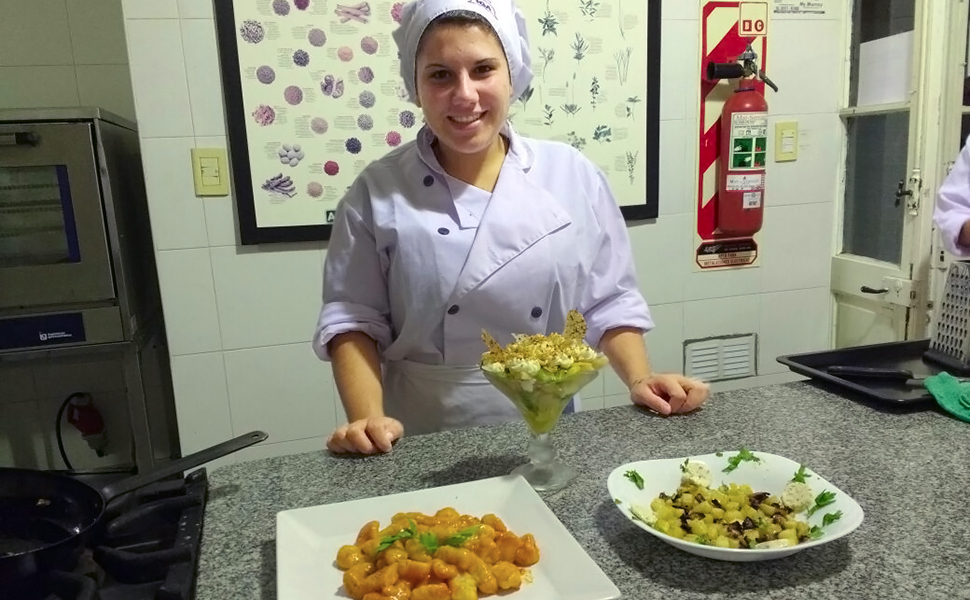 Lucia has big plans. At 20, she is studying to be a chef at the local instituto gastronómico, or cooking school. She lives in San Nicolas, Argentina, a community surrounded by farms and known for its manufacturing hub. Driving there, I immediately noticed the difference between the busy, cosmopolitan streets of Buenos Aires and the peaceful green of San Nicolas, populated by cows and horses and dotted with peach groves.
It is a blue-collar town, where people work hard and enjoy family and food. San Nicolas doesn't offer many opportunities outside of the local factories, and it's up to entrepreneurs to create other jobs. Lucia wants to open her own restaurant, and she possesses the drive, determination, and talent necessary to succeed. When asked, she said she had lacked one ingredient: the practical skills to make her dream a reality. Lucia has gotten a boost by training under the Walmart Social Retail Training Program (WSRTP), a NEO-associated project led by IYF, funded by the Walmart Foundation, and implemented by Fundación SES.
The Argentine project is part of Walmart Foundation's Global Women's Economic Empowerment Initiative, which seeks to train women for their first job in retail. While the small town of San Nicolas offers few opportunities in retail, Lucia credits WSRTP, with its emphasis on soft skills, practical customer service experience, and job placement services, for supporting her in taking the first step in her career plan. She says, "I learned how to do a job interview, and that helped me a lot."
Following an internship at a local restaurant that also caters and operates a small shop selling their food, Lucia recently was hired on full-time. She excels as part of a small team. In addition to being head cook, she is applying her newfound retail skills working in the front of house. Lucia interacts with customers in the shop and manages catering orders, answering questions, overseeing transactions, and ensuring customer satisfaction.
This multitasker says she has always loved cooking. Lucia has a natural talent for making empanadas, a staple in Argentina, with a depth of flavor and flaky crust that I relished and any seasoned cook would envy. Her ingredients are simple, fresh, and grown by neighbors, and the empanadas have begun to find a loyal customer base at the restaurant.
As Lucia balances school and work, her goal reaches into the future she sees for herself. "I'm working now, developing even better skills in pastries and cooking, while I earn my credential. Then I'll save little by little until I have enough to own my own business," she says. To keep local talent from migrating to the city for jobs, the municipality in San Nicolas is currently developing programs to offer incentives for would-be business owners to get started, and Lucia hopes to eventually take advantage of them.
At the graduation ceremony for her cohort of the Walmart Social Retail Program, the restaurant where Lucia works catered, serving her locally famous empanadas. This food could be considered as commonplace as a sandwich in another culture, but these were no ordinary empanadas. There were no leftovers.
Lynda Aaron is Program Manager, Latin America & the Caribbean.
Tags
walmart foundation
cooking
young woman
retail jobs
retail skills