How Skills Training in Zimbabwe Creates Economic Opportunity and Inspires Hope
Read All Posts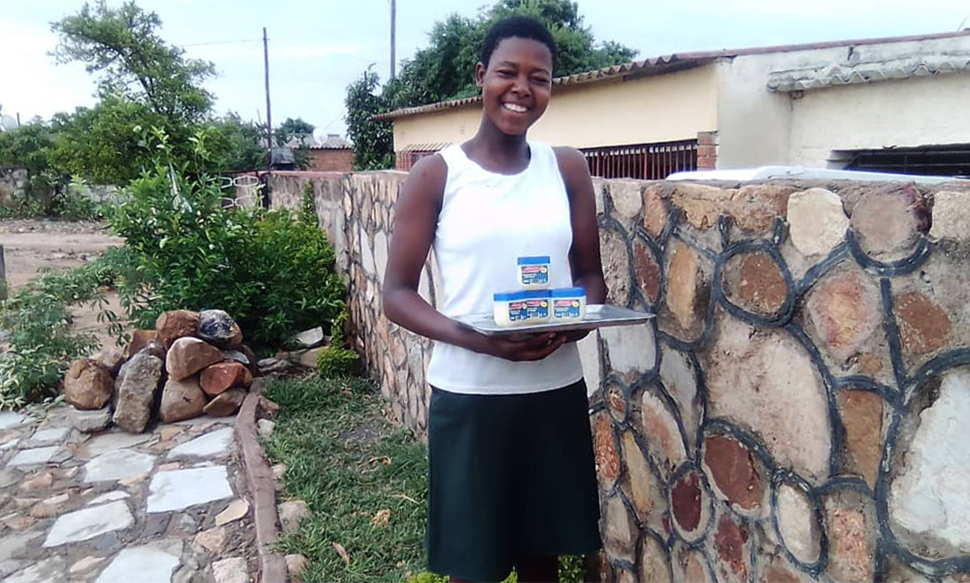 Blessing Ncube, a sixteen-year-old Pathways participant from Bulawayo, Zimbabwe.
In Zimbabwe, the COVID-19 pandemic has had a far-reaching impact on the general wellbeing of communities. Apart from the immediate impact on health, socio-economic consequences have been widespread. As a recent International Labour Organization (ILO) report notes, young people have endured economic and employment hardships more severely than adults, with vulnerable groups—including young women, orphans, and young people living with HIV and AIDS—hit the hardest.
These are the very groups served by the Catholic Relief Services (CRS) led Pathways program. Under Pathways, IYF leads the Household Economic Strengthening (HES) function. In normal times, economic strengthening activities help program participants start and run profitable small business initiatives through training, technical assistance, mentorship and links to markets. Of course, normal skills training became more difficult during the pandemic—and more urgent because, as the ILO report emphasizes, young people during the pandemic are also at greater risk of becoming "inactive."
This means young people not only face unemployment but are also unlikely to engage in training and education. Importantly for the Pathways program, inactivity may also lead some vulnerable young people to engage in harmful activities that predispose them to HIV and AIDS. Despite these very real challenges and risks, the young people we serve through Pathways expressed a desire and motivation to explore economic opportunities brought by COVID-19, including the demand for face masks and detergents for the washing of hands and dishes and the cleaning of surfaces.
To capitalize on this motivation, IYF pivoted its delivery method, offering technical skills training by utilizing comprehensive self-directed learning booklets. Focused on Detergent Manufacturing, Baking, and Face Masks & Reusable Sanitary Wear, the booklets include descriptions of the raw materials required and their functions, health and safety precautions, and information about branding and marketing. Illustrations and clear process guidelines to facilitate skills adoption ensure easy understanding for self-directed learning from home. In addition, one-day, limited-contact practical skills demonstrations were provided to enhance or reinforce the self-directed learning experience. Mentorship and support services are provided to motivate and inspire the young to use the skills gained in training.
Blessing Ncube, a sixteen-year-old Pathways participant from Cowdray Park in Bulawayo, received a Detergent Making booklet in November 2020. Having studied and familiarised herself with the contents, she immediately took an interest in petroleum jelly manufacturing as she noticed that there was a demand in her community. Blessing said, "The section on branding and marketing motivated me to distinguish my product through packaging and labelling. Currently, I am producing and selling approximately twenty 100ml bottles of petroleum jelly per week, contributing around USD20.00 to help my family with necessities like food and rent." Blessing looks forward to growing this business in the future.
Blessing's story is not unique. Many young participants—including orphans and other vulnerable youth—have realized net incremental incomes ranging from $20.00 average to $70.00 per week. The incremental income may seem low in comparison with more established enterprises; however, the change in the income levels, mindset, and attitude of these young people should not be discounted.
Frankly, inactivity seems like an understandable reaction to a global pandemic—but it's not inevitable. During lockdown, skills training has gainfully occupied adolescents (especially adolescent girls like Blessing) and provided an alternative to harmful activities that may predispose them to HIV and AIDS.
In the longer term, with continued support, these small initiatives may develop into successful, sustainable enterprises. For now, Blessing and other participants are finding hope. And during these unprecedentedly challenging times, hope is priceless.
Pathways is supported by the U.S. Government's President's Emergency Plan for AIDS Relief (PEPFAR), through the United States Agency for International Development (USAID). Learn more about Pathways here.
Susan Ryce is the Household Economic Strengthening Advisor in IYF's Zimbabwe office. 
Tags
covid-19
small business
vulnerable employment