How Treating Young Participants Like Family Can Break Down Barriers and Create Opportunities
Read All Posts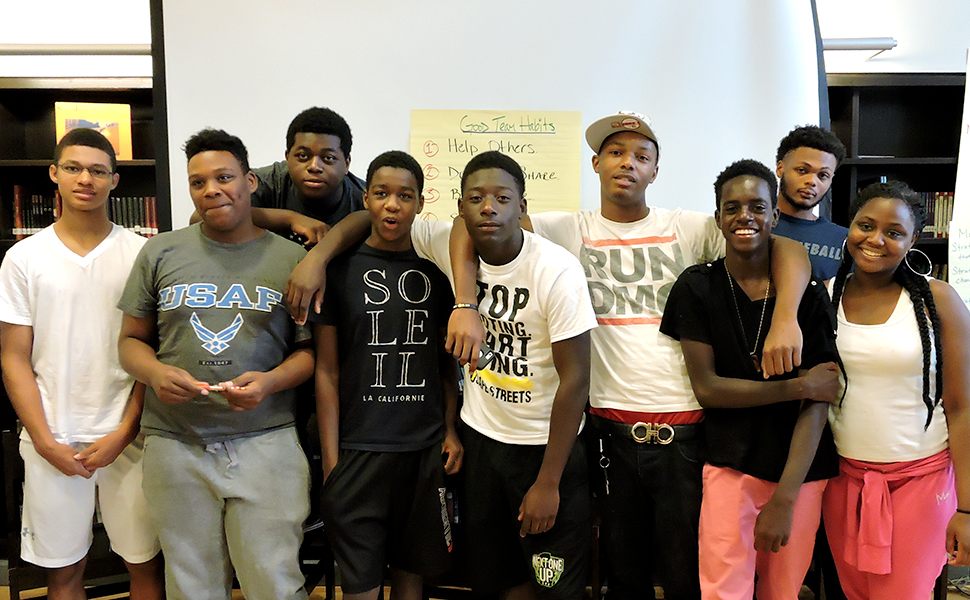 At IYF, much of the work we do is supported by strong partnerships with corporations like McDonald's, with whom we launched a program in Chicago known as the Youth Opportunity pre-employment initiative. Our global goal is to reduce barriers to employment for two-million young people by 2025 through pre-employment job readiness training, employment opportunities, and workplace development.
Equally important are partnerships with local, community-based organizations who know the young people and the labor landscape in their communities better than anyone else. In Chicago, one of our closest allies, Central States SER, is a workforce development agency whose mission is to promote economic self-sufficiency and upward mobility for the city's low-income residents. "We connect people—including young people between the ages of 16-24—to education and employment," explained SER's Director of Youth Services, Adrean Vargas. Below, Vargas and SER's Youth Career Coach, Samantha Walker, discuss conquering fears, building relationships, and partnering for the greatest impact.
What are some common challenges faced by the young people you serve?
Samantha Walker
A lot of students come through our door feeling like adults don't care, or that adults think of them as less than a person because they are young. They also sometimes have a feeling of not belonging. We try to break down these barriers by treating them like family—not just participants. When they leave, they feel confident because they know they have a support system.
Adrean Vargas
Many of our young people have spent their whole lives seeing adults as oppressors and have negative connotations about adults, especially strangers. So, at a hiring event for example, when we put them in a space alone with an adult stranger who's interviewing them—it's a lot for them, it's intimidating, and we realize that. Samantha and the rest of the team are brilliant at identifying struggles and triggers and then helping to reduce those fears.
Based on your experience using IYF's Passport to Success® life skills curriculum, which aspects do young people find especially useful?
SW: The lessons wrapped around strong emotions and professionalism address a lot of the barriers we see. These lessons help young people manage the fears Adrean mentioned. For example, these skills help them reframe the way they see the job interview. It helps them step back and say, "Okay, an interview is a big deal, but I've been preparing for this, I'm ready. Let's go!" For a lot of my students, relationship building is another lesson they get a lot from because they learn how important it is in the personal world—and the world of work. And communication—we do activities that help them become aware of how communication can get distorted and blurry, and how this can cause conflict.
Can you share a recent success story from the Youth Opportunity pre-employment initiative?
SW: At a recent hiring event, all but one of my students who participated were offered positions at a McDonald's restaurant. One young man was hired on the spot. He's already planning to go full-time because he's loving the job and the culture at the restaurant. This is especially good for him because in the past, he's had challenges with homelessness—we're working with him on that, and the full-time job will also help. Another young man had been a victim of bullying, but through mentoring and support he was able to bring himself forward and apply for a job. He was nervous at the hiring event, but when he got the phone call offering him the position—he was so excited! It was amazing to see.
What role do partnerships  play in doing the work you do, and what makes a strong partnership?
AV: As a nonprofit, we survive on partnerships—it's how we get our work done. So, we know we need to nourish and tend to our partnerships, almost like a garden. There's been a big effort from all the partners in the Youth Opportunity initiative. There's always compromise and lots of negotiation. We all remind ourselves the reason we're doing this is for the young people. It's for them. It's not all paradise, but we all believe in the initiative and we believe in the young people we serve.
Learn more about the Youth Opportunity pre-employment initiative, and the partnership between IYF and McDonald's.
Tags
Partnerships
local engagement