How We Set Out to Strengthen 65 Youth-Led Ventures but Ended up Building a Movement
Read All Posts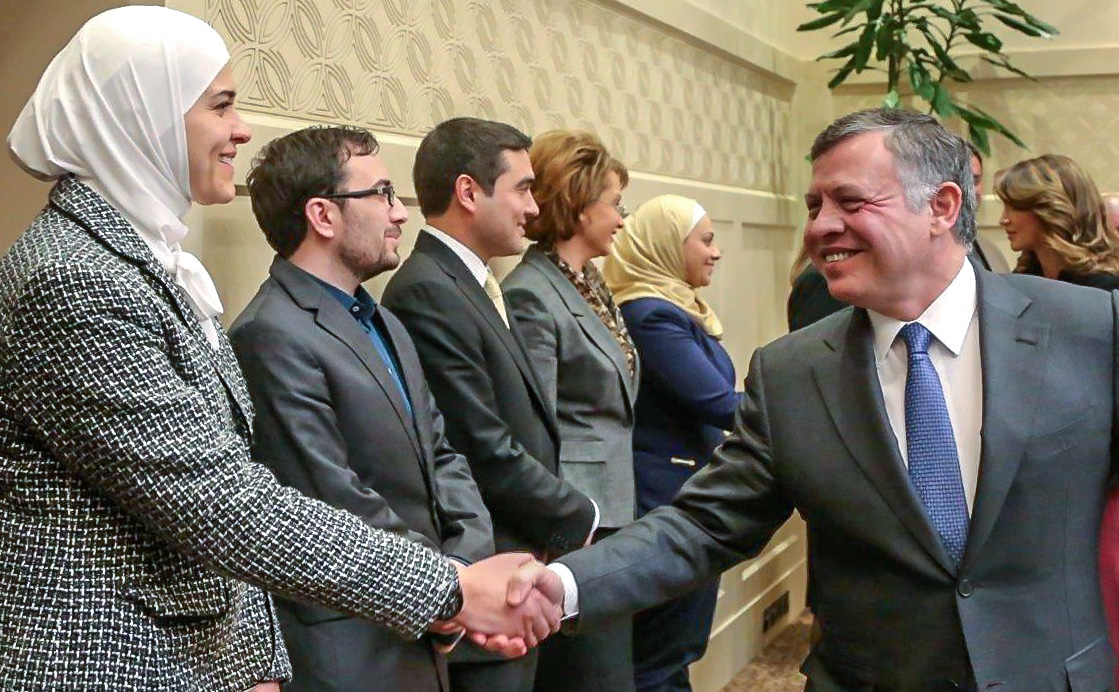 Over the past five years, I've seen transformative change in the lives of Jordan's young change-makers and those their work impacts. But last spring, as Their Majesties King Abdullah and Queen Rania shook hands with BADIR fellows, I knew our initiative had reached a new level.
I've worked as the Senior Program Manager of BADIR—an initiative of IYF, Starbucks, and M.H. Alshaya, Co.—since 2011 and have witnessed the momentum building behind youth-led social innovation in Jordan. BADIR is a member of the YouthActionNet® global network. On the day of the event, I stood at the back of the room watching Their Majesties not just greeting our country's young people, but asking them for guidance. In a country where more than half of the population is under 25, it was encouraging to see the government recognizing this generation's contributions to society.
In that moment, I had a realization: we are doing more than making an impact in the lives of young leaders and their project beneficiaries. We are fostering an environment that supports and celebrates young people's efforts to build their nation.
This attention is new in Jordan. A lack of awareness for social entrepreneurship has meant that these young leaders are considered unemployed and not taken seriously. In addition to facing social stigma, they often navigate this challenging work in isolation, lacking access to critical resources, skills, funding, and networks.
The BADIR initiative has strengthened the impact of 65 youth-led social ventures, collectively impacting more than 100,000 lives in Jordan. The young founders of these ventures benefited from training, coaching, innovation funds, connections to critical networks, and media exposure. As a result, they have made significant contributions in areas like health, women's empowerment, civic engagement, education and green energy. 
Fellows have shared with me that in addition to skills and resources, the BADIR experience and ongoing community of support have given them an extra push to continue their journeys. Without this opportunity, many fear they might have given up.
I am proud of BADIR's role as a leader of this movement, and want to share how we got to this point:
We listened to young people and designed our program around their needs. We administered surveys, held listening sessions, and encouraged feedback and ideas on an ongoing basis. Sometimes the results surprised us. For example, I learned that for many fellows, not knowing English was a roadblock to accessing wider opportunities. By connecting these young people to the British Council for free English classes, we were able to meet this critical need. 
We saw the value of advocacy and storytelling—over 5 years, we secured partnerships with 30-plus media outlets. It was a win-win scenario: media channels vying to be seen as youth-friendly were willing to feature the stories of BADIR's youth-led ventures, resulting in increased visibility for the leaders' work and credibility. This coverage led to an outpouring of support, from cash donations to in-kind contributions and offers for volunteering.
As awareness for social entrepreneurship has increased, we have engaged local influencers, including corporate executives, government officials, and NGO leaders—individuals who could champion their organization's investment in young change makers. This led to the formation of Friends of BADIR, a consortium of 30 institutions from diverse sectors willing to connect our fellows with additional resources, mentors, and opportunities.
Our society's systems, governments, and corporations bear the responsibility of ensuring that the efforts of young nation-builders thrive, grow, and multiply. It is my vision that in Jordan, key decision makers will not ask whether we should support youth-led social change; they will ask how. 
BADIR has built a movement by listening to young people first. We still have further to go, but when I think of fellows like Lina Khalifeh, who was running self-defense classes for women out of her garage before she was a BADIR fellow and is now moving to her second professional gym because she needs more space, I know that we are headed in the right direction. 
Hafez Neeno is Senior Program Manager, BADIR. 
Tags
badir
youth-led social change
queen rania
king abdullah ii