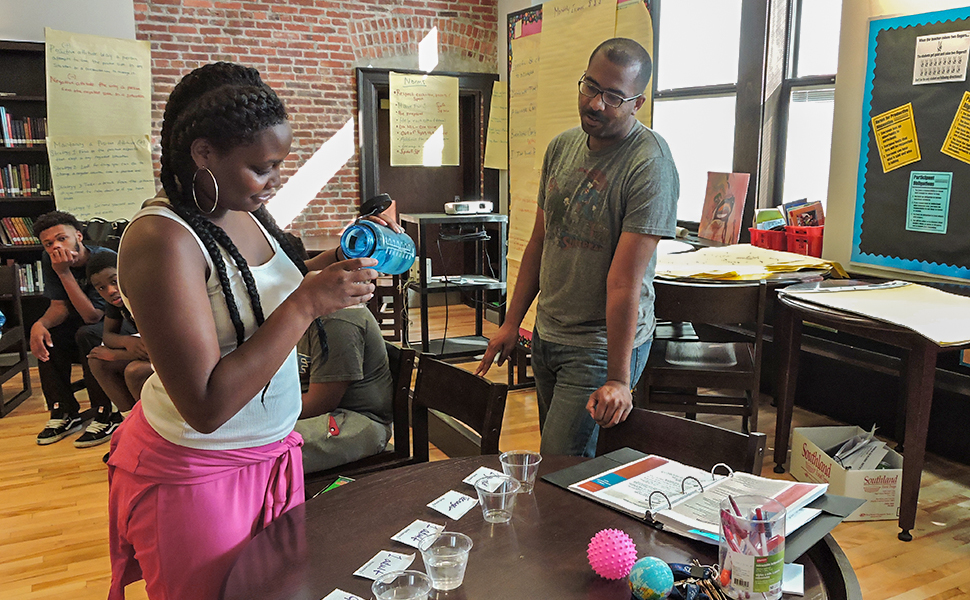 The energy was palpable from the minute I stepped into a classroom at Booker T. Washington Middle School for the Arts in Baltimore's Madison Park neighborhood. I was there to help the YouthWorks supervisor on site facilitate the timely Passport to Success® life skills lesson selected for that day, Money Management Now. It was the first payday of the YouthWorks cycle, and the youth participants had a hard time sitting still with their hard earned money burning a hole in their pockets.
YouthWorks is a program of the Mayor's Office for Employment Development (MOED) that connects Baltimore city youth with summer job opportunities. It's a win-win situation, as employers in Baltimore City receive much needed support during months when vacations take many staff out of the office, while youth receive the job training necessary for future employment and exposure to relevant career paths. In the process, many youth become more deeply engaged in their local neighborhoods and communities.
This summer, we at IYF are proud to be partnering for the first time with the MOED and the Family League to offer YouthWorks' youngest participants, like those at Booker T. Washington, additional training in critical life skills using our Passport to Success® (PTS) curriculum. These 14- and 15-year-olds are hard at work at 23 of the Family League Community Schools across the city completing service projects, preparing the buildings for the upcoming school year, and even making documentaries about the local communities. In addition to their hands-on work experience, through PTS they are now learning crucial skills like teamwork, time management, and job search techniques.
From now through August, the youth explore these topics through interactive activities with their peers, personal reflection, and guidance from PTS trainers on site. Trainers include a combination of Baltimore City Public School educators, administrators, teacher's assistants, and parent volunteers who, as YouthWorks supervisors at the school sites, have dedicated much of their summer to deliver these life skills lessons to the youth and support them on their path to future success.
Candidly, while the prospect of future success was certainly a motivator for joining the program, many of the youth have also assured me that a huge bonus is that they are paid for their work. They're working up to 25 hours per week and being paid at the current Maryland state minimum wage rate of $8.75 an hour. When I remember my own teenage years and the hours spent devising the best ways to hit up my parents for spending money, I'm not surprised by these young people's thinking.
Interestingly, while many of us think about soft skills like time management or communications skills as the most critical for employment success, at IYF we often hear global and local employers lament that young people receiving their first paychecks are often careless or naive in their spending. Many lack the critical skills needed for long-term financial stability. Early on in their careers, these young employees get caught in a vicious downward financial cycle from which they struggle to escape, leading them to request paycheck advances or to even fall victim to short-term or so-called "pay day" loans.
On that particular day, in the classroom at Booker T. Washington, we were fortunate to have visitors with us in the classroom from the MOED, the Weinberg Foundation, and the Family League to help testify to some of the unending expenses associated with being an adult. Through a series of activities exploring the concept of money as a finite resource—like a jug of water to be divided among family members on a hot summer day—the youth participants received an eyebrow-raising lesson in managing money. We also assisted youth in creating real-time budgets.
One of my favorite comments of the day was from a feisty young lady who exclaimed, "Day care costs THAT much? Per kid?!" after having asserted that $400 a month for beauty supplies was a necessary expense for a young woman. (In the exercise, we had estimated $750 per child per month for day care, which is conservative compared to US national data.) Her comments brought a smile to my face as I imagined myself saying the exact same thing at 15, which, trust me, was more than a few years ago. Personally, if I had access to this kind of job training and life skills learning much earlier on, my budget—and my parents—would have thanked me for it!
This new connection to Baltimore, IYF's home for 20 years, and its young residents is exactly what IYF had been seeking when we joined YouthWorks. As we've seen around the world, when our city's youth are paired with the right training and access to opportunities, everyone benefits from these young people's innate capabilities.
Karen Phillips is Director, Content & Training.
Tags
youthworks
baltimore city public schools
baltimore
money management