How Youth are Exceeding Employer Expectations in Indonesia
Read All Posts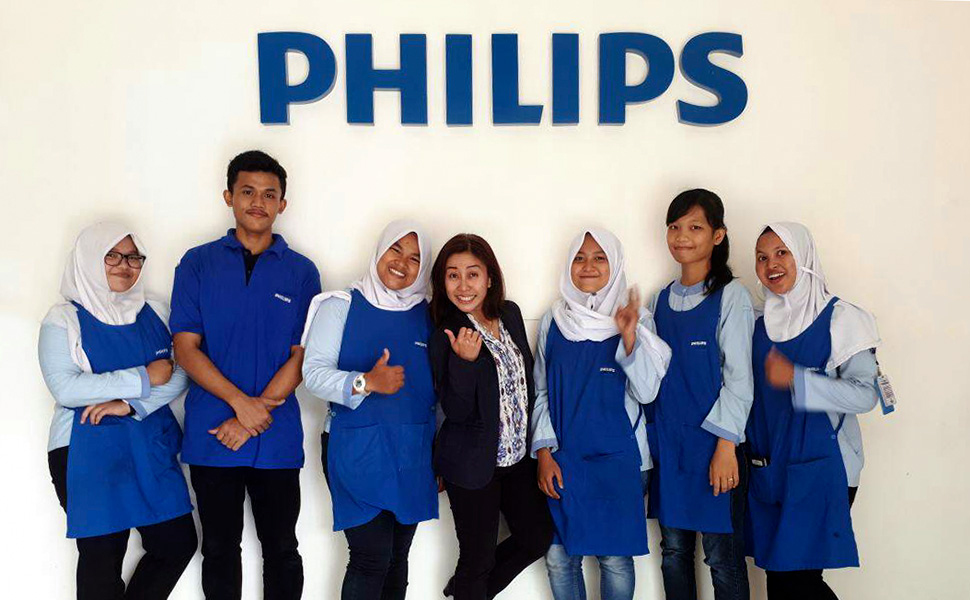 Indonesia is home to a demographic bonus—a population of working age people exceeding that of children and the elderly—yet suffers from higher youth unemployment rates than most other countries in the broader Asia and Oceania region. As in other parts of the world, employers in the country report that valuable life skills like communication, problem solving, and critical thinking are often missing in prospective employees. Human resources representatives from one of three PT Philips Industries (Philips) in Batam recently conducted a recruitment visit to a vocational high school where an IYF local implementing partner was offering training and saw the impact of teaching life skills.
At the school, Indonesia Business Links (IBL) was facilitating activities for EquipYouth (EY). This global IYF initiative, a partnership between IYF and Caterpillar's philanthropic organization, the Caterpillar Foundation, provides market-relevant life and technical skills training, career counseling, and job placement support to low-income youth. In Indonesia, EY ended in late 2017 and focused on young people entering the industrial sector in West Java and Batam. 
An industrial zone and part of the Indonesia-Malaysia-Thailand Growth Triangle (IMG-GT), Batam is home to companies who are encouraged by the government to hire locally but find it difficult to enlist youth with a strong work ethic and other crucial life skills, especially in comparison to migrant laborers who are perceived as more work ready. According to one HR Manager, "If we recruit youth from Batam for entry-level staff positions, we find that they still need to be upgraded in term of their attitudes." 
The EY Program Officer jumped at the opportunity to establish a relationship with Philips, a company that has been manufacturing electronics and household appliances in the area since 1992 and has employed 2,500 local youth. She scheduled an appointment to explain the EY initiative and its effect on participating youth's work readiness skills. 
Pleasantly surprised to hear about the program's emphasis on developing life skills, the lack of which Philips has identified as a key barrier to employing local young people, the recruiter agreed to hire 30 EY participants as either operators or technicians. 
It did not take long for these young women and men to stand out. During the training period, the HR manager quickly noticed that EY recruits seemed more motivated, disciplined, communicative, and willing to learn than their peers. According to Tia, an HR Manager from Philips, "These new recruits are different. We can see it, for instance, from their attendance rate and [lack of] absenteeism."
After only three months, the EY youth at Philips are earning a stable income from a job that provides benefits and opportunity for growth; two have already been promoted to leadership positions. Tia from Philips says she hopes the EY project continues. If it does, she plans to recruit 200 more IYF-trained students.   
Sarah Jonson is Program Coordinator, Eurasia.
Tags
life skills
skills gap
employer perspective
technical skills
technical training