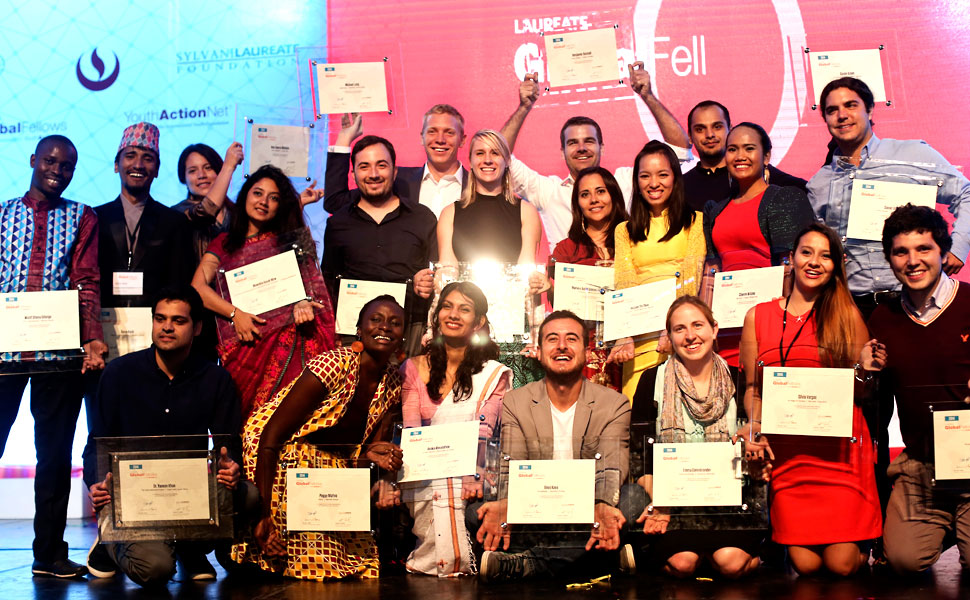 On October 20, Universidad Peruana de Ciencias Aplicadas (UPC) welcomed the 2014 Laureate Global Fellows to 'Innopolis'—a city of innovation—where these social change pioneers shared their stories and breakthrough solutions with nearly 300 students, faculty, and corporate and civil society leaders.
The Laureate Global Fellowship is the result of a partnership between the Sylvan/Laureate Foundation and the International Youth Foundation (IYF) through its YouthActionNet® program. The 20 young leaders highlighted during the event hail from 17 countries and are tackling urgent issues from coastal deforestation in Costa Rica to minority rights in Bangladesh, from understaffed schools in Kenya to lack of affordable clean energy in India's urban slums. Through workshops, plenary sessions, and an awards ceremony, fellows demonstrated innovative strategies for addressing a host of local and global challenges.
"The world needs more young, pioneering leaders like these 20 Fellows, to build a better future for the next generation," said Douglas L. Becker, Chairman and Chief Executive Officer of Laureate Education, Inc. "Every year, I am inspired by the ingenuity and commitment of these Fellows, and I am delighted Laureate is able to support these remarkable young people."
"Talented, compassionate, and provocative, the 2014 Laureate Global Fellows serve as role models for their peers and society as a whole," said IYF President and CEO Bill Reese. "We are grateful to Laureate for its support and to the University's leadership for hosting this one-of-a-kind event and tribute to the power of youth-led social change."
Among the 2014 Laureate Global Fellows are:
During their weeklong stay in Peru, fellows participated in in-depth training sessions and peer-to-peer learning activities focused on leadership development, the art of storytelling, business models, design thinking, and how to achieve long-term systems change.
These young founders/CEOs join a growing global community of more than a thousand youth who have received training and support through YouthActionNet and its network of 19 national and regional youth leadership development institutes across the world—11 of these carried out through institutions within the Laureate International Universities network.