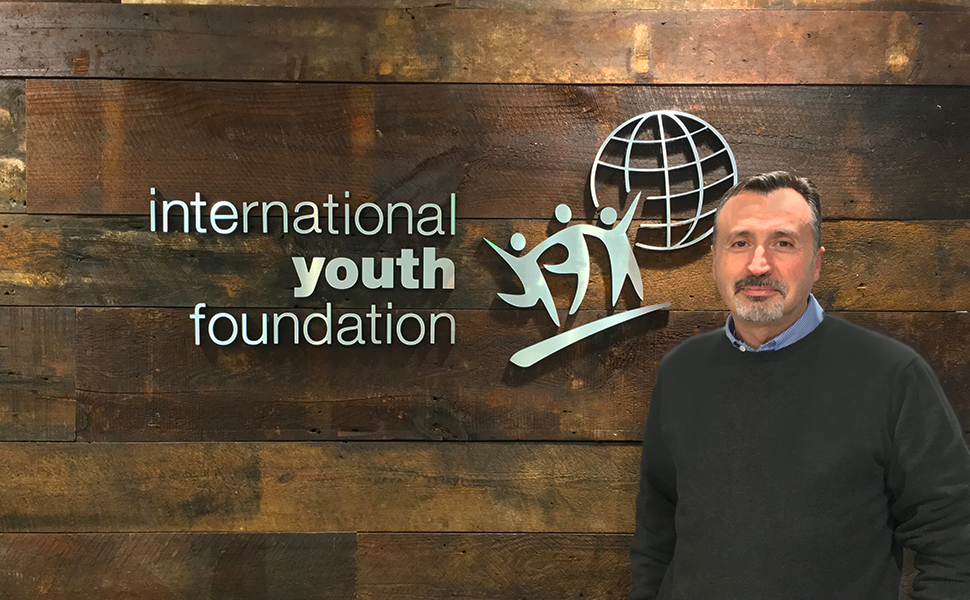 IYF recently welcomed Mike Pejcic as its new Executive Vice President for Finance, Administration, and Information Technology, and Chief Financial Officer (CFO). For more than 20 years, Mike has worked with international nongovernmental organizations, including Interpeace, the United Nations High Commission for Refugees, World Vision International, Habitat for Humanity International, and Mercy Corps. Below, he shares his reflections on sector trends, what he's learned from working in conflict zones, and how best to prepare for living at a time when, he says, "uncertainty is the new norm."
What excites you most about IYF's mission and your role as CFO? 
IYF's work with young people and its track record were big draws for me. I have a teenage daughter and am deeply concerned about the world she's growing up in. I'm also impressed with IYF's partnership-building approach. No one entity is going to solve today's youth employment challenges, and IYF understands this. IYF also has great systems in place for managing its grant making, accounting, field operations, and human resources for nearly 150 employees in 13 countries. I look forward to building on these strong foundations.
    
Your impressive career spans senior leadership roles at leading international NGOs. What are the roots of your commitment to international development work? What are you most proud of?
In the early 1990s, after studying for my bachelor's degree in business in the U.K., I knew I'd be required to join the army if I returned home during what was the breakup of Yugoslavia. As an alternative, I became fascinated by the prospect of working in Africa. I managed to secure an assignment helping Liberian refugee children living in the Ivory Coast obtain an education. It was a great experience. I ended up working in different countries on the continent for nearly seven years. 
I'm most proud of the positive contributions I've made to the organizations I've worked for, and for creating workplace cultures and environments where the machinery of operations, HR, and finance run smoothly. Knowing that your work counts, that you've made a difference in people's lives, is important to me.
You've worked in challenging situations—providing emergency support during Hurricane Katrina and the tsunami in Indonesia and working in Burundi at a time of civil war. What did you learn from these experiences?
My most recent experience involved helping countries coming out of civil war build peace. What's amazing is that even when people have hated each other for a long time, they can still find places where they agree, like wanting a better future for their children. As humans, we tend to focus on our differences and what separates us, instead of what connects us. Helping people find and focus on where they have common ground—and can connect—is important in all areas of life. 
The world is changing rapidly, with far-reaching implications for how international nongovernmental organizations operate. What are some of the trends you see impacting your new role?
Uncertainty is the new norm. This is true not only for NGOs, but for donors and other organizations in the development equation as well. In terms of trends, three come to mind.
First, new players are emerging in the development sector, including for-profit companies who think they can do the same job better, faster, and cheaper. It's up to NGOs to adapt to this new reality—to sharpen their focus, to innovate, and to adhere to the highest principles of accountability and transparency.
Second, the funding pie is shrinking while needs are growing. Governments are under pressure to support domestic causes, especially the influx of refugees. This, in turn, puts pressure on international NGOs when it comes to funding their work.
And third, there's more emphasis on justifying how funds are spent and in communicating results, especially quick results. The problems we're seeing in many countries didn't happen overnight and will take time to resolve. NGOs and donors need to find a happy medium—to deliver short-term results while pursuing long-term impact. This is where IYF stands out, with initiatives that help youth secure productive livelihoods in the short-term, while working to transform outdated systems.