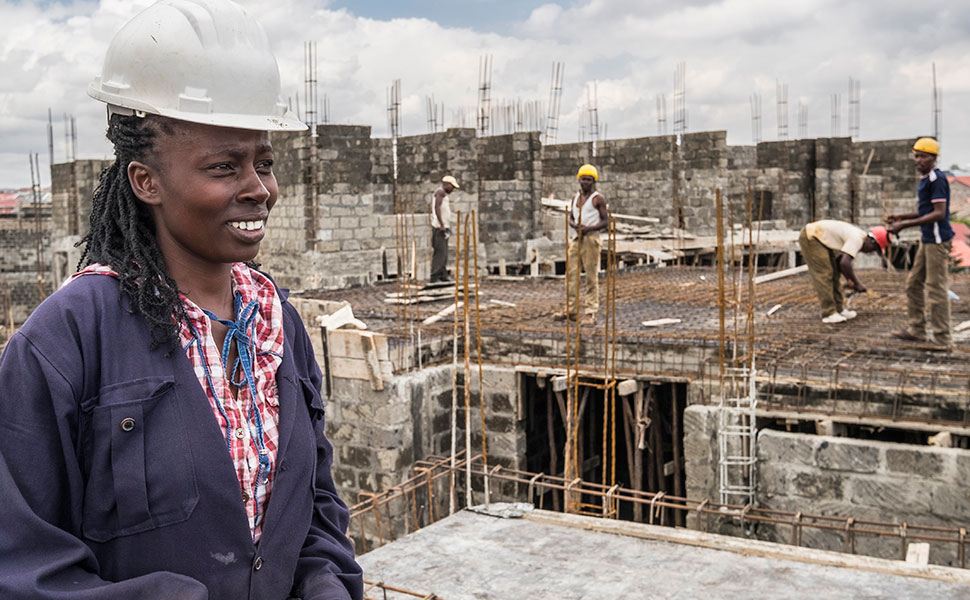 As I watched Linnet go from mixing sand, cement, and water as an assistant mason to setting large metal bars as a steel fixer, I witnessed her breaking down the barriers that confine women to traditional roles. This 23-year-old in a hard hat recently graduated from IYF's Sport for Kenyan Youth Employment (SKYE) initiative and now draws an income that makes her the family breadwinner.  
Linnet found her way into the construction sector in a less than obvious way: by following her love of soccer, or football as we call it in Kenya. When Linnet moved to Nairobi, she proudly joined a football team operated by IYF partner Mathare Youth Sports Association (MYSA). That's where she heard about SKYE, which with partner Barclays Bank PLC delivers sport-based work readiness training and uses an on-the-job model to equip youth with nationally in-demand skills.
Construction is a growing field in Kenya, but employers struggle to find skilled workers. Many women seem apathetic to the opportunities it presents. While most of Linnet's friends were reluctant to get involved with SKYE, she was among the first to sign up. "I have always been self-motivated and didn't feel the need to listen to what other ladies said about construction sites," Linnet says. "These women tell me the work is more suitable for men because it involves carrying heavy construction materials such as stones and cement and also climbing tall buildings."
The way Linnet took advantage of the opportunity to train in a promising sector, even though it's one dominated by men, made me think of something the SKYE trainees repeated during their graduation. Sisi ma youths hatuchagui job, skills na opportunity ndizo tunakosa translates from Swahili to mean "as youths, we are not choosy in pursuing jobs, we only lack skills and opportunities."
A key component of SKYE is Passport to Success®, which provides young people with critical life skills such as teamwork and time management. For this initiative, lessons have been adapted for MYSA to teach using soccer tenets and the soccer field, to make the learning more engaging. Ultimately, what participants learn on the pitch prepares them to excel in the construction jobs they're training for with IYF's other SKYE partner, Arc Skills.
"The industry requires traits such as how to communicate, manager your anger, and best work as a team," says Linnet. "Without proper time management and commitment, it would be quite hard to retain a job at a site." Linnet says her newly sharpened life skills played a major role in securing her current placement and keeping it for the past two months. She says she's more confident and resilient in her approach to life and work after SKYE.
Although Linnet says she never considered a career in the sector when she was growing up, the hands-on experience through SKYE has catalyzed her passion. "I am proud to have a skill that is a source of my livelihood, because most of the young women only engage in collecting firewood and fetching water, among other roles with no financial compensation," she says.
Linnet earns a weekly wage of 2,100 Kenyan shillings, which is roughly the national average income. It covers her basic needs, and she sends the rest of her earnings to her three brothers and a sister in her hometown, Machakos, an agriculture-based community southeast of Nairobi.
Now, Linnet plans to train to become a foreman. Recognizing the many opportunities the construction industry offers, she also intends to mentor and motivate other young unemployed women to consider working in the sector. The rarely smiling young woman confesses with a haughty laughter that she can only see herself growing in the construction industry.
Elizabeth Wanja is Project Manager, SKYE.
Tags
construction
gender
young women
youth economic opportunities
youth employment
growth sectors
tvet