"In the Lab" With Chef Jazzi—A Recipe for Success and Safety During the COVID Crisis
Read All Posts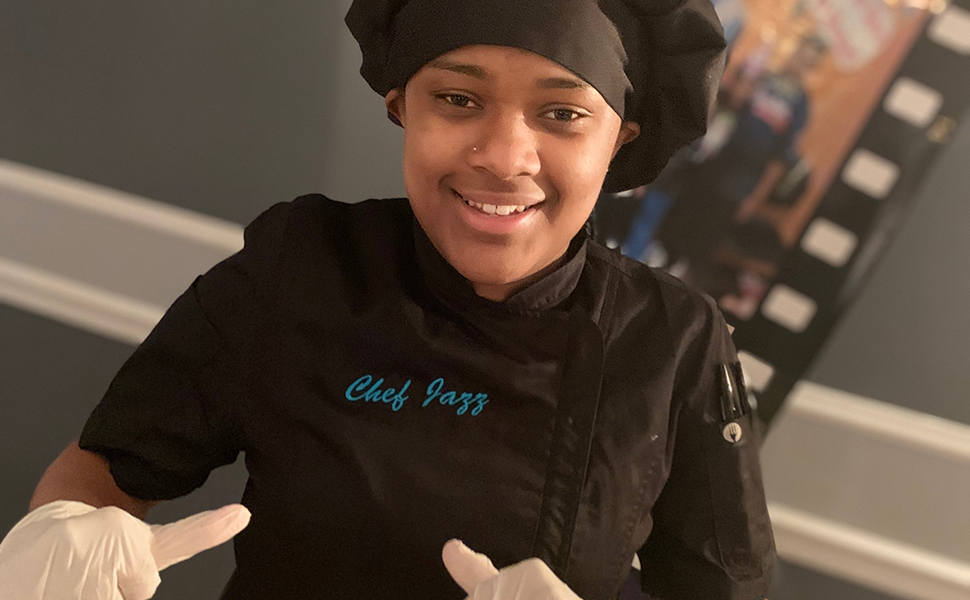 Around the world, young people are not just planning to create the future they want. "I'm doing it now," explains Jazzi Pridgen, a 15-year-old high school student from Baltimore. "I just started a culinary business. I cook and sell food at basketball games, at the barber shop, in the community."
When we first met last summer, Jazzi was participating in Baltimore Summer Skill Builders, a program that provides job experience while teaching life skills using IYF's Passport to Success curriculum. "If you're going to run your own business," she told me, "you need to learn how to communicate with people." At the time, Jazzi's Kitchen was just getting off the ground, but since then, business has skyrocketed. "I do a lot of vendor and catering events," she says. "Everything from 80th birthday parties to sweet sixteens."
Below, Chef Jazzi talks about inspiration, challenges, what it takes to be a successful young entrepreneur, and what she's doing during the COVID-19 pandemic. 
First of all, how are you and your community, how's your business, and what are you doing during the COVID-19 crisis?
I am doing good. My community is trying to stay as safe and calm as possible. Businesses like barber shops, hair salons, and other businesses in that category are shutting down. My catering business, Jazzi's Kitchen, is shut down temporarily. I've had to cancel several events, but I'm hopeful things will pick back up soon. Until then, I am staying home, looking up new recipes, trying them our and perfecting them. I like to say I am "in the lab" because there is a science to cooking. When I'm in the lab, I'm hands-on, in the zone, with no distractions. Also, I am working on some grilling skills. To other young people who run businesses, I'd say stay motivated. Everything happens for a reason. Keep going, do things that will better your business. 
How did you become interested in cooking?
I became interested in cooking at a very young age, around nine years old. It was something I always loved doing because of being around it so much. I come from a big family, so we can't eat out every day. Instead, my mom cooks big meals. I finally got to understand that since I'm not really doing anything after school and sports practice, why don't I help her out? I've watched and soaked all the knowledge in—and used it.
Who are your cooking inspirations?
The best cooks I personally know are my mom, grandmother, and grandfather. My favorite dish from them is chicken Alfredo (mom), pork chops and collard greens (grandmother), and white rice and bourbon chicken (grandfather). Other than that, my favorite place to eat in Baltimore is Rock and Toss—a seafood restaurant.
What advice would you give a young person thinking of starting their own business?
One thing I learned during the Baltimore Summer Skill Builders is to take what you love to do and have a passion for and run with it. Be who you are and what you want to represent, with no shame at all. Just do it.
As a young entrepreneur, what obstacles have you faced starting your business?
The hardest thing about running a business at a young age is finding the time to go to school, do sports, and still run the business. You need a schedule. I manage my time by doing what's most important first, which is getting my education. Then, I do my sports activities. Finally, when I get home and have that extra lay-down time, I'm thinking about my business and what I can do to get to the next level. I do research and try new recipes. I do a lot of business stuff on the weekends, too, such as catering and pop-ups.
What are your plans for the future?
I want to expand my business to the fullest. One day, I'd like to own a restaurant or work as a traveling chef.
What would you like to say to any future customers who might read this?
I may be young, but I'm very reliable. I'm someone you can count on. And when it comes to making your taste buds happy—you'll be more than satisfied! Until then, stay positive, stay home, and stay safe. 
Follow Chef Jazzi on Instagram to keep up with her culinary journey or to book her to cater an event after the COVID-19 crisis.