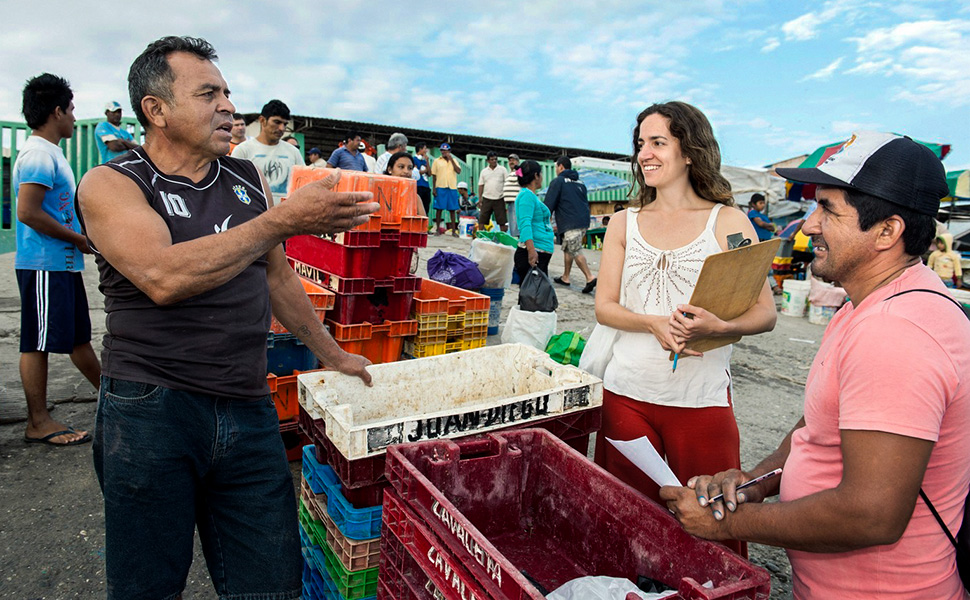 On any given day, you might find Kerstin Forsberg in a classroom teaching educators and children about the ocean and its creatures, on a small boat with fishermen preparing them to lead ecotourism trips, or at a desk planning and taking care of paperwork. The co-founder and director of Planeta Océano in Peru and a 2010 YouthActionNet® Laureate Global Fellow, Kerstin has a variable daily schedule but an unshakeable dedication to marine and coastal conservation.
Since its founding nine years ago, Planeta Océano has retained three pillars of focus: research, education, and sustainable development. The organization takes a community-based approach that involves teachers, kids, and fishing groups and which Kerstin describes as key to their success, including the ability to scale. "Our beneficiaries end up being our friends and volunteers and spokespeople," she says.
One major Planeta Océano project, underway since 2011, aims to protect giant manta rays. Peru is home to the world's largest known population of this vulnerable species, which people used to catch to sell and others snare in large nets accidentally. While Planeta Océano and partners succeeded in moving the government to legally protect them in 2015, the press for communities to understand, appreciate, and protect rays has been ongoing. Kerstin and her team, which includes a local fisherman, are working to connect their marine educator network of 50 schools, many of which are low-income, with a permanent exhibit on rays. Another component has been to build and support an association of fisherman who value the rays alive and are engaged in manta ecotourism. Planeta Océano has been preparing eager participants to give boat tours as a source of pride and sustainable income; the global manta ray tourism industry has been valued at US$140 million. Planeta Océano is also running a crowdfunding campaign to buy a new ecotourism boat and equip the exhibition.
As the organization's efforts have evolved and grown, so has Kerstin. Since becoming a Laureate Global Fellow eight years ago, Kerstin has been named an Ashoka Fellow and among the Forbes 30 under 30 and, in 2016, won Rolex's Awards for Enterprise. "YouthActionNet was my first opportunity to consolidate my model and understand that there was a broader social entrepreneurship movement across the world, with so many youth taking part and playing such an important role," says Kerstin. "Being there, physically at the retreat, brought me to learn from many other people who were different from myself. Here I was, a biologist, becoming friends with someone working on a microloans project and another working on the arts. I brought back all those experiences and thought 'I can build on these and incorporate them in my work.'"
"You definitely face a lot of challenges," she adds. Among those, Kerstin, who has a degree in biology, cites overcoming her lack of formal training in organizational management, the need to be creative in fundraising for a small nonprofit, and the challenge of finding work-life balance. "A lot of things I've had to learn along the way aren't taught in a regular university class," she says.
Becoming a mother in 2013, Kerstin says, also has completely changed her life. "One of the things I've learned is to really prioritize," she explains. "Before my daughter was born, I would have wanted to do everything. Now it's really 'What things are we doing that are really building towards our goal?' If it doesn't build towards it, I have to say no. That prioritizing has helped me a lot."
Kerstin says an important lesson experience has taught her, and which she shares with younger entrepreneurs as part of a message on humility, is about growth and change. "One important thing is to know you're always on this learning path," she says. "I don't consider myself the best hard-core scientist or the best teacher, but I've learned how to persevere, engage great people, and grow from there. Admitting to yourself that you're always going through this learning process will make others want to reach out to you and continue supporting your work."
Like each of the 1,700 YouthActionNet fellows, Kerstin is following a unique trajectory. While others have entered new fields or started a second or third venture, she remains committed to Planeta Océano and to learning as she goes, nearly a decade in. Social entrepreneurship, as she puts it, "It's not inventing new things, it's really putting the pieces together based on what you're learning and how that fits in with what you want to do."
Photo copyright Rolex/François Schaer