Life Skills Training Sets Young Woman Motor Mechanic Apart
Read All Posts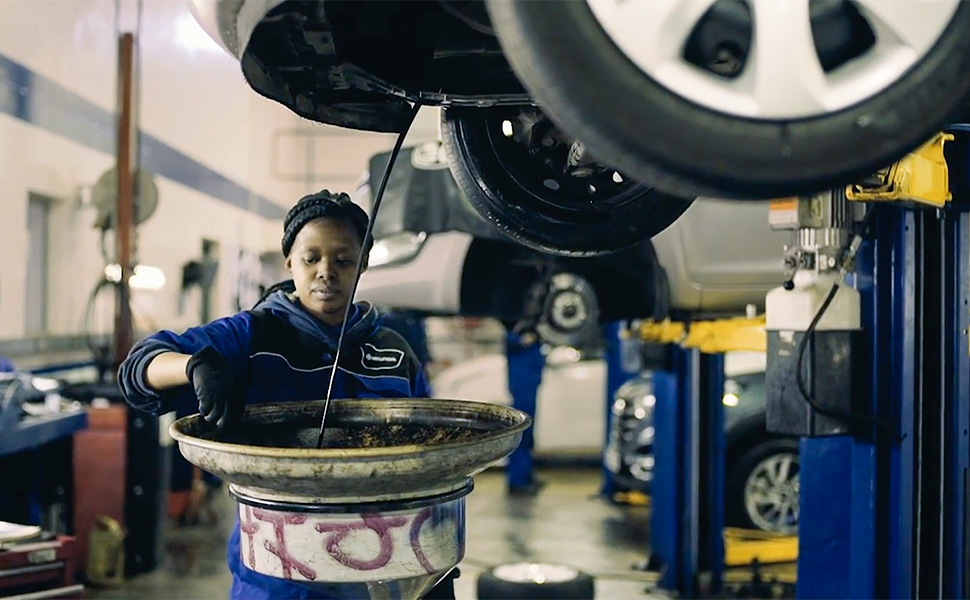 Thumeka is at home with her tools in the garage. Although this 20-year-old in Cape Town, South Africa, surprises friends, teachers, and her employer with her dedication to working in motor mechanics, she says, "I just love everything about it."  Today, armed with the right skills, she's turning her passion into a career.
Thumeka completed technical training at the College of Cape Town, a part of the country's public technical and vocational educational training (TVET) system, in December 2015. While enrolled, she participated in Passport to Success® (PTS) life skills training. With support from Irish Aid and Caterpillar's philanthropic organization, the Caterpillar Foundation, IYF equipped College of Cape Town to integrate PTS into its technical courses. As a result, the school can better prepare learners such as Thumeka with skills like goal setting and time management, which employers look for but job seekers often lack.
Thumeka's interest in motor mechanics started when, as a child, she would lend her father a hand as he fixed his car at their home in Philippi township. Now Thumeka works as a motor mechanic apprentice with Imperial Technical Training Academy and Hyundai Motors in Cape Town. Her supervisor, Owen Francis, says her determination and work ethic set her apart.
"She has a clear goal in where she's going. The way she presents herself, the way she speaks in the interviews, it's just something different compared to other learners," he says. Francis adds that "Thumeka communicates well and displays a mature work ethic. She is also able to set goals and prioritize very effectively … Those are the employees you are looking for in a business. They're very rare." 
Based on the success of Thumeka and other PTS graduates at the College of Cape Town, Irish Aid is supporting IYF to conduct detailed research over the next six months to determine how best to scale and sustain PTS across the whole public TVET college system. This work will include interviews and planning workshops with employers as well as representatives from individual colleges and the Department of Higher Education and Training. With nearly 750,000 students enrolled in South Africa's public TVET colleges, this research has important potential to positively impact the country's youth.