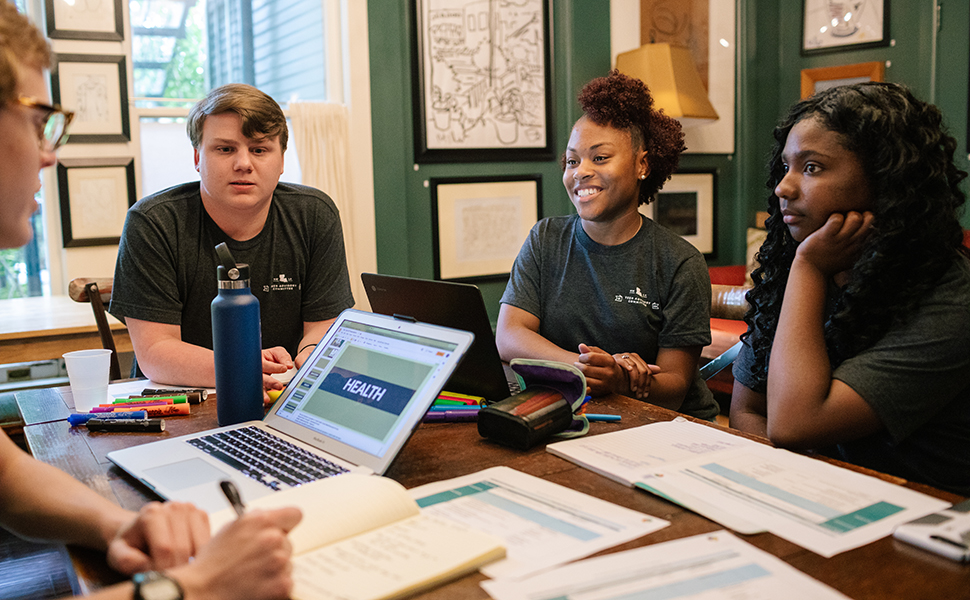 Clustered around a table at The Rhino, a popular coffeehouse in Shreveport, Louisiana, four high school students plotted and planned. The next day, Ta'Mya, David, Annika, and Robert would have less than an hour to present key challenges facing the region's youth to local civic, education, and nonprofit leaders. To guide their presentation, the team emblazoned three terms on a flip chart: education, health, civic engagement.
"We want to leave the impression that there are other options than traditional four-year colleges," said sophomore David Shaw on the topic of education.
"Teens are uninformed about career alternatives," added junior Annika Robinson, while typing up notes on her laptop.
"Depression and anxiety are something students feel every day," said Robert Lawrence, a junior, in prioritizing health-related themes.
The four teens are executive team members of a new Teen Advisory Committee (TAC) formed by Step Forward, a collective impact initiative. Training and funding for the TAC were provided by IYF's LEAPS initiative as part of its efforts to engage young people and communities in addressing youth challenges in rural Texas and Northern Louisiana.
"TAC members are our experts, sharing with us what they and their peers need to succeed," said Step Forward Executive Director Laura Alderman. "They give us our marching orders."
The 30-member group comprises emerging leaders from diverse geographic, racial, ethnic, and socio-economic backgrounds. The TAC's first task was to survey their peers about priority issues facing young people in a region with high youth incarceration rates, and declining college enrollment and youth employment.
Not long after their café prep session, TAC members presented their top-level findings at Step Forward's monthly Workforce Development meeting. For each challenge cited, the teens proposed their solutions. To enhance career readiness, hire more guidance counselors and expose students to 'real-life' employment pathways. To improve health and wellbeing, create safe spaces for students to talk about mental health challenges and equip teachers to identify youth struggling with anxiety and depression. To engage students civically, invite nonprofit leaders to share what they do and why.
Audience members, including representatives of the Louisiana Workforce Commission, Goodwill Industries, YouthBuild, the YWCA, and other nonprofits and universities—applauded the group's findings and pledged their support.
"How can we get we best convey information to youth?" asked one career counselor.
"If you want to reach teens, don't post flyers," responded a TAC member, who advocated the use of Instagram and Snapchat. "When we're in the hallway, we're checking our phones. It's our oxygen."
In the coming weeks and months, TAC members plan to be a growing voice where youth issues, programs, and policies are being discussed, including in front of Step Forward's Leadership Council comprised of business executives, school board members, university presidents, and other key decision-makers.
"Youth have a vibrant drive for change; their idealism is something we really need to capitalize on," says TAC President Bhavani Tivakaran. A high school junior, Bhavani sees youth as uniquely equipped to lead change—whether through creatively harnessing technology or encouraging their peers to exercise their voting rights. "Young people don't think their vote matters or their say in government matters. To get civic engagement, we need to start with community engagement," she says.
Learn more from Bhavani about the TAC and its goals in this short video.
Tags
agency
youth voice
rural youth