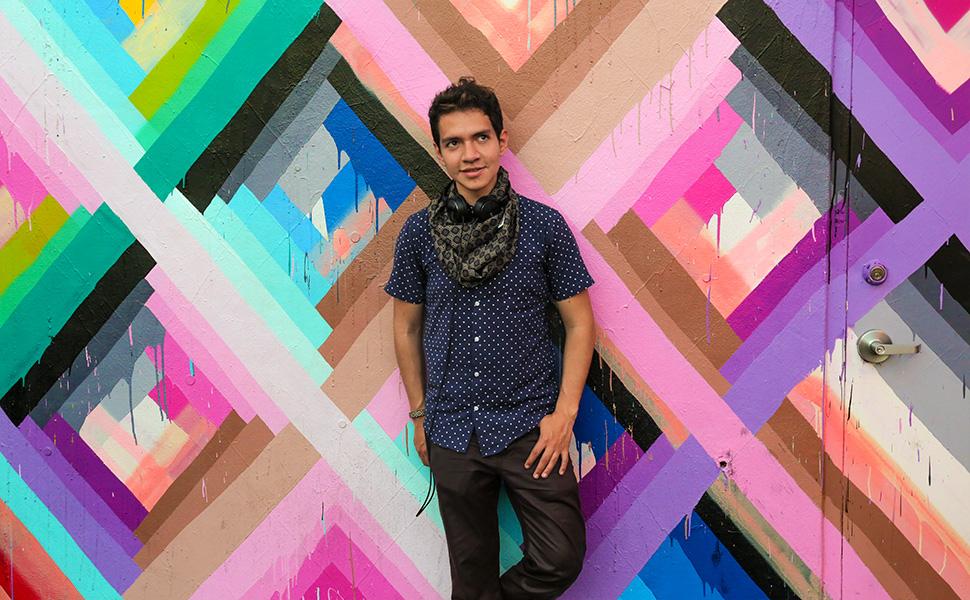 This post is the first in a series exploring how IYF's YouthActionNet® Fellows are using the power of storytelling—in this case, narratives embedded in art—to heal individuals and communities.
Five years ago, the forested trail leading to the most scenic waterfall in Bogotá, Colombia, was crime-ridden and awash with waste. Today, the same area is safe and well maintained. As part of the trail, a mural, depicting two swans and a human figure enveloped in a sea of tears, calls attention to mankind's imbalanced relationship with nature. While in 2010 people avoided the area over safety concerns, now the site attracts more than 1,500 visitors a month.
This visible transformation was made possible through a collective effort among dedicated individuals and organizations, including the BogotArt Foundation, a local nonprofit.
BogotArt is the brainchild of 23-year-old Leonardo Párraga. I first met Leo at a training workshop for IYF's 2015 Laureate Global Fellows—20 inspiring young leaders of highly-impactful and practical social ventures.
"We work with marginalized neighborhoods to create real social inclusion," says Leo. "While residents of low-income communities often feel invisible, we equip them with the tools to express themselves through art so they can be seen—and heard."
Leo, who holds a university degree in business, understands the economic factors underlying the city's social divides. A talented photographer, he also sees how art can help marginalized citizens re-imagine their possibilities.
BogotArt begins by asking community members to articulate a vision for their neighborhood and the services they seek to access—be they cultural houses, public libraries, or ICT centers. Participants then outline the actions required to achieve shared goals. Finally professionals volunteering their expertise in fields such as painting, photography, and video production help translate these visions into art.
"Every voice is taken into account," explains Leo. The process of inspiring hope and possibility it carried out on a personal and community level. "Any real change must start with the individual," he says.
To date, BogotArt has worked with more than 400 residents in three neighborhoods and created murals covering over 3,000 square feet of 'forgotten' walls. Residents in these areas say they feel significantly safer, more included in the city, and less subject to prejudice.
As for the nature trail that BogotArt helped revitalize, it now benefits from police security in the morning hours. While developers are keen to capitalize on the area's scenic value, the city has designated the waterfall and surrounding area as one of 36 ecotourism destinations.
Leo is one of dozens of IYF's YouthActionNet Fellows who are using art as a tool to achieve social transformation. While the arts have long been relegated to the periphery of development conversations, interest is growing in grassroots initiatives using the arts to spark imagination, innovation, and a spirit of optimism among disenfranchised communities.
According to the World Bank's 2015 World Development report Mind, Society, and Behavior, "Stereotypes shape processes of social inclusion and exclusion. As a result of stereotypes, people from disadvantaged groups tend to underestimate their abilities." Youth-led initiatives like Leo's deserve close attention for their ability to rewrite such narratives—helping to overcome long-held stereotypes, attitudes, and beliefs—while strengthening the social networks so essential to creating lasting change.
Sheila Kinkade is Director, Storytelling.
Tags
healing through the arts
art
mural
bogota
stereotypes
crime
safety
storytelling
yan laureate global fellows
2015 yan laureate global fellows