Meet Seven Young People Helping Bring IYF's Virtual Summit to Life
Read All Posts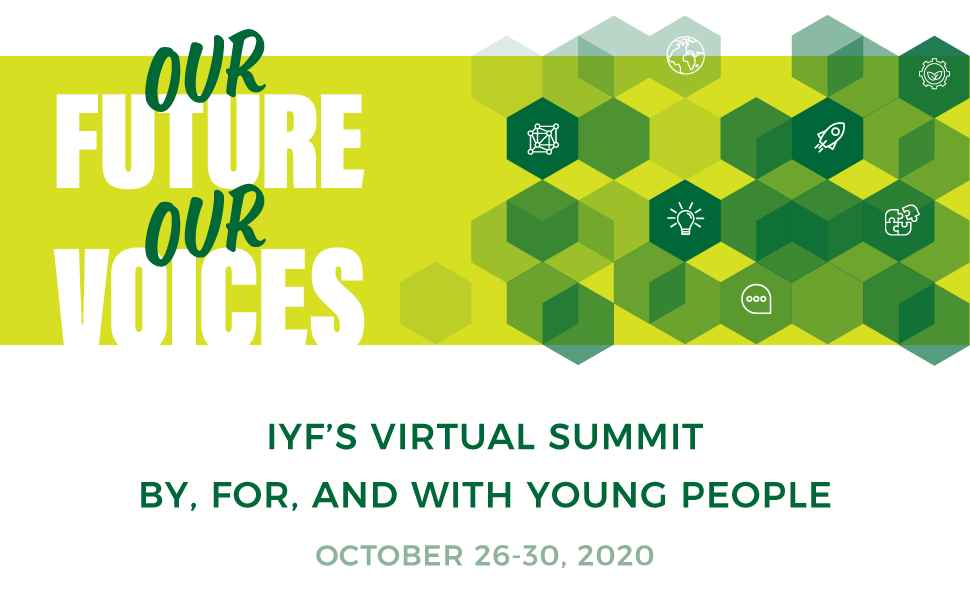 Our Future, Our Voices—IYF's free virtual summit by, for, and with young people—kicks off in just a few short weeks. The summit, which runs for five days (October 26-30), will bring together young changemakers from around the world to lead conversations about the future they want to see.
When IYF team members first conceived the idea for a virtual summit back in 2019, no one could have predicted the arrival of a global pandemic. Since COVID-19, many of our daily activities—from school, to work, to socializing, to professional development—have moved from face-to-face to online formats. After months of physical distancing, people are hungry for ways to connect, so it's not surprising that when the call for applications went out, more than 800 young people submitted their proposals.
"Young people deserve a real voice," says Anoka Abeyrathne, from Sri Lanka. "What's better than a summit organized in consultation with real young doers from across the world?"

Ana Sigala, from Mexico, concurs. "This year has brought to light all the injustice and inequality that exists in the world," she says, "but there are people—many of them young—working hard every day to improve that. The summit will give us the chance to hear about some of the amazing work they're doing to make the world a better place."  
Anoka, Sibusisiwe ("Sibu"), and Ana are members of the Youth Advisory Committee (YAC), a group of seven young people, all in their twenties, who played an integral role in the creation of IYF's virtual summit—from deciding on a name, to reviewing applications and selecting participants, to shaping session content and format.
According to Alexander Horton, a YAC member from Australia, "As the generation that is going to inherit the multitude of issues our world faces, young people need to connect with each other and work together." He adds, "Events like Our Future, Our Voices are a great opportunity to meet other young people interested in realising the same type of social change you are looking to make in the world."

YAC member CiCi Flanagan, from the United States, agrees that the virtual format is timely and important, but "At the same time," she notes, "it is important to keep in mind that not everyone has access to internet let alone a high speed broadband connection, so as virtual events become more popular/common, we can't leave people behind. I hope once the COVID-19 pandemic is more under control, we can start seeing a happy mix of virtual and in-person events again."
Our Future, Our Voices will include more than 50 unique sessions, each of which focuses on one of three subject "tracks"—People, Planet, and Prosperity—which align with three thematic areas from the Sustainable Development Goals (SDGs). Based on their personal and professional interests, YAC members are divided in terms of which track they're most looking forward to.

"I am excited about the People track," explains Genarius Ernest from Tanzania, "because I'm concerned with equity, equality and justice among people." For Alexander Horton, it's the Planet track. "As human beings, it's important that we take the time to step outside ourselves and work to become more harmonious with our natural world. I'm incredibly excited to see what solutions are being explored, proposed and put into action!" Arafat Lesheve, from Tanzania, says, "As a young changemaker and positive youth development (PYD) advocate, I am super excited about the Prosperity track because I invest my time and passion into equipping young people with employability and entrepreneurship soft skills to attain decent jobs. But," he points out, "what's great is that all tracks will have youth leading sessions."
What tracks are you interested in? Explore the full agenda, and then register!