Meet the Young People Changing Their Puerto Rico Town, One Mosquito Net at a Time
Read All Posts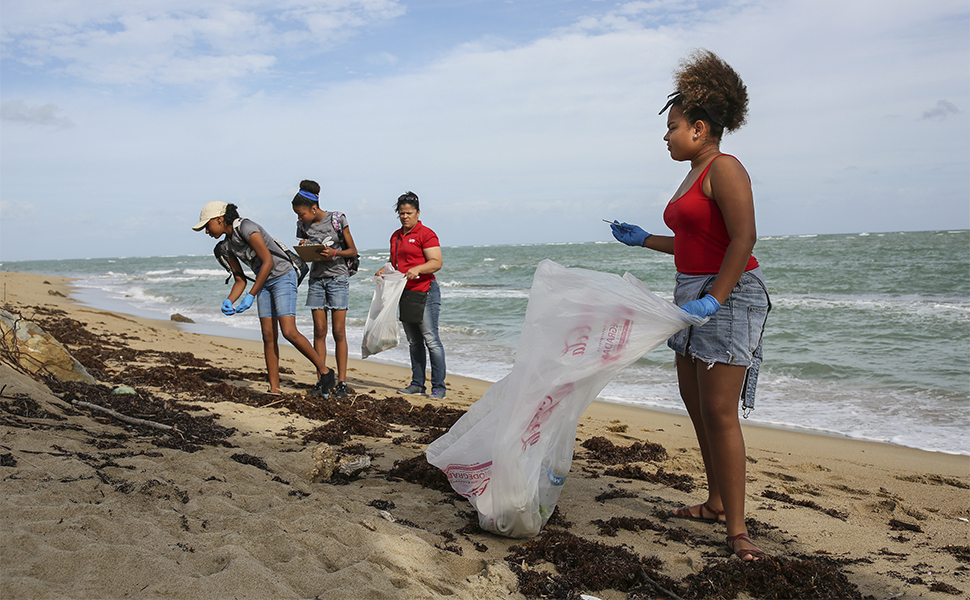 "We saw how our houses were flooded and the wind ripped off the roofs." "It was impossible to get out because of the floods." These are just two experiences young people in Loíza, a small town on the northeast coast of Puerto Rico, told me me about 2017's devastating Hurricane Maria. Although people tend to think of children and youth primarily as victims of natural disasters like that one, the young men and women I met in this small coastal town have proven that they are also assets and agents of change amid adversity.
In addition to immediate destruction, the hurricane left behind the largest blackout in U.S. history, causing dangerous health and sanitation problems. One young woman I met described how her mother worked in the municipal emergency response after hearing stories about families who had to bury dead relatives in their own yards because there was no way to get them to hospitals or morgues. The young people I visited in Loíza had prioritized tackling a specific problem: decreasing and preventing mosquito-borne illnesses such as zika, dengue, and chikungunya.
Their program stemmed from a post-Maria focus group with middle and high school students facilitated by ASPIRA, Inc. This community-based organization advancing youth leadership on the island was one of three local groups IYF selected to receive funding through a Rodan + Fields grant for hurricane relief. Youth have had a hand in every step of the program—from the identification of the primary issue to the design of the program and budgeting. ASPIRA staff facilitated the process—but the rest was led by young people wanting to be involved in rebuilding their communities and educating community members.
"This project was our idea—we sat down at a table to talk about what the real, present problems are in Loíza," says Yosuel, 15, who worked closely on the program design. He and friends had seen how excess standing water allowed the insects to thrive. "We landed on the issue with the increased population of mosquitoes and the importance of keeping our beaches clean, so that debris does not wash out to sea and stagnant water doesn't accumulate in what is leftover. We are young, but we have big ideas—we aspire to greatness."
Here are four ways youth in Loíza have taken action:
The young men and women, nicknamed Aspirantes, wrote and performed an educational play called "El Último Mosquito" (The Last Mosquito) in and around Loíza.
They went door-to-door distributing mosquito repellent, traps, and nets and explaining how to use them.
They cleaned up local beaches and removed accumulated trash, especially debris containing water where mosquito could lay eggs.
They collected mosquito traps from community homes to examine the insects' eggs in a laboratory, with the help of an entomologist.
"This project has helped these young people channel their trauma after the hurricane into positive community action," according to ASPIRA coordinator Doris Díaz Rivera.
The young leaders also want to take the opportunity to combat the effects of climate change, which exacerbates natural disasters such as hurricanes. "When adults see young people in action, it prompts them to change their habits," expressed Yosuel. He spoke of the chispa, or spark, that young people have and that makes them the perfect candidates for leading change.
The United Nations has addressed the need to involve young people in climate talks through the Sustainable Development Goals. SDG 13 includes the need to educate young people on climate change. However, it is not enough to educate—it is imperative to foster youth agency so that young people are in a position to tackle these issues in creative, meaningful, and sustainable ways. As the young people in Loíza demonstrate, developing initiatives with youth rather than for them is more likely to have a greater impact in their implementation, as young people take more ownership over their direction and results.
Another Aspirante, Damara, 18, who is currently studying microbiology at the Interamerican University of Puerto Rico, added, "We, as young people, are fostering leadership in other young people. We already have the potential for leadership, it just has to be brought out." Her hope is that the project can be scaled across the island by going from community to community so people can see what has been done and what more can be done, recruiting more young people along the way.
"We are the ones identifying the issues and finding their solutions," says Johaneilyz, 12 , a smile proudly beaming across her face. "This really motivated me, because I am part of this community, and it is part of me. We are the future—we are the ones who have to ensure there is a tomorrow for us."
Tags
puerto rico
young leaders
youth-led social change
hurricane maria
positive youth development
youth voices