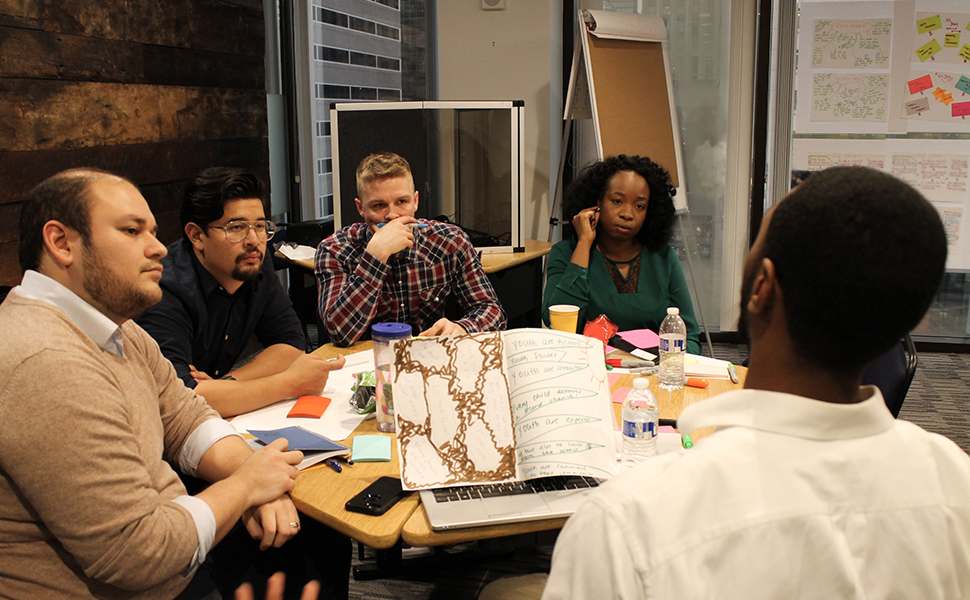 On a crisp winter morning, 10 youth from West Baltimore took their seats around a well-worn conference table at the Westside YO Center. Over the next two hours, they shared their stories while learning about grassroots movements and fellow youth who are speaking out and standing up.
This is what bottom-up change looks like in its most embryonic form.
Joining at IYF's invitation, youth leaders Lashon Amado from Boston, Shawnice Jackson from East Baltimore, Daniel Martinez from Mexico, and Luke Rodgers from the United Kingdom kick-started the conversation. All younger than 30, these four are advisors to (Re)Connecting Youth, an initiative that aims to identify global lessons that can be applied to meet the needs of disconnected youth in the United States.
The Baltimore youth began by candidly reflecting on the challenges they face.
"There are so many abandoned homes, I don't let my children go out and play," said Novella Chase, 25, of her neighborhood's windowless row houses with boarded up doors.
"In the summer there's nothing to do but stand on the street corner," echoed James Baytop, 19, who spoke to the need for more recreational opportunities for youth.
"It's easier to get a gun in your hand than to fill out a job application," added Mary Carter Johnson, a 27-year-old mother of three, pointing to the allure of firearms in a city plagued by drug-related violence.
Each described communities' problems while expressing their desire to be part of the solution. Although these young people grew up many miles away from their international peers, their life experiences were surprisingly similar.
Daniel, 25, described his role in forming a citywide youth movement to combat the violence characterizing his hometown of Cuidad Juarez, considered the most dangerous place on earth from 2008 to 2012.
Luke, the 25-year-old founder of Foster Focus in the UK, shared his experience as someone who transitioned out of foster care, who now works to reform a system that too often stigmatizes the very youth it serves.
These young leaders related instantly to the challenges and aspirations of their hosts while sharing stories of resilience and positive youth-led change.
"The hood raised me. The hood made me. I'm not ashamed," said Lashon, 29, of his formative years growing up in Boston. Now just months away from earning a master's degree in sociology, he recounted dropping out of school, spending time in jail, and dodging gunfire. Lashon says the love he received from staff at a youth program set him on a path to improve the lives of others who grew up like he did. He is now leading the effort through Opportunity Youth United (OYU) to amplify youth voices in the United States.
Lashon encouraged his Baltimore peers to be proactive in speaking out about the issues they care about. "If you want people to take you seriously, you need to learn about the system; you need to show up," he urged, offering examples from registering to vote to speaking up at town hall meetings.
"We need to hold politicians accountable," added Shawnice, who works as a Post-High School Individual Support Manager through Thread, a local nonprofit.
One theme that surfaced throughout meeting was individual responsibility in nurturing a positive vision for the future. "You need to reshape your own narrative and help shape other people's narratives," emphasized Lashon, building on input he received from his (Re)Connecting Youth colleagues the night before.
Heads nodded as he spoke. "People dwell too much on the negative," said Kiona Craddock, who hosts a local call-in radio show. "The more we focus on problems, they keep being problems."
To channel the positive energy in the room, Lashon encouraged the Westside youth to join OYU's efforts to create a network of youth-led Community Action Teams in cities across the country, with Baltimore soon to join. The teams mobilize youth to take action, particularly when it comes to informing local and national policies impacting opportunity youth.
As the session came to a close, Luke scanned the room, making eye contact with the other 13 young people present. His closing words were: "People will be inspired by you, just as I'm inspired by you. Don't wait for them to come to you. Make your voices heard."
Tags
youth leadership
baltimore
peer to peer
youth-led social change
opportunity youth
opportunity youth united