My Family's Story in Iraq and Syria is the Story of Millions
Read All Posts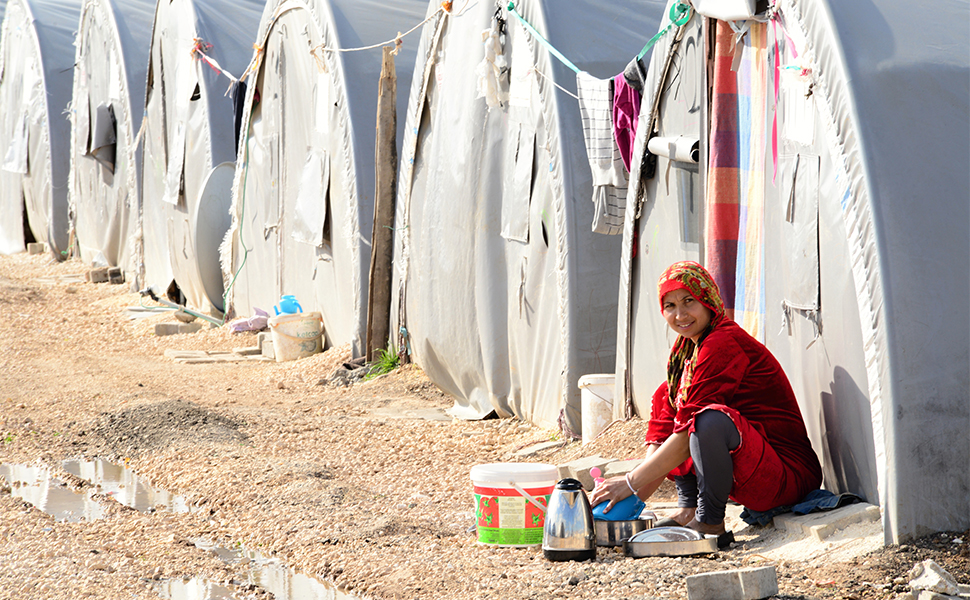 This blog post is the first in a two-part series that explores how individuals and organizations can more effectively and compassionately work with refugees.
In 2006, many of my family members escaped Iraq's violence, after the 2003 US-led invasion and occupation, and relocated from Mosul to Aleppo, Syria. Decades earlier, my maternal grandfather was forced to leave Mosul in danger of his life, and it was also the city of Aleppo that he and my grandmother called home for more than 10 years.  
I remember during summer trips to visit my maternal grandma, Mama Najat (who passed away in 2008), and my aunts, uncles, and cousins, I would walk around Aleppo's streets and blow breaths of gratitude to Syria in appreciation for its kindness, warmth, and hospitality in welcoming more than one million Iraqis. The country has always held a special place in my family's Iraqi heart and history and has always been a home away from home.
Today, the sister cities of Aleppo and Mosul that we all knew are gone forever, an unfathomable double loss in the past, present, and future narratives of my family and hundreds of thousands of other families just like mine. Sadly, my family's story is the account of millions of families in Iraq, Syria, multiple other countries in the Middle East, and throughout the world—many who have endured unspeakable losses, including the death of countless loved ones in cycles of ruthless and senseless violence.
As I write, Mosul is undergoing a merciless onslaught of violence while the war between ISIS fighters and the Iraqi army continues. The resulting devastation has yet again caused the loss of countless lives and ushered in a new wave of displacement. Day by day families and children are being killed, homes are being demolished and destroyed, people are without water and electricity—an ancient jewel of the Middle East has been wiped out. Preceding Mosul, Aleppo, another jewel, has suffered similar indescribable destruction and is no longer a safe haven for many from its community, nor my family, nor thousands of other displaced people.
In fact, being born in the United States, I can only feel humbled to be writing this story from the safety of the Washington, D.C., suburbs while many families, including my own, are still trapped in the most dire of circumstances.
Today, the hosts who once welcomed the Iraqi people are now in desperate search of those who will welcome them. More than five million Syrian refugees are in search of new homes all around the world, and many have taken extremely perilous paths and journeys to escape the violence in their country. According to the UN Refugee Agency, there are 65.3 million forcibly displaced people worldwide, and 21.3 million of them are refugees, more than 10 million of whom are under the age of 18. These numbers surpass figures for refugees after World War II. Syrians are joined by their brothers and sisters in flight, including millions of Iraqis, Somalis, Afghanis, Palestinians and many other nations who have been the victims of war, occupation, and violence for far too long.
While the world order has taught us that mass movement is only a natural progression, one would have hoped that by now we would have been more advanced in the human evolutionary process and that violence against each other would not serve as the primary cause of that movement. Yet, like any story of agonizing suffering, there is a flip side: resilience, hope, and kindness. Day by day we witness the soft side of our collective global humanity—the good will of innumerable numbers of people and communities rallying support and affection around refugee families and displaying moment after moment of compassionate acts. They are voices in support of the rights of refugees, offering homes, volunteering day and night, fundraising, and sharing a multitude of other kindnesses that we probably do not even know about.
IYF has joined this collective movement and is pleased to announce its first initiative to benefit refugee communities, the Syrian Refugee Employability Program (SREP), in Turkey. It is our aspiration to maximize the potential of refugee youth, women, and children, and we support their journeys to create brighter futures as part of the vulnerable and disadvantaged global community we serve in our day-to-day work.
SREP aims to identify economic sectors that Syrians may thrive in without threatening the prospects of Turkish host communities. We will be beginning with a refugee-specific labor market assessment and will be pleased to share the results upon completion. Ultimately, our goal is to strengthen and empower local organizations to implement effective employability and employment programs and to assist refugee youth in securing livelihoods in relevant economic sectors that will support them, their families, and their collective futures.
IYF looks forward to joining our international and local partners worldwide and to working with refugee and host communities to identify meaningful ways to serve. In a follow-up post tomorrow, World Refugee Day, I will offer my reflections—based on my personal, professional, and academic experiences—on how to make sense of refugee crises and the challenges of displacement and how to work with these communities.
Marwa Alkhairo is Manager, MENA Partnership Development.
Tags
iraq
syria
mosul
aleppo
syrian refugees
refugees
displaced persons
war
conflict
world refugee day
world refugee day 2017