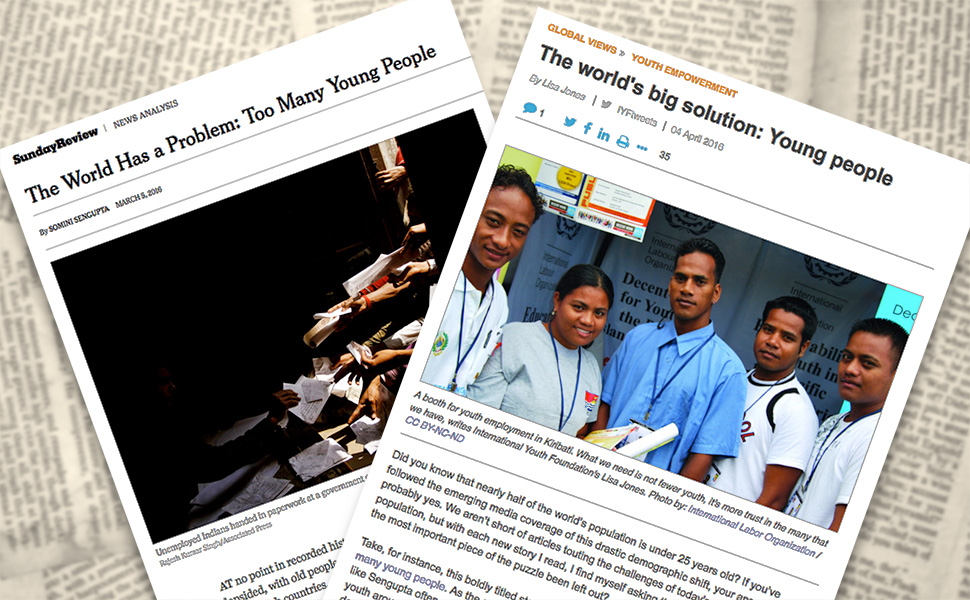 As people who dedicate our days to positive youth development, IYF staff immediately felt the headline rubbed us the wrong way. "The World Has a Problem: Too Many Young People," which recently ran in The New York Times, enumerates multiple development challenges without acknowledging good news, possible solutions, or any other perspective. As the story lingered in ours minds, IYF Program Manager Lisa Jones penned a response, which ran last week on Devex.
Pointedly titled "The World's Big Solution: Young People," Jones's rebuttal takes issue with the pessimism that permeates the NYT story. For example, Jones points to the way the writer, Somini Sengupta, "forebodingly" adds up increased education, greater connectivity, and bigger ambitions to equal youth unrest. Jones counters by asking, "What more could society ask for than youth who are looking at our challenges with fresh eyes, willing to call out injustices and flawed systems?"
Jones repeatedly uses the word "trust" to refer to what's missing in how Sengupta and many others think and talk about young people. "What we need is not fewer youth; it's more trust in the many that we have," Jones writes. She goes on to mention just a few young social innovators who "aren't just visionaries, but pragmatic doers." These leaders—including Ayaz in Iraq, Deepa in India, and Lina in Brazil—​exemplify how young people are an asset to the world, not a problem to be solved.
Tags
devex
in the news
the new york times
positive youth development