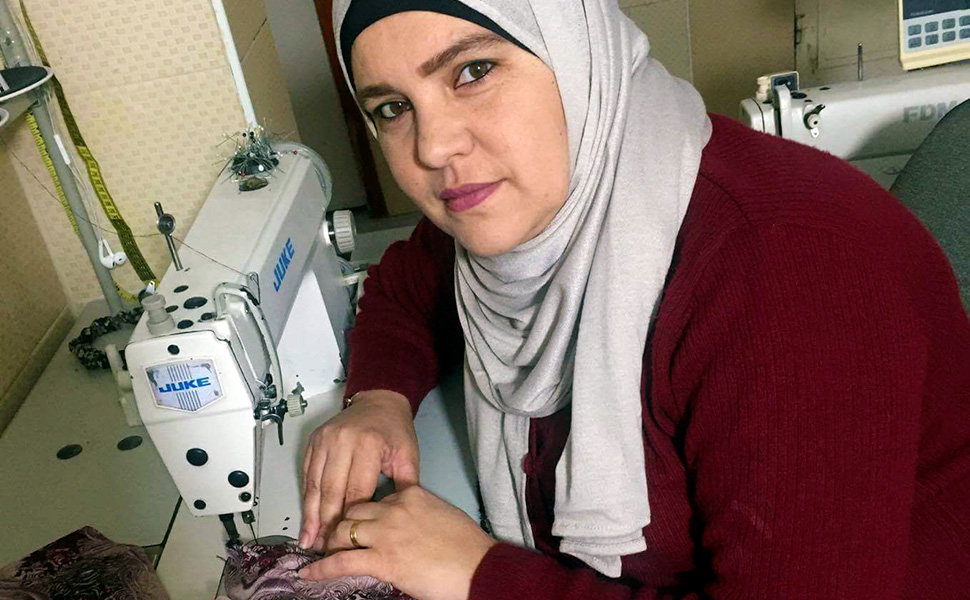 Thirty year-old Zeinah Harfoush from Kharbatheh, Palestine, always dreamed of completing her formal education, the lack of which caused her much grief and insecurity. She was forced to drop out of the fourth grade due to unfortunate circumstances—the death of both parents. At this early stage in her life, Zeinah began working and took on the role of caretaker for her siblings; she later married and had six children of her own. However, she never gave up on her aspirations and is working to fulfill them today.
After leaving school, Zeinah continued to dream of her education and independence. She loved to sew but had only ever used a needle and thread. When her friends told her about the sewing course offered by the Bietour Vocational Training Center, she registered as quickly as possible.
Through IYF programming with partner CYEE, Zeinah expanded her technical skills and, through Passport to Success® (PTS), her life and employability skills. She was able to flourish creatively and learn more about professionalism and cooperation in the workplace while doing the technical work she loves.
"The life skills topics covered under PTS, such as responsibility, working in a team, listening, and time management topics, helped me first on the personal level, when it comes to dealing with my children, friends and neighbors," she says. "Second, they've helped me in the workplace and knowing how to deal with customers."
Zeinah competed in IYF's student project competition, an opportunity for youth to pitch business plans and compete for funding to start up their own enterprise. She knew there were no sewing services available in her village, but she would need the money for a sewing machine in order to start her own business. Her pitch was one of 17 chosen for the award out of 67 total entries.
Her award was a sewing machine, and she immediately began developing designs and marketing her services. She creates traditional Palestinian wedding gowns, garments for all ages, and small accessories, in addition to tailoring services. With the money earned thus far, this young entrepreneur has been able to buy a second sewing machine and other professional tools to upgrade her services. She aspires to become a well-known designer and employ other local woman who could follow suit and gain the opportunity to flourish.
Narmeen Fayyaleh is an IYF Program Manager in Palestine. Jana Al Juneidi, Project Coordinator at IYF partner Center for Youth Economic Empowerment, contributed interview help.
Tags
technical skills
young entrepreneur
young woman
success story